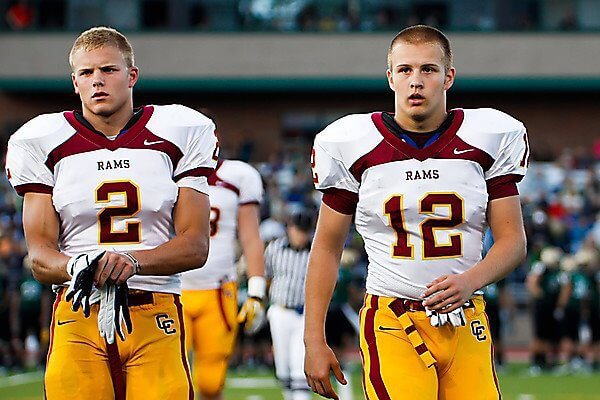 JORDAN JOHNSON PICKS- Oregon 6a/5a
6A Top 10
(0-2) Canby @ #1 Jesuit (2-0) – (Jesuit 47 Canby 13)… Whats crazy is that Canby is a good football team that will still be able to vie for a conference title, but their schedule is ridiculous.. After doing the broadcast for the Jesuit game last week I would say they are as good, if not better then advertised
2-0) #2 Sheldon @ S.Eugene (0-2) – (Sheldon 60 S.Eugene 0)..Short and sweet, over by half..The Irish will not be challenged within the conference by anyone other then S Medford.
(1-1) Lakeridge @ #3 Aloha (2-0) – (Aloha 48 Lakeridge 21) … The Pacers are a much improved football team, but Aloha is firing on all cylinders and their line is dominant. Look for Tyner to go off again.
(1-1) #5 Central Catholic @ #4 Lake Oswego (2-0) – (CC 26 Lake O 24) .. Honestly a toss up. Lake O is one of the most respected programs anywhere in the NW, but I question what the offense will do against a good D.. CC needs to cut out the mistakes if they want to win any big ball games.
(1-1) #6 Tigard @ Glencoe (2-0) – (Tigard 48 Glencoe 13) … Glencoe hasn't played anybody and Tigard is super legit.. Look for them to put this away early
(2-0) #7 S.Medford @ Thurston (0-2) – (S.Medford 35 Thurston 17)… S.Medford's D is tough and they should be able to handle the Colts.. Thurston battled but lost 44-35 to West Salem last week.
(0-2) Hillsboro @ #8 Century (2-0) – (Century 56 Hillsboro 7)… The game will be over by half, but Sam Riddle says they are going to treat this like the conference championship
(2-0) Sprague @ #6 (5a) Mt View (1-1) – (Sprague 34 Mt View 28)… Very tough game to call as Mt View played a tough Century team to the wire last week losing 50-45. This could go either way, but Sprague is good.
(0-2) Forest Grove @ #10 Tualatin (2-0) – (Tualatin 41 Forest Grove 14)… Tualatin's D showed up and played lights out against a good Southridge team. That said the offense is still suspect, but the win shouldn't be difficult
Other 6A SCORES
23 Barlow @ West Linn 34
31 Beaverton @ N.Salem 14
30 Clackamas @ S.Salem 19
25 David Douglas @ Oregon City 27
27 Grants Pass @ N.Medford 16
28 Mckay @ Reynolds 38
17 McNary @ Gresham 30
20 Newberg @ McMinnville 36
27 Roseburg @ Crater 21
30 Southridge @ Centennial 20
31 Sunset @ Grant 24
22 West Salem @ Bend 21
26 Westview @ Lincoln 27
5A Top 10
(1-1) Hermiston @ #1 Sherwood (2-0) – (Sherwood 51 Hermiston 14).. Sherwood has shown that they are the real deal and it will take a certain type defense to stop them. Hermiston isn't a bad team, but the Bowmen are really good.
(1-1) #2 Wilsonville @ Parkrose (2-0) – (Wilsonville 45 Parkrose 17).. Wilsonville gets talented QB/S Nick Highberger back, and they should blast a Bronco team that managed to get a couple W's early.
(1-1) Ashland @ #3 Marist (1-1) – (Marist 42 Ashland 20)… Look for coach Geske to have his guys prepared after the Spartans lost their first regular season game in the last 4 years a week ago. Josh Harper continues to look good for Marist
(1-1) #4 Crescent Valley @ #5 West Albany (2-0) – (Crescent Valley 35 West Albany 33)… Maybe the most important game for CV in a matter of years. This contest alone will dictate their season, and you can bet top LB's Tanner Fiez and Jacob Bucher will be all over Jake LaCoste. Whether or not they can stop him is a different story, but this is the biggest opportunity they have ever had. The CV D line needs to step up and this is the game OR's #1 Jr recruit Tanner Sanders has been waiting for.
(2-0) #8 (6a) Sprague @ #6 Mt View (1-1) – (Sprague 34 Mt View 28).. See Above
(2-0) #10 Eagle Point @ #7 Churchill (2-0) – (Churchill 31 Eagle Point 21)… Outstanding contest down in Eugene where the Lancers actually get to play somebody. Churchill shouldn't have a problem, but EP is decent and should provide a test.
(2-0) #8 Silverton @ Dallas (1-1) – (Silverton 35 Dallas 10)… The Silverton D showed up and shut out a good Bend team last week 27-0, and are still very young.. Expect the Foxes to roll
(2-0) #9 Redmond @ Hood River (2-0) – (Redmond 31 Hood River 30).. Anybody's ballgame here. Hood River has some good misdirection, but Redmond has 30 seniors and some talented all league kids returning so I will give them the nod.
Other 5A SCORES
32 Banks @ Benson 14
10 Franklin @ Wilson 42
28 Klamath @ Summit 13
30 Madison @ Jefferson 27
29 Marshfield @ North Eugene 17
34 Pendleton @ Milwaukie 24
35 Roosevelt @ Cleveland 13
28 Sandy @ Putnam 42
14 South Albany @ Lebanon 31
34 St Helens @ Liberty 21
28 The Dalles @ Crook County 26
14 Willamette @ Springfield 42
13 Woodburn @ Corvallis 35
*Jordan Johnson Picks through 2 weeks
6A
Week 1 23-2
Week 2 18-7
Season (41-9) 82%
5A
Week 1 16-7
Week 2 15-4
Season (31-11) 74%
RYLAND SPENCER PICKS- Washington 4A/3A
4A WASHINGTON- NEI Official
#1 Skyline (2-0) @ (5A) Coeur d'Alene (Idaho) (3-0)
This game being played indoors at the Kibbie Dome on the University of Idaho campus. I really like CdA and picked them last week against Mercer Island. I can't pick them against Skyline. The Spartans are used to traveling and will represent Washington well. Spartans head east and get the W, 34-21.
#2 Mead (2-0) @ Lewis & Clark (1-1)
Mead is the best team east of the mountains. If all goes as planned, they should meet up with Ferris in the final weekend in a battle of undefeateds. Until then Mean should continue to hammer one opponent after another. This week goes as planned and Mead wins 44-20
#3 Federal Way (2-0) vs Graham-Kapowsin (2-0)
This is probably the "Big School" Game of The Week. Throw Bethel in here and you have the 3 teams challenging for the SPSL 4A South champhionship. I love GK and think they are very much capable of winning this game. I just can't see a reason to pick against FW at this point. They are talented all the way around. Eagles win big showdown, 34-31.
#4 Camas (2-0) vs Auburn Mountainview (1-1)
The Papermaker Train is beginning to gain a little steam. They beat up on two Oregon schools in the first two weeks and are very likely to do so again this weekend. I do like Auburn Mountainview as in the long run do see them as a team that can make the playoffs out of the SPSL 3A. This week Camas will continue to roll, 35-14.
#5 Bellarmine Prep (1-1) @ Central Kitsap (2-0)
In winning last week against Enumclaw, CK lost their most important player in RB Nick Zawadzki to a concussion. If Zawadzki is unavailable it will be a VERY long day for the Cougars as they will need to control the clock for a chance to win. Bellarmine Prep is a championship caliber team that ran into an angry Lakes squad that was coming off of a loss. Now Bellarmine Prep is that angry squad coming off a loss. BP gets back into the win column, 45-10.
#6 Skyview (1-1) vs (3A) #5 Lakes (1-1)
Lakes put up 42 points last week against a VERY good Bellarmine Prep team. Skyview took it in the shorts in week one against a very good Central Catholic (OR) team before bouncing back last week with a 42-0 win over Columbia River. This is probably the best game on Friday night. I think the week one loss by Lakes may have woken up a monster. Marquin Russell and Sammie Long go off in a 34-21 Lakes win.
#7 (tie) Kentwood (2-0) @ Mount Rainier (0-2)
Defensively the Kentwood Conquerors are giving up an average of 6.5 points through 2 games. Offensively the Mount Rainier Rams are scoring on average 17 points per game. I can't imagine those trends changing this week. Kentwood continues to roll, 40-7
#7 (tie) Woodinville (2-0) vs Newport (0-2)
The Falcons come home for the first of three homes games this season. I am sure the Knights of Newport never expected to be win less after two games, but that is exactly where they stand. traveling to Pop Keeney is never easy for visiting teams and I don't see it being easy this week. The Falcons went undefeated at home last season and I expect that winning streak to continue. Falcons soar, 31-14.
#9 Bothell (0-2) @ (2A) #1 Capital (2-0)
Bothell's trip through #1 teams continues this week when they travel to Olympia to take on Capital. This game is a battle of Cougars vs Cougars… I see the Cougars winning… Terrible joke… Capital hasn't been overly impressive in its two wins. This is the week Bothell gets back on track, 24-21.
#10 Edmonds-Woodway (2-0) vs (3A) #4 Meadowdale (2-0)
Most people will look at this game and say "Desmond Young vs Giavani Shepard". I will slightly disagree and it will lead me into my prediction. I call this "Desmond Young vs Giavani Shepard AND Morgan Masanda". This will be the best defense Young has seen yet. They give up very little inside and have plenty of speed to get to the outside. Its a one week stay in the top 10 for Edmonds-Woodway. Meadowdale wins 28-21.
3A WASHINGTON- NEI Official
#1 Bellevue (2-0) @ Sammamish (0-2)
Bellevue is clearly the best team in the state. No arguments. Sammamish lost 55-0 last week to Franklin Pierce. Don't get me wrong, Franklin Pierce is a good team, but they shouldn't beat any KingCo team by 55. This game will feature a running clock and a lot of young guys playing for Bellevue. I'll put the Totems on the board, but Bellevue wins big 60-7.
#2 O'Dea (2-0) vs Issaquah (1-1)
I really like the Issaquah defense and they are gonna have to come up big this week. O'Dea has a lot of offensive weapons and a stingy defense that is allowing only 8 points per game. Where Issaquah struggles is on the offensive side of the ball averaging only 12 points per game. I just don't see how Issaquah can score enough points to backup the defense. Irish continue to win, 28-13.
#3 Mt Si (2-0) vs Juanita (1-1)
Well, it is official. I am a full on Mount Si Wildcat believer. They have yet to give up a point to two very good teams in Issaquah and Kennedy Catholic. Juanita started the season with a great win over Inglemoor but his a roadblock in last weeks 20-10 loss at Monroe. I was told I shouldn't give the opponents any points and I am going to take the bait. Mount Si continues shutout streak with a 31-0 win.

#4 Meadowdale (2-0) @ (4A) #10 Edmonds-Woodway (2-0)

See #10 Edmonds-Woodway.
5. Lakes (1-1) @ (4A) #6 Skyview (1-1)

See #6 Skyview.
6. Eastside Catholic (2-0) vs Centennial (BC, Canada)
I will admit I am going in blind on this one. I know NOTHING about Centennial and can't really find any information. I do know that Eastside Catholic is playing very good football and last week handily beat big brother Eastlake. This is shaping up to be a good year for the Cruisaders and I don't see them faltering this week. EC wins, 24-10.
7. Oak Harbor (2-0) vs Lake Stevens (1-1)
The Vikings lost week one to our #8 Glacier Peak, but came back with a big win over a good Marysville-Pilchuck team. Oak Harbor has bruised their way through the first two weeks from thw work of FB Fred Webster. I could see Lake Stevens with the upset, but I am not predicting it. Wildcats stay undefeated, 27-20.
8. Glacier Peak (2-0) vs Jackson (Mill Creek) (2-0)
This is a big week for Glacier Peak if they want to be considered contendors in the Wesco. The Grizzlies come in after winning big against cross-town foe Snohomish 43-7. The Jackson Timberwolves beat up Monroe and Everett in the first two weeks. These two schools are only 4 miles apart and Jackson might even drive by Glacier Peak on their way to Veterans Memorial Stadium in Snohomish. Grizzlies win battle of undefeateds, 24-17.
9. Kamiakan (1-1) @ Sunnyside (1-1)
This could actually be a very good game. The Kamiakin Braves lost week one in OT to 2A Prosser who could very easily win a state championship this season. Last week they got a bounce back win against Hanford, a team I am high on. Sunnyside QB Eduardo Salmeron is an exciting playmaker, but needs others to step up for the Grizzlies to succeed. Kamiaking wins this one on their way to a big game next week vs Southridge, 34-12.
10. Southridge (2-0) @ Kennewick (1-0-1)
I really do not know what to think of either team. Kennewick looked good last week in a big win over Chiawana, but they also finished week one with a tie against Lake City of Idaho. Southridge won week one with a last second lob into the endzone to beat Richland and beat Sunnyside 25-21 last week. I think the good luck ends this week for the Suns and Kennewick wins 30-10.
SCOTT EKLUND PICKS
King's at Archbishop Murphy (Thursday) – One of the best lower-classification matchups of the season. King's is very talented and has already upset formerly top-ranked Lynden to start the season. ATM has a great ground-attack and with King's wide-open offense, led by BYU-bound Billy Green, this should be a great matchup. Archbishop Murphy 27 – King's 24.
Graham-Kapowsin at Federal Way (Thursday) – A clash of Eagles, this game will likely be Federal Way's toughest test in the regular season. Graham-Kapowsin has been a pleasant surprise in the SPSL 4A South, getting off to a 2-0 start, but Federal Way is a notch or two above them right now and should be able to make enough plays between big-play tailbacks Zeek McNeal and Chico McClatcher and their defense, one of the best in the state, should be able to get after GK quarterback Brady Austin and make his night very long. Federal Way pulls away in the second-half for a relatively easy win. Federal Way 38 – Graham-Kapowsin 20.
Hoquiam at Montesano – The two Grays Harbor powers face off in their annual rivalry game, but things are a little different this year. Typically, both schools are undefeated when they face off, but this year, Montesano will try to bounce back from their loss last week to Canscade Christian, a 28-25 thriller, against a senior-laden Hoquiam squad led by QB Evan Erickson. I see Hoquiam getting the win, but this one should be another good one. Hoquiam 31 – Montesano 27.
Ferndale at Garfield – The Golden Eagles used a career-high 248-yar, four touchdown effort from TB Alex Conley to hold off Sehome last week, getting a 35-29 win over their NWC 2A/3A rivals. Garfield has shown they aren't going to be the easy win they have been over the past decade and are now 1-1 after last week's loss to Fife. The Bulldogs have been able to put up nearly 300 yards of offense and should be able to find room to let their athletes and playmakers do what they do best, but in the end, Ferndale's experience and veteran coaching staff will be the difference. Ferndale 30 – Garfield 21.
Bothell at Capital – So far, Bothell has taken on the best team in 4A (Skyline), the best team in 3A (Bellevue) and this week they will take on a 2A title-contender in Capital on the road on Friday. Bothell is a good team, led by the running of Danny Wilson and Reshon Watson and their offensive line is big, experienced and talented. If they can keep Capital from getting to sophomore QB Ross Bowers, likely the top QB in the region for the 2015 class, they should be able to get their first win of the season, but it definitely won't be easy. Bothell 28 – Capital 23.
Jackson at Glacier Peak – GP quarterback Chris Becerra has been great for the Grizzlies so far this season and will take their unblemished record and top 10 ranking to Jackson to face off against the undefeated Timberwolves. This game should end up being a good test for GP to see if their championship aspirations are warranted. Glacier Peak 36 – Jackson 21.
Eastmont at Wenatchee – The Battle for Wenatchee should be a good one this year as the 2-0 Wildcats will take on the 1-1 Wenatchee Panthers in their annual rivalry game. Eastmont has a solid defense, led by senior CB Trea Thomas, could be the difference as the key to stopping the Panthes is shutting down their talented skill-position players. In the end, Wenatchee will win this one, but it will be a close one. Wenatchee 24 – Eastmont 21.
Cle Elum-Roslyn at Connell – Last year's 1A state champs play host to the 2012 favorites in this battle of eastern Washington powers. Connell last a lot of talent following last year's championship run while CER is in great shape under the leadership of Portland State-bound Jake Gall who in rushing as well as tackles. In the end, CER will have too much for Connell to overcome and they should come away 3-0. Cle Elum-Roslyn 29 – Connell 21.
Stanwood at Arlington – Stanwood has been a surprise so far this season, getting off to a 2-0 start while Arlington has been a disappointment so far, starting the season 0-2. This could end up being decided by the Stanwood ground-game. If they can get that going, they should be able to roll to another win. Stanwood 24 – Arlington 17.
Lakes at Skyview – For the third week in a row, Lakes will take on a top 10 4A team. This week it is Skyview who bounced back nicely from their opening week loss to a nationally ranked Jesuit (Portland) team. Lakes has a lot of talented playmakers, but so does the Storm. This should be a great matchup, with the home team having a slight edge. Skyview 31 – Lakes 27.