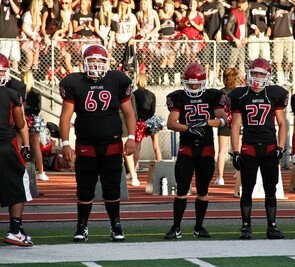 One of the most impressive looking junior offensive linemen in the state of Washington this year is Kentlake's Mason Johnson, a 6'3″ 315-pounder, who plays both ways and loves to get after people at the point of attack.
"I start both ways, but I prefer defense," Johnson told Northwest Elite Index recently. "I just like the fact that on defense I get to hit guys more. I just love to compete and playing both ways is fun because you never have to come off the field."
After a solid sophomore season, Johnson hit the the camp circuit this past summer, attending the Oregon and Boise State camps where he put up 400 pounds on the bench press raising some eyebrows in the process.
"I played more defense when I went to those camps," Johnson said. "I am willing to play either offense or defense at the next level. I just want the chance to show I can play."
As far as recruiting is concerned, in addition to his interest from Boise State and Oregon, he's also hearing quite a bit from Nebraska and Washington State.
"I grew up a fan of Boise State because my dad grew up there and played at Eastern Washington," Johnson said. "I also am a big St. Louis Rams fan if we're talking pro teams."
After a stellar season in 2011 that saw Kentlake post a 10-1 record under second-year head coach Mike Shepard, the expectations for the Falcons is another playoff run and Johnson, considered one of the leaders on the team, and his teammates have one thing on their minds.
"Every team should be focused on getting to a state championship," Johnson said. "It's a big goal for us to give ourselves a chance at that. Also, our coaches have a little saying 'One way, the right way, every day" and that's just about always doing things the right way and being prepared all the time for whatever is thrown at us. We have really taken that to heart and we're excited for what we can do this season."
Kentlake is off to a 1-1 start so far this season and will face off against an improving Puyallup squad on Friday.
We will continue to keep track of Johnson's progress over the coming weeks and months and will update news on him as it happens.