UPDATED RANKINGS
Last week we released our 2014 Washington QB/RB/ATH Rankings. To view them follow this link:
https://www.northwesteliteindex.com/2012/09/10/washington-jr-rankings-qbsrbsath/
Over the next few weeks we will be releasing our positional rankings covering the state of Washington. We will have athletes ranked numerically and an honorable mention list, based on who PROJECTS HIGHEST AT THE NEXT LEVEL.
There are a variety of factors that go into determining who projects where..These include (Current offers, Size, testing, All league/State accolades, camp/combine performances, stats, competition levels, D1/NFL Genes, GPA, Overall character/work ethic etc.). You can be a very talented high school athlete and not project to a high level of college football. (EX: If you are a 5-10 first team all league or all state lineman congratulations, but you are not going to project to a D1 school. It is what it is and that goes for all positions. We feel very fortunate to have the college contacts that we do, so it's important that the rankings are structured so that all schools can get a realistic breakdown of who they should be recruiting.
Through NEI and the Barton Football Academy we have been able to work with most of the top athletes in the region on a consistent basis, which has enabled us to make the accuracy of our evaluations more legitimate then any other group or recruiting source.
All of these rankings are subject to change at any time based on any new information received. It's important that we see any athlete that feels they are one of the best, as we can only determine so much based on film or word of mouth. Any top athlete that feels they should be higher on this list should get out to one or more of our NEI/Barton Football Camp and Combine events.
As most of you know all of our events are documented via video allowing us to see kids in person, while breaking down film of athletes after the fact if we still have questions about a kid. No other football academy has ever ventured to do such a thing, but we feel that this is the most fair and accurate way to give each athlete a ranking. Obviously nothing is perfect, but it is by far and away the most credible source in the region.
* We are constantly updating and adding to the site. It is a big region so please let us know of any athlete that you feel may have been missed. We are more than happy to look at any and all information sent to us referencing our northwest athletes.
Jordan Johnson – NEI
---
Washington 2014 WR's
---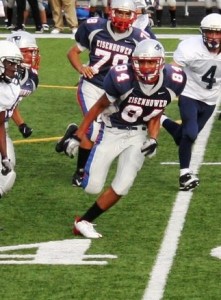 1) Darius Pati 6-3 190 Eisenhower (Yakima)
Pati has it all but will be sidelined for the 2012 season due to a concussion and head trauma; The kid has D1 genes to go along with legit size, speed, athleticism; Racked up 29 receptions for 386 yards and two touchdowns as a sophomore in 2011. He's long, has great hands and he runs really well, and is someone SMU-bound QB Kolney Cassel speaks very highly of.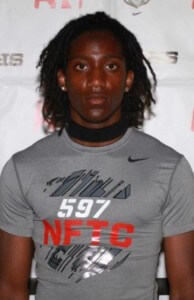 2) E'lon Mack 6-1 170 Heritage http://www.hudl.com/athlete/453021/highlights/16566388
Kids an outstanding overall athlete, that is super talented after the catch.. All league kid as a sophomore that hauled in 48 receptions for 617 yards and 6 Tds; Heritage isn't your typical power but Mack is legit.
3) Torrance Baker 6-2 200 Garfield

This is a kid that is super raw, but has legit D1 skils and the body to go with it. Very talented basketball player that has all the potential in the world if he decides to pursue football. He is an unquestioned D1 wide out if he dedicates himself to the grid iron; New Head Coach Dave Myers is doing a great job grooming a host of young talent.
4) Garrett McKay 5-9 165 Bellarmine Prep
Anyone looking for Washington's version of Wes Welker, check it.. The kid leads the state in every statistical category with 25 catches for 302 yards and 2 Tds in the first two ball games. Transferred from Gig Harbor after sophomore season, and looks like the real deal after the first couple weeks.
5) Levi Jordan WR 5-10 160 Puyallup http://www.hudl.com/athlete/777021/highlights/17508179
1st Team All SPSL after his sophomore season, which is hard to do at any level.. Not the biggest kid in the world, but an outstanding overall athlete and someone that could have a big statistical year..11 receptions for 147 yards and a Td after first 2 weeks
6) K.J. Brady (6-0, 165) Cascade (Everett)
Cascade hasn't produced much in the way of college talent over the past couple decades, but Brady is a solid looking skill player who just needs to get bigger. When he gets the ball in his hands, he's tough to bring down. Brady was named Second Team All-Wesco 4A in 2011. Verbally committed to UW for baseball.
7) Keenan Jackson 5-11 160 Bonney Lake
Kid had a big sophomore season and is super quick; 26 receptions for 380 yards and 5 Tds..One of the top overall kick/punt returners in Washington.. All Conference 2011.
8) Melvin Walser WR Mount Vernon 6-2 185
Walser has broken out as of late catching passes from one of the state's top senior QB's in Bennett Gibson. Walser has good size with 10 receptions for 152 yards and 2 Td's early in the 2012 season.
9) Drew Griffin WR 6-0 200 http://www.hudl.com/athlete/733996/highlights/10319886
Very talented overall athlete that will be an asset on both sides of the ball. Physical kid that can block as well as catch; Has caught 5 balls for 38 yards over the first two games and has a big upside. Outstanding defender.
10) Joey Cassano 5-9 180 Auburn Mountainview
Cassano isn't the biggest kid in the world, but doesn't drop passes and can break people off in the open field.. He has caught 7 passes for 57 yards and a Td over the first two weeks. Went for 30 receptions, 355 yards and 3 Tds as a sophomore.
10) Garrett Starr 6-3,170 Vashon
Big receiver who uses his size well. Hauled in 41 receptions for 596 yards and nine touchdowns in 2011. Has already amassed 222 yards, 9 receptions, and a Td over the first two weeks and should be considered one of the top junior receivers in Washington.
HONORABLE MENTION
Bowe Mckay 6-4 190 W.F. West (Chehalis)

Big kid that has trained with us consistently and just gotten better. Has a huge upside due to size, and has just continued to grow into body.
Bryan Moon 5-10 165 W.F. West (Chehalis)
One of the best overall athletes in the conference; 3 sport kid with outstanding quicks and hands
Drew Accimus 6-4 200 Woodinville 6-4 200 http://www.youtube.com/watch?v=-3GiFWvm0qE
Big kid that is a very good overall athlete, and looked good on our NEI/Barton Camp and Combine Tour.
Jordan Hall 6-2 185 Redmond http://www.hudl.com/athlete/545808/highlights/9984373
Started as a sophomore and did well catching multiple Tds; Hall has a passion for the game needed to compete at a high level of football; Did very well on camp and combine tour.
Sam Mix 6-0 175 Skyline http://www.hudl.com/athlete/751229/highlights/15774379
Definitely a kid that could climb this list quick, as the Spartans have 5 solid senior receivers that will be graduating with the nation's #1 QB. Runs crisp routes and will just get better playing with all of the talent surrounding him.
Laurence Wanambisi 6-3 200 Stanwood http://www.youtube.com/watch?v=oyH2NVjhIxA
Talk about potential..Played Soccer for 12 years of his life and moved to the U.S. 3 years ago; Started as a sophomore and is just getting better; Big physical athlete that can run, just still raw.
Will Hopkins WR 5-11 165 Peninsula
Done very well thus far, athletic kid who has had 4 receptions for 82 yards and a TD
Tre Scott 5-9 170 Stadium http://www.hudl.com/athlete/340567/highlights/16399394
Shifty receiver and quarterback that put up good numbers as a soph, 18 catches for 250 yards.. Will definitely be one of the top perimeter players within the conference
Connor Johnson 6-1 180 Cedar Park Christian
Did a very good job running the ball with Adam Rickman last season; 41 rushes, 405 yards, and 3 Tds…Projects as a WR, talented overall kid.
---
Washington 2014 TE's
---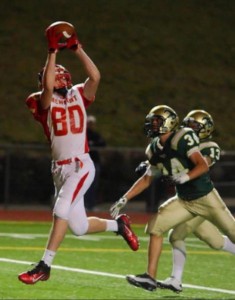 1) Drew Sample 6-4 225 Newport – http://www.hudl.com/athlete/776529/highlights/16208665
Huge target that can move and is very athletic; Will be one of the top TE's in the entire NW and can also block which is a must in today's college game. Isaac Dotson will always have reliable target.
2) Josh Cahill 6-3 215 North Thurston http://www.hudl.com/athlete/122756/highlights/9334375
11 receptions for 214 yards and 5 Tds in 2011; kid is a baller and has good size to go along with quality stats..Look for him to be one of the better TE's in the northwest in the coming years.
3) Shane Bowman 6-3 210 Bellevue http://www.hudl.com/athlete/1297754/highlights/9793376
Bowman is very athletic and has a chance to show what he can do this fall when he lines up in the two tight end sets for the Wolverines this fall. He's already a good blocker, so it will be interesting to see what he can do with the ball in his hands.
4) Conner McLeod 6-3 190 Graham-Kapowsin
2nd Team All SPSL as a sophomore, look for big things out of this kid. Will be able to add size over the next two years, talented overall athlete with a big time future.
5) Hunter Jones 6-6 200 W.F. West (Chehalis)
Just had an incredible off season and has started to make a name for himself on a state wide level. Legit 6-6 and just getting better.. This is a kid that could add some size and be one of the best in the NW.
5)Nick Seldon 6-3 210 Bellarmine Prep

Good sized kid that will be a huge asset for the Lions; Can catch and block, 2 receptions/47 yards..Part of very talented junior class
HONORABLE MENTION
Cartier Darden 6-3 210 Cleveland (Seattle)
Darden received Second Team All-Metro honors as a sophomore in 2011 after hauling in 15 receptions for 190 yards and two scores. He's big, athletic and physical.
Peter Fisherkeller 6-4 220 Bothell
Bothell TE with a lot of potential. Currently in a system with two other quality TE's in Jeremy Ruef (Sr) and Cole Ford (So). Good sized kid that can play.