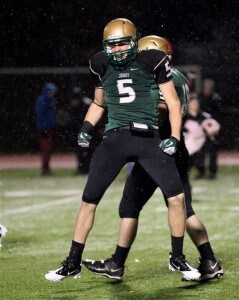 If we are talking about the top overall athletes within our region, you can look at the leader of the nationally ranked Jesuit Crusaders in quarterback Christian Martinek (6-4 220 Jr. QB/OLB/DE). Martinek has taken over the reigns as the general behind center, after last year earning first team all conference honors at D End in the toughest league in the state.
Its very rare to see your QB dominate from his defensive end position, but Martinek is far from your average athlete. On the baseball field he is considered one of the top pitchers in the country, and performed well this past summer competing as part of Team USA.
As a freshman and sophomore he was recognized by multiple publications as one of the top baseball players in his class nationwide. He was Metro League Pitcher of the Year, and a first team all state kid that consistently hit mid to low 90's on the gun. Jesuit assistant baseball coach and former local standout Eric Scriven says, " The kid has legit big league potential and you very well could see him going in the first round".
Football wise he is the epitome of a system quarterback. The Crusaders run the ball 80% of the time or more, but Christian is more then capable of dropping back and hitting his targets. The options that they have are crazy considering his overall athleticism. You can either have your 6-4 QB drop back and use his golden arm, or take off and truck someone in the process. The other consistent option is just to hand the ball to your All State tailback AJ Glass, who is on pace to break multiple conference and state rushing records.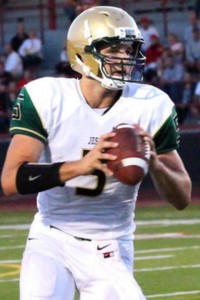 All of these factors play into why the Crusaders are ranked as one of the country's top teams. Martinek says, " the wheels for the team are definitely rolling, we are excited and ready for anyone who steps in our way". He continued, " As a leader on the team I know what type of potential we have and its my job to keep everybody on track, our goals are high but everything is falling into place and its all about how bad we want it".
Martinek is one of those kids that's not OK with second place. He's the type of athlete and leader that you need if you want to win a title. It takes a certain type of kid not to get complacent and Martinek fits that bill
Any time your line averages 6-5 295 across the board life can be good. You have two of the state's best TE's in Oregon commit Doug Brenner, and NEI's #1 ranked Jr TE in Henry Mondeaux. Add to this three of the state's top backs in Glass, Joey Alfieri (6-3 220 Jr. FB/LB), and Trent Werner (6-1 190 Jr. SB/SS/OLB) and you have one of the nastiest rosters in america.
We will be keeping tabs on Martinek over the next couple seasons. As of right now he has a legit shot at winning a couple state titles, and being a high Major League Baseball selection in the 2014 draft. Christian's a great character kid , and someone that all of us at NEI and Barton Football think very highly of.