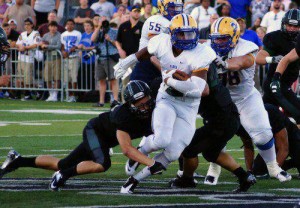 Thomas Tyner Sr. RB Aloha – In maybe the most remarkable performance in state history Tyner broke every record that there was gaining 643 yards on 38 carries, and 10 Tds.. The Warriors needed this performance as they gave up 63 points to Lakeridge in Aloha's 84-63 win .
Jaylynn Bailey/ Josh Benton Sr/Jr RB South Salem – The Saxons got a big game from both backs in their 52-43 win over Clackamas; Bailey went for 315 yards and 4 Tds on 20 carries/ Junior Benton gained 148 yards and scored 3 TDs.
Aaron Downes Sr. RB/LB Thurston – One of only 2 returning Colt All league athletes put the team on his back in defeating a good #7 S.Medford team; Downes went for 109 yards and a TD offensively and 36 yard INT return defensively in Thurston's HUGE 20-7 upset win.
Devin Martinez Jr. RB Southridge – The human ping pong ball, ranked by NEI as the #2 Jr. back in the state went for 313 yards and 4 TDs on 28 carries as a young, but talented Skyhawk group got their first win of the season .
Jake Lacoste Jr. RB West Albany – West and Lacoste proved emphatically that they were the real deal rushing for 331 yards and 4 Tds in the Bulldogs 49-13 statement win over Crescent Valley.. Lacoste now sits with 1000 yards exactly on 110 carries for the season. An incredible feat through 3 games.
Jarrod Howard Sr. WR West Linn – The senior WR did his thing again catching 2 more TDs (49, 18) from junior standout QB Hayden Coppedge, giving him 4 clutch scores in the last two weeks.
AJ Glass Sr. RB Jesuit – Glass continued his tear doing more of the same against a decent Canby team rushing 20 times for 224 yards and 4 more TDs… In 3 games Glass sits with an incredible 14 TDs and 787 yards rushing.
Beau Duronslet Sr. WR/DB Central Catholic – Duronslet had a clutch performance with 7 receptions for 183 yards and a TD from Aidan Wilder.. It wasn't quite enough as #5 CC fell 23-14 to #4 LO.
Eric Dungey So. QB Lakeridge – The sophomore QB proved he was one of the region's best once again helping dropping 63 points against a typically tough Warrior D. He accounted for 6 TDs (4 passing, 2 rushing) .
Cody Oden Sr. WR West Salem – Sophomore QB Cade Smith did a very good job hooking up with Sr. Oden for 3 TDs (47, 4, 7) on the road against Bend in a 28-14 win.
Kendrick Bourne Sr. WR Milwaukie – In one of the most remarkable performances of the night Bourne accounted for all 5 Mustang TDs, catching 6 passes for 173 yards receiving with a INT return for a TD. Milwaukie squeaked out a 33-31 victory over Pendleton.
Ryan Walsh Sr. Slot Wilsonville – Most people know about all everything athletes Tanner Shipley and Johnny Ragin, but don't forget about Walsh. The kid had 4 touches for 3 TDs (66, 80, 78) and 254 all purpose yards in the Wildcats 35-14 win.

Neil Wagner Sr. LB Lake Oswego – The senior LB has played lights out all season and helped maybe the top defense in the state remain consistent; Last week he returned a 75 yd pass to the house and this week came up big with another INT.
Mitch Thompson Sr. RB Oregon City – The 5-7 Thompson is quickly becoming one of the most recognized backs state wide; He went for another 275 yards and 3 TDs on 37 carries in OC's 2 point win.
Josh Harper Sr. WR Marist – Harper has quickly become maybe 5A Oregon's top WR as he scored another 4 Tds in the first half in Marist's 47-0 win over Ashland. Harper caught 3 passes for 69 yards and 3 TDs (28, 6, 35) and a blocked punt for a Touchdown. He now has 8 TDs on the season.
Andrew Bennion Sr. WR Churchill – Bennion has been QB Mitch Reese's go to guy all year through the air; 13 receptions for 141 yards and 3 TDs (11, 9, 23) in the Lancers big win against Eagle Point.
Sam Riddle Sr. QB Century – The Sr. QB helped break another school record this week dropping 66 points for the game primarily all coming in the first half. Riddle finished 13 for 17 for 265 yards and 5 TDs in one half of work. Xavier Mitchell and Brad Bennett each caught 2.
Ethan Luloff Sr. RB Sisters – The 4A standout broke off Madras last night as he scored 4 TDs including a 74 yd punt return in the 39-6 victory.
Kimane Domena 6-2 170 So. QB Roosevelt – One of the top sophomore QB's in the NW, who had 14 carries for 207 yds and 5 TDs rushing…Also was 9 for 15 for 147 yards passing , and 2 TDs. Kids a baller.