*This list is a way to showcase this weeks top performances. I am sure I missed a few and would like to know the ones I did. You can either comment on here or send me an email at Ringerland@gmail.com.
This list is being posted before some Saturday games have been completed. If a player deserves recognition and plays Saturday night, I will edit this post and place them at the bottom.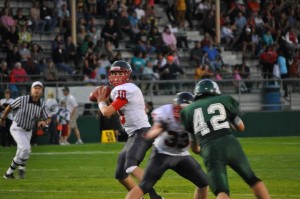 Billy Green Sr. QB King's – The BYU bound Green completed 18 of 31 passes for 312 yards and 5 TDs as the Knights beat Archbishop Murphy 40-15 on Thursday night. He also had 33 rushing yards and a score to help King's becomes the first conference opponent in history to beat Archbishop Murphy on their home turf.
Caleb Taylor Sr. WR/DB King's – Green's favorite target on the night caught 10 passes for 176 yards and 3 TDs. He also had and INT, forced a fumble and recovered it. Green to Taylor is something fans in the state should get used to hearing.
Mauricio Portillo Jr. RB Enumclaw – The physical Portillo was too much for Heritage rushing 29 times for 249 yards and 6 TDs in the Hornets 54-35 non-conference win. Just last week we put him in our 2014 RB rankings as an Honorable Mention.
Ralph Kinne Sr. RB Shelton – Here is your weekly Ralph Kinne update… 42 carries for 359 yards and a TD in Shelton's 35-25 win over the previously unbeaten Wilson Rams. Kinne now has 899 yards and 6 TDs through 3 games.
Isaac Dotson Sr. QB Newport – The Nevada commit rushed or 201 yards on 17 carries and 3 TDs in the Knights 42-10 win over #7 Woodinville. Dotson also passed for 67 yards and 3 TD, all to TE Drew Sample.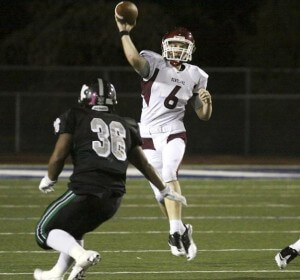 Steffin Church Sr. QB Kentlake – I don't have full numbers but Church tossed 9 TDs in the Falcons 76-55 win over Puyallup. Just those 9 passes alone accounted for 396 yards. If I get better stats I will post them.
Jacob Swilley Sr. RB Yelm – Mr. Everything for the Tornados carried 19 times for 245 yards and 4 TDs in helping Yelm to a 45-6 win over Stadium. Swilley became Yelm's all-time leading rusher in the process and finished the night at 2,639 yards or his career. Next week Swilley and the Tornados face Kinnie and the Shelton Highclimbers. Should be a lot of rushing yards in that one.
Mac Shaw Sr. QB Tenino – Another big night for the Beavers QB as he completed 20 of 31 passes for 321 yards and 3 TDs. Shaw also rushed 19 times for 192 yards and 3 TDs in a 50-22 win over Elma. Tenino is now 3-0 on the season.
Devante Harris Sr. WR Tenino – Harris makes this list for the second week in a row. This time he finished with 9 catches for 193 yards and 2 TDs.
Jack Gellatly Jr. RB Issaquah – Gellatly rushed for 213 and 4 TDs in the Eagles 33-30 win over #2 ranked O'Dea. He was recently listed as our #3 ranked 2014 class RB. Look for Gellatly to get a lot of carries the rest of the way.
Damon Funk Sr. RB Tahoma – The Tahoma Bears got back in the win column with a 47-30 over Auburn Riverside. Funk finished the night with 216 yards on 25 carries and 3 TDs.
Chris Becerra Sr. QB Glacier Peak – Becerra has been an absolute stud so far this season in leading the Grizzlies to a 3-0 start and a top 10 ranking. This week he completed 17 of 32 passes for 354 yards and 4 TDs as GP won a shootout over Jackson 45-35.
Sean Elledge Sr. WR Glacier Peak – One of the more underrated players in the state, Elledge caught 7 passes for 187 yards and 3 TDs. He also had 7 carries for 69 yards and a TD.
Mario Gobbato Sr. RB Blaine – Gobbato continues to rack up yards as he carried 40 times fo 206 yards and 2 TDs, but the Borderites suffered a 22-20 loss to Lakewood. On the season Gobbato now has 707 yards rushing through 3 games.
Bennett Gibson Sr. QB Mount Vernon – The Bulldogs lost to Burlington-Edison 49-43 but Gibson went 27-32 for 471 yards and 4 TDs.
Melvin Walser Jr. WR Mount Vernon – A kid we have ranked as our #8 Jr WR in Washington, Walser caught 14 passes for 290 yards and 3 TDs. He has become Gibson's favorite target and for good reason… He stands 6'2″ and has great hands. He is now over 400 yards receiving on the season.
Jonah Hoe Sr. RB Walla Walla – Hoe carried 35 times while accumulating 279 yards and 4 TDs as Walla Walla picked up a 28-18 over Davis (Yakima). Hoe is a returning all-league player who is a real leader for the 2-1 Blue Devils.
Casey Ruether Jr QB Cashmere – In a 68-0 thrashing of Omak, Ruether carried 12 times for 191 yards and 4 TDs. The Bulldogs are now 3-0 having outscored their opponents 161-7.
Trey Handy Sr. WR Nooksack Valley – Handy caught 7 passes for 169 yards and 2 TDs, but it wasn't enough as the Pioneers dropped a close one 32-27 to the Sedro Woolley Cubs.
Austin Rehkow Sr. PK Central Valley – The Bears kicker finished the night with 4 FGs, including one from 56 yards as CV beat Mt. Spokane 33-17. Rehkow is now tied with former CV kicker Mike Hollis for the Greater Spokane League's career FGs mark with 19.
Lars Blix Sr QB Wahkiakum – Blix continued his grea play as he completed 11 of 15 passes for 236 yards and 2 TDs. He also rused for 145 yards on 14 carries and 3 TDs as the Mules beat Adna 54-20.
Kai Van Sickle Sr. RB Capital – Returning this week, Van Sickle carried 21 times for 224 yards and 2 TDs as the top ranked Cougars defeared Bothell 27-11.
Loren Standiford Jr QB Heritage – In a losing effort, Standiford completed 22 of 39 passes for 404 yards with 3 TDs. He is now at 1,050 yards and 11 TDs in just three games this season.