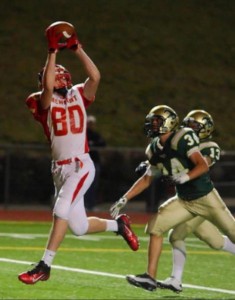 Newport's 42-10 victory over a top ranked Woodinville team last night was a statement game in more ways then one. The Knights are coming off two close losses to quality teams in Capital (29-22) and South Kitsap (33-27). Newport blasted the Falcons last night behind all everything QB Isaac Dotson (6-3 220 Sr.), and NEI's #1 ranked junior TE for the state of Washington in Drew Sample (6-5 225 Jr.).
Sample caught 3 of Dotson's TD passes, while the senior QB also rushed for 203 yards and and 3 Tds on 17 carries. The future Nevada quarterback has been training with us at Barton for a number of years, and is someone that epitomizes what character kids are all about. Isaac and I spoke earlier in the week about his tight end and after the game he said, " like I told you Drew is legit".
He couldn't be more correct as Sample has the ideal size and body type to be the next premier tight end in the northwest. The offense is suiting with the running game being the focus, and he is just going to get better. Sample says, " Our goal as a team is to get to the state playoffs, and a lot of credit goes to our line tonight for giving Isaac time to throw". He continued, " Our motto for the year is finish, we want to finish in everything that we do".
On the season Dotson has rushed for 321 yards and 5 TDs on 36 carries. He is averaging 8.92 yards a rush so he's not your typical quarterback, but don't let that fool you. Time and time again this past spring at our events Isaac dropped dimes on people, showing off an outstanding arm and overall athleticism.
Sample will be able to use this game as a platform for the rest of the season, as he is a kid that most people would say will be a high level D1 recruit with continued progression. He has caught 5 passes for 52 yards on the season, but expect those numbers to increase as its become very apparent they have had a huge advantage anytime you can get Sample 1 on 1.
Coach Mike Miller does an outstanding job having his guys prepared every week, as two close losses would have a sunk a lot of teams mentally and physically to start the season. Not so here.
Keep the Newport Knights on your radar as both of these athletes have a strong supporting cast that could do some big things moving forward.