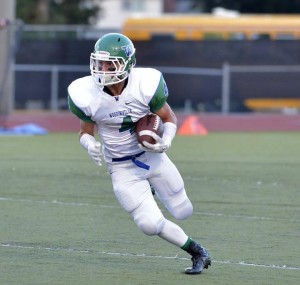 He isn't the biggest running back prospect out there, but even at 5'7″, 165 pounds, Woodinville junior RB Wyatt Smith plays much bigger than that and he's off to a great start this season for the Falcons rushing for 284 yards and four touchdowns in his team's first two games, both wins.
"I had good games, but it wasn't just about me," Smith told Northwest Elite Index recently. "I have a really good line and they just opened things up for me, and all I had to do was find the hole and go."
In Woodinville's big opening game win over a very talented Lakes team, Smith racked up 159 yards and two scores while also locking down one side of the field from his cornerback spot.
"I love to compete and play both ways," Smith said. "Our goal as a team is to be the most physical team, hit the hardest and compete in everything we do."
Last season, Smith was poised to start for the Falcons both ways, but broke his forearm in the first game and he didn't see action until the playoffs.
"It was frustrating, but I just had to work hard to come back and when I got my chance, I made the most of it," Smith added.
Because he didn't have much in the way of film, college coaches have yet to make contact, but Smith told NEI he's been working hard on perfecting his craft.
"I have worked on my footwork a lot along with getting bigger and faster," Smith said. "It's helped me a lot, and I think that's going to make a big difference for me down the road."
We will continue to keep track of Smith's progress as the recruiting process gets underway and we will update news as it happens with him.