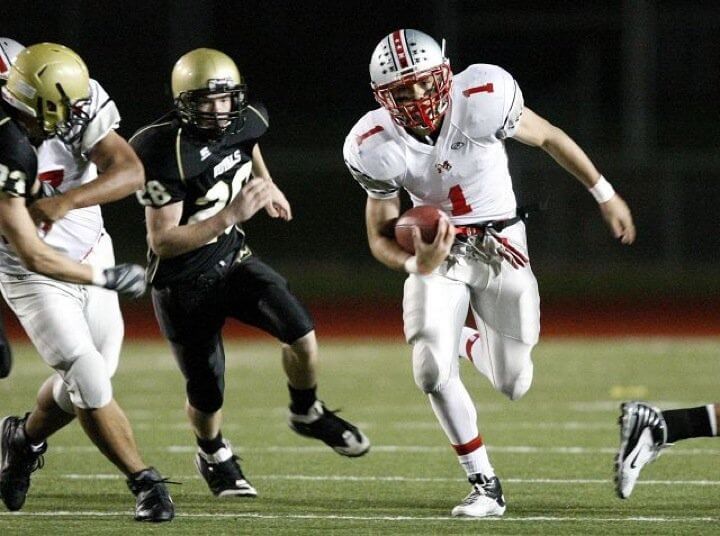 Anyone wanting to know who the top junior recruit in the northwest is without an offer look no further. Devante Downs (6-3 235 Jr. RB/LB) is a freak , and watching his video you will see a kid that is just physically bigger and stronger then almost everybody. What's crazy is that the kid is just starting his 11th grade season after earning second team all league honors the last two years.
As a freshman he rushed for 19 Tds in 7 games to set the tone for his career. He's an Eddie George type back, thats big and fast and can also play defense. Mountlake Terrace isn't necessarily your typical state power, but that doesn't play a part in Downs expectations for himself. He is a team guy first that carries a 3.6 GPA and realizes what he needs to do to help keep his ball club in games.
Downs has a unique combination of speed and size that very few athletes in the region can compare to. He recently squatted 375 and benched 280, but its the god given physical attributes that separate him from most. " I would prefer to run the ball at the next level, but Im willing to do either". He continued, " Right now Im just focused on helping my team however I can and making the most out of every opportunity".
So far this season Devante has carried the ball 55 times for 345 yards and 6 Td's, as the Hawks sit at (1-2) with a (3-0) Glacier Peak team on the horizon. Downs is bigger then four of his offensive lineman and can deliver devastating stiff arms to pursuing defenders. " Personally I would like to go for over 1000 yards and 20 Tds this season and really show what I can do on film". His abilities as a defender are equally as dominant, as he's on the field about 90% of the time during each game.
Even more important then Devante's freakish ability is his focus in the classroom. He is working hard to better himself on and off the field, as he takes three courses at the college earning both HS and college credit. He also takes Pre Calculus and Spanish 3 as a junior, so education is something he has set as a priority.
Its rare to see a kid as big as Devante run a 4.7 (40 yard dash), with jukes but that's what you get. There are only two juniors in the state of Washington as of right now with offers, in Budda Baker and Isaiah- Brandt-Sims, but Downs isn't far off. His film speaks for itself as he looks like a current college athlete.
Downs stays extremely positive in everything that he does, but if the kid had a Top 10 line it would be over for most other teams. He's loves his teammates and his community, and will continue to do his thing on and off the field. All of us at NEI feel that Downs is that next high profile recruit ready to be seen on a national stage. He's received plenty of interest, but its still very early and you can expect things to pick up a great deal for Downs in the near future.
Devante Downs Highlights http://www.hudl.com/athlete/316221/highlights/7312380