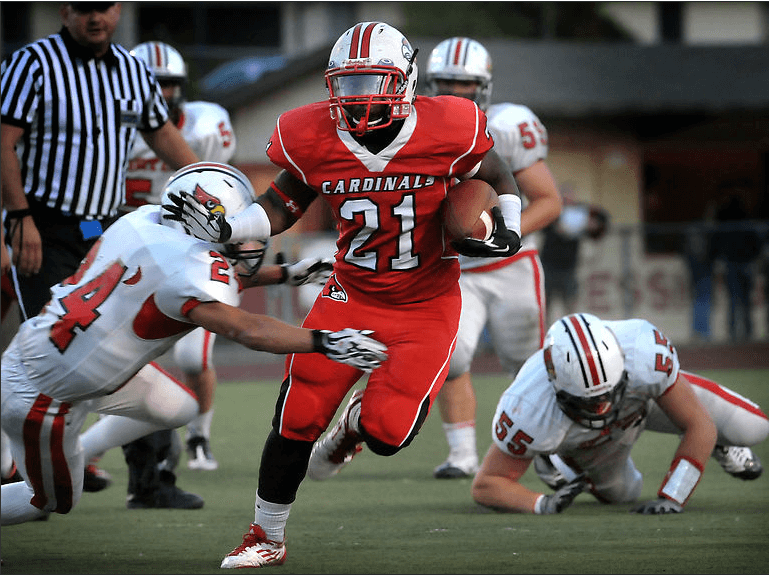 Spending last season behind All-SPSL RB Iopu Ignacio didn't deter Samuel Mintah (5-7 175) from the idea of eventually becoming the go to guy at Franklin Pierce. Through three games Mintah has 514 yards rushing and 7 Tds for a Cardinals team still looking to find its true identity.
In week two Sam went wild. He rushed for 280 yards on just 16 carries and scored 4 Tds. I asked LB/TE Brett Carter (Jr. 6-4 200) that game, "Sam is really at the top of his game right now". He continued, "Everyone in the crowd wants to see him run the ball".
When asked to describe Sam, longtime head coach Howard Lutton said "Sam is an emerging back who is durable, fast and tremendously competitive".
The first time I saw Sam perform was during the NW Stars Camp at the University of Washington. He made a move to spin away from an unsuspecting LB that really had no chance. I asked Sam what that day did for him, "It put me in an environment where I had to step up my game since I was in front of college coaches. You guys had a good turnout of coaches that day"
Knowing that this season he needed to step up and be a leader for the Cardinals, Mintah organized off-season training sessions. "Every Saturday I like to get a group of guys and take them down to the (Tacoma) waterfront and run this huge hill and we would go to a nearby field and run routes. Just a way of bonding and creating a brotherhood that is essential to every team".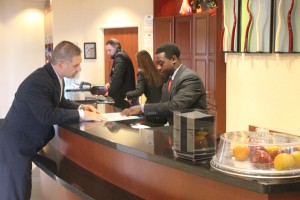 The extra curricular activities are something that sets him apart from most other high school athletes. Mintah is a kid that is already looking out for his future after football. Currently he is interning at the Courtyard Marriot in downtown Tacoma where he works in various departments to get a feel for how the business works as a whole.
Sam has attended many business conferences for youths that are looking at business a potential career. One he attended was the Shades Of Purple, a "I was also selected to this very selective conference. We stayed in the dorms for three days and basically became a college student for the time being. We attended class and had homework".
When asked about other activities he had, Samuel said "I've have just been recently selected to join an on going program of young future business students". Speaking about the Young Executives Of Color which is associated with the University of Washington. Mintah continued, "We will meet once a month and make connections with business men and women to possibly pursue internships with those associated".
The Cardinals are the defending league champion and definitely have a target on their back this year. They lost a lot of starters, but do return some real quality players. At QB they have Sr. Reilley Peirce (5-11 210) who is a 4 year varsity starter and an unquestioned leader on both sides of the ball. Last season Peirce was recognized as the All-SPSL 2A 1st Team QB.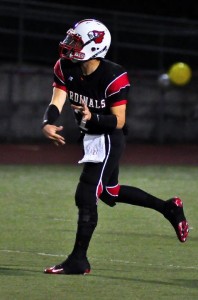 Peirce is an all-around great athlete. I really could see him playing multiple positions and even he realizes that. He said, "I love QB, but I know how to play a lot of positions".
Coach Lutton presented Reilley as a leader "He is extremely focused. He wants to be the guy that is responsible for how the game turns out". He continues, "Reilley is a really strong kid and has a really strong arm".
Two days before the start of the season the Cardinals lost starting LB/TE Brett Carter. He led the SPSL 2A in sacks as a Sophomore and had a really great spring and summer. This was anticipated to be a huge year for Brett. In asking coach Lutton about Brett you could almost hear the disappointment in his voice. "We were very excited for Brett as a Tight End, but really he was going to be a kingpin on defense". He said "It was really a freak accident when we were installing a play for him and someone gets blocked into him and his season is over".
Reilley Peirce reiterated what coach Lutton said by mentioning "He was going to be the guy in the passing game, but I was more excited for him to play defense. Definitely a big loss for our LBs".
Franklin Pierce is a team I really like. They are good enough to win the SPSL 2A, they just need to get the ship steady and back on course. Both losses have been to very good teams and luckily only the Orting game was in league play. I still see the Cardinals as a team that should be playoff bound. If they are, Peirce and Mintah are going to have to carry them on their back.
Samuel Mintah Highlights: http://www.hudl.com/athlete/795634/highlights/12182372
Reilley Peirce Highlights: http://www.hudl.com/athlete/859439/highlights/8463394
Brett Carter Highlights: http://www.hudl.com/athlete/922779/highlights/13430377