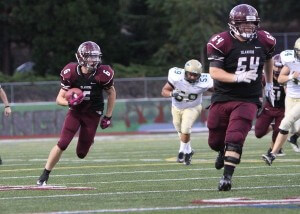 A kid that has upped his stock immensely over the off season and the first few games of 2012 is Mercer Island speedster Risley Lesko (5-11 175 Sr. ATH/DB). Lesko is the go to guy on an Islander team that was headed by current Washington QB Jeff Lindquist over the last few seasons. Lindquist left the school ranked the #4 overall QB in the country, and a local legend so most of the Mercer team feels like they have something to prove without him there.
Mercer has started the season (2-1), with their only loss coming to the two time defending Idaho State Champions in Coeur d' Alene. Lesko was sick with the flu during that contest, so Mercer Island was basically playing without their best player. The Islanders return a host of good lineman and a solid supporting cast so they feel good about their chances.
Lesko says, " Our main goal this year is to make a deep run into the state playoffs, and get to the Tacoma Dome". He continued, " We play in probably the best conference (Kingco 3a) with regular season games against Mt Si and Bellevue so the competition we get out of the league season helps us prepare for the playoffs".
Risley went off last week against Lake Washington rushing 11 times for 155 yards and 4 Tds, while catching four balls for 60 yards and an INT defensively. On the season Lesko has accumulated 572 all purpose yards (270 rushing, 151 receiving, 151 Kick return) in basically just over 2 games. Lesko is a track kid that flies can change a game with his speed. He is super dangerous due to the fact that any time he gets a lane he can break it and be gone. You can't teach speed and he has a lot of it.
Lesko has Ivy League genes and comes from a family with D1/professional athletes within it. He says, " Personally my only goal for this year, other then to help my team in any way that I can, is to put myself in a position where I can play college ball somewhere next year". He continued, "Football is something I love to do and I couldn't imagine not playing". Lesko won't have to worry about that as he is extremely versatile and can play 5-6 different positions. All of his attributes amount to a kid that a lot of schools would love to have.
All of us at NEI/Barton Football are huge supporters of Risley, as he is a kid that we think is just getting better on and off the field . He is one of the most like able kids you are going to come across ever, and is now the go to guy and someone that the Islanders can count on. Expect him to torch any team that doesn't have elite speed, the slightest ally and the kid is gone.