WATCH ON: PlayOnSports.com or OSAA.TV
#5 TIGARD (2-1)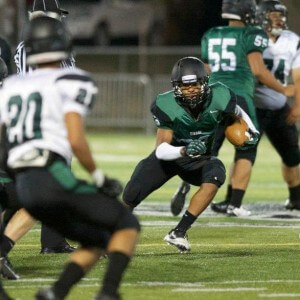 QB
Jett Even 6-3 185 Jr.
The kid has played well so far this year, and seems to be just getting better. Doesn't throw a ton due to the offensive makeup, but has done a good job hitting his targets and not turning the ball over..20/39 for 298 yards and 4Tds/2Ints
RB
Zach Floyd 5-10 180 Sr.
Benny Wick 5-9 190 Sr.
Kaz Greene 5-6 150 Sr.
The three headed monster is nasty and they continue to run people ragged. All three of the backs are unique in their abilities. Floyd may be the most exciting back in the state (Other then Tyner), as he has unique body control with crazy side to side bursts. He has accounted for 402 yards and 6 Total Tds in the last 3 games. Wick is a kid that comes with power and is super quick going for almost 20 Tds last season. Kaz Greene has been one of the most electric players state wide racking up 242 yards on the ground and 113 yards receiving with 4 total Tds. Greene has averaged over 11 yards per carry and 20 yards per catch so the numbers speak for themselves.
WR/SLOT
Manu Rasmussen 5-11 160 Jr.
Chance Taylor 5-9 170 Sr.
Anthony Consolo 5-11 180 Sr.
Rasmussen is filthy, but they just don't throw much. He will be the featured back next season. Chance Taylor is one of the best two way players in the State of Oregon and has played lights out thus far. Taylor's stock is rising quickly catching 8 passes for 139 yards and 2 Tds after earning 1st team all league honors on D last year.
TE
Jake Biglow 5-11 205 Jr.
Conner Olson 6-3 205 Sr.
The TE's at Tigard are outstanding. Olson has just gotten bigger and better, catching 5 passes for 69 yards and multiple TD's. Biglow was an all league kid on both sides of the ball last season and can play multiple positions.
OL
Matt Franz (C) 5-10 195 Sr.
Blake Chamberlain 6-3 280 Sr.
Cain Adams 6-2 280 Sr.
Ethan Lange 5-11 240 Sr.
Janak Ward 6-2 240 Jr.
The line lost 3 big time senior starters from a year ago, but new starters have stepped up and done extremely well. Franz earned 1st team all league honors last season and keeps everyone in check. He's undersized, but extremely smart and tough. Adams has returned from injury and done very well, and two other senior starters have really stepped up in Chamberlain and Lange. Chamberlain was primarily just a Defensive player, but has made the transition nicely. We at NEI have Ward ranked as one of the best junior O lineman in the state, and he has played even better then expected thus far.
DL
Ethan Lange 5-11 240 Sr.
Joe Lobbato 6-2 205 Jr.
AJ Hotchkins 6-0 220 Jr.
Nick Duron 6-3 175 Jr.
Tigard's just fast everywhere including the D line. Lange has done a great job playing on both sides of the ball, and Hotchkins has been one of the most exciting juniors anywhere in the state contributing both offensively and defensively. He's just a very athletic kid that is fast and powerful. Duron is a transfer from Cali that has done very well for himself. He's tall and lanky and causes problems with his length. Lobbato is another talented junior and will see time on the D line as well.
LB
Benny Wick 5-9 190 Sr.
Chance Taylor 5-9 170 Sr.
Jake Biglow 5-11 205 Sr.
Rob Chabreck 6-0 190 Sr.
Matt Franz 5-11 195 Sr.
Wick was a first team all league kid last year and is probably the leading candidate for Pacific Conference Defensive POY. He's super quick and powerful. We are big fans of Taylor who is an undersized backer much like Wick, but is usually just better then everybody. He also earned 1st team all league honors. Biglow returns after racking up Hon Mention all league status as a sophomore, and is a kid we really like..Both Chabreck and Franz will see time as well
DB
Manu Rasmussen 5-11 160 Jr.
Zach Floyd 5-10 180 Sr.
Anthony Consolo 5-11 180 Sr.
The DB's at Tigard are some of the best players in the state and they will have to have the game of their lives against Century's no huddle offense. Rasmussen is a lock down corner/safety and ranked one of the top junior DB's in the state. Consolo and Greene both earned 2nd team all league honors last year and are very comfortable patrolling the secondary. If the Tigard DB's can ball out they will have a very good chance of winning this game.
#7 CENTURY (3-0)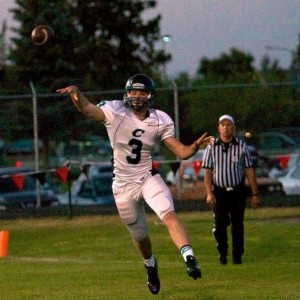 QB
Sam Riddle 6-2 200 56/81 16 Tds/0 Ints 1071 Pass Yds…..12/100/1
What can you say? He's been the best senior QB in the state so far this season. Riddle has thrown for 1071 yards, 16 TDs and 0 INT's in what has been a very impressive first three games. This will be a different type of test as Tigard has maybe the fastest D in the state, other then Lake O. Riddle has done a good job of spreading the ball around to his top three targets you will see below. Keep in mind he is very athletic, and can also run.
RB
Juan Hernandez 5-5 165 Sr.
Tristan Howell 5-8 165 Sr.
Josh Wise 5-7 155 Sr.
Devin Wiggins 5-7 140 Sr.
The Jags do the RB by committee thing and it has worked out well so far. Wise got in the end zone a couple times recently and the rest of the backs are very similar. Tigard will be so focused on the pass that if the Jags could get any type of running game going it could bring a healthy balance to the table.
WR
Xavier Mitchell 6-0 170 Sr.
Vance Hamilton 5-11 160 Sr.
Brad Bennett 6-1 165 Sr.
The Jag receivers are sick lead by first team all league unanimous returner Mitchell. Xavier has caught 6 Tds, Hamliton 5, and Brad Bennett 4 Touchdowns.. Bennett was a 1st team all league QB a year ago, but had the luxury of moving to wide out as Riddle is obviously an outstanding QB. Hamilton was a 2nd team all league WR a year ago and has done a phenomenal job. It will be a battle for the ages with the Century wide outs and Tigard DB's.
OL
Alex Sirois 6-5 300 Sr.
Sheridan Olds 6-4 235 Sr.
Austin Thimjon 6-1 300 Sr.
Sam Devedjian 6-2 220 Sr.
Josh Sundquist 6-0 200 Jr.
Nico Castilla 6-4 305 Sr.
Miguel Cruz 5-11 250 Sr.

Easily one of the best lines in the state, but they to will have their work cut out for them. Tigard has a bunch of kids that fly to the ball like no one they have seen before. Sirois already holds a D1 offer and is a quality leader up front. Thimjon earned 1st team all league honors last season, with Olds getting second team. These three along with defensive standout Devedjian, and three other quality kids with size should provide a huge test for Tigard. Keep in mind Tigard has already seen Aloha's line so this won't be anything they can't handle.
DL
Sam Devedjian 6-2 220 Sr.
Sheridan Olds 6-4 235 Sr.
Aaron Beadle 5-10 235 Sr.
Devedjian isnt the biggest D lineman, but he's really good and creates havoc everywhere he goes. He was a first team all league kid last season and is having an even better year right now. Olds has just looked better and better each week, and these two will need to be huge all night.
LB
Sevon Sengsavahn 5-11 180 Sr.
Daniel Hernandez 5-7 150 Jr.
Juan Hernandez 5-5 165 Sr.
Zach Allen 5-11 195 Jr.
Kory Bounds 6-0 190 Sr.
More then any other position the LB's need to step up. Sengsavahn needs to show why he was a 2nd team all league backer , as a junior and play lights out all night if they want to have any shot of stopping the Tigard running attack. Both the Hernandez kids are very capable and will need to step up.
DB
Xavier Mitchell 6-0 160 Sr.
Vance Hamilton 5-11 160 Sr.
Josh Wise 5-7 155 Sr.
Sam Riddle 6-2 200 Sr.
Spencer Erickson 6-0 160 Jr.
Jaylen Brandon-Martes 5-8 160 Jr.
Most of the Century DB's are also receivers, simply due to the fact that they are such good athletes that need to go both ways.. That said they will have a different task on Friday as they will need to be sure tacklers against the Tigard run game. The Century DB's need to be ready to play more of a linebacker role and not bite on play fakes. Riddle doesn't usually need to play defense, but if they want to beat Tigard you might need your best athlete on the field at crucial times.
Advantage:

QB- Century
RB- Tigard
WR- Century
TE- Tigard
OL- Century (Slight)
DL- Tigard
LB- Tigard
DB- Tigard
Cant wait for this game. This is Century's most important football contest since the school opened, so to say they are excited for this one is probably an understatement. I think it will come down to whether or not Century's D can keep Tigard's running game in check. Right now I question whether or not that can happen. The Jags will get there points out of the no huddle, but not like in the past three weeks.
As we have stated before Tigard's D is maybe the fastest in Oregon and definitely one of the best. Riddle will get a chance to show what he is made of on the road, in front of a packed house with plenty riding on this game. If Century wins they will be in position to earn their first conference title in school history, but Tigard has multiple factors on their side with all of the tradition connected to the program.
Century gave up an average of 40 points to Lincoln and Mt View who don not compare to Tigard, so the biggest question of the night once again is whether or not the Jags can clamp down on Zach Floyd and company. Regardless, a lot of points will be scored and we should have one of the best games of the season….
PREDICTION:

#5 Tigard 44 – # 7 Century 35