*This game is being featured as a Game Of The Week and you can find the online broadcast at WIAANetwork.com. When the game ends it will be archived and available to view within the hour. This is a free service presented by PlayOn! Sports.
Woodinville Falcons (2-1) @ Inglemoor Vikings (0-3)
7pm kickoff from Pop Keeney Stadium in Bothell, WA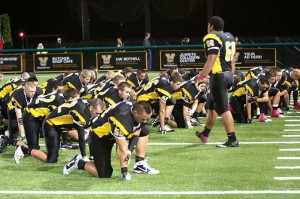 QB
Advantage: Draw
Both teams feature some nice signal callers. The Inglemoor Vikings actually have a two pronged approach with Sr QBs Hans Fortune (6-6 200) and Brandon Edwards (6-1 170). From what I have seen, it appears as though QB1 gets 2 drives before QB2 takes over. I think Fortune is the better passer of the two, but that isn't a knock at Edwards. The Falcons counter with Sr Caleb Hamilton (5-10 195) who sat behind 3 year starter Brett Arrivey last season. Hamilton did see the field a lot on the defensive side of the ball and did get some time under center late in games. Hamilton fits nicely into what the Falcons like to do on offense.
RB
Advantage: Draw
The two teams come at you with a pair of RBs. The Falcons do it with Jr's Wyatt Smith (5-7 165) and Niko Llera (5-10 175). Llera missed last weeks loss to Newport with flu like symptoms, but is expected to play this week. The Vikings attack you with Sr's Jake Jones (5-9 200) and Nick Russell (5-9 165). Jones does most of his running between the tackles, but is very much an all-around back.
WR/TE
Advantage: Woodinville
I do like what Inglemoor brings to the table, but the Falcons bring a lot of athleticism that the Vikings simply do not have. Woodinville runs a spread offense that features 4 quality receivers in Alek Kacmarcik (Jr. 6-1 195), John Villasenor (Sr. 6-2 200), Grayson Burrus (Sr. 5-11 180) and Drew Accimus (6-2 190). Inglemoor does have one thing that Woodinville does not have, size! The Vikings throw out WR's Erik Strathy (Sr. 6-5 185), Mike Lewis (Sr. 6-2 170) and TE Jackson Gardner (So. 6-5 220).
OL
Advantage: Woodinville
The Inglemoor Vikings have one of the best offensive lineman in the state in Titus Makasini (Sr. 6-5 265), but the Woodinville Falcons have a better all-around crew that fits their scheme. The Falcons are a bit undersized, but are athletic and very good. Nick Solchany (Sr. 5-11 215) and Collin Messner (Sr. 6-0 210) are two players that fit the undersized-athletic mold, while Andre Dillard (Jr 6-4 230) is a kid I am definitely keeping my eye on.
DL
Advantage: Woodinville
The Falcons are fast and physical up front. Sr's Colter Clinch (6-3 230) and Lee Wunderlich (5-11 200) anchor an undersized line that is much better than they are given credit for. The Vikings have some experience on the DL led by Sr Josh Koukal (6-2 210) and Sr Cam Miller (5-11 200). The player I am excited to watch here is Inglemoor Sophomore Jackson Gardner. He has great size and was one of the few bright spots when I saw the Vikings host Meadowdale in week 2.
LB
Advantage: Woodinville
The Vikings have been without starting MLB Mikey Tupou (Sr. 6-2 237) all season and I don't expect to see him this week. That is a huge loss for the Vikings and one that really does give this position to the Falcons. Woodinville comes at you tough with Sr's Parker Moore (5-11 200), Cole Bonvallet (5-10 203) and Trey Cornelius (5-11 200). Those three all fit the term "mobile, agile and hostile".
DB
Advantage: Woodinville

Woodinville just has more experience and depth than Inglemoor. Sr's Dane Hawkins (5-9 170) and Caleb Hamilton (5-10 195) as well as Jr's Wyatt Smith and Alek Kacmarcik combine to make one of the more athletic sets of DB's in the KingCo conference. I do really like what Inglemoor has and it might be their best position. Sr Jake Jones is very much underrated as a FS, Jr. John Gardner (6-2 176) and So. Isaiah Lewis (5-11 167) are two up and coming DB's that are growing by the game.
Outlook:
This is a rivalry game and anything can happen. Woodinville was ranked and moving right along until meeting Newport Knights star Isaac Dotson. The season is still young but so far the Inglemoor Vikings have not had much to really brag about. They looked good last week against Tumwater and if they continue on the path they have, they could still make the playoffs. As of right now though, Woodinville is the better team.
Prediction:
Woodinville 28 – Inglemoor 10