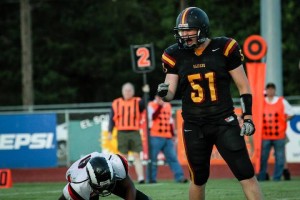 As we continue to go through our top junior athletes from the state's of Oregon and Washington, we look at those who individuals who have established themselves early on in their career. One kid that sticks out like a sore thumb is Jacob Bucher (6-3 230 Jr. LB) of Crescent Valley, who has god given size and the desire to play ball at the highest level possible.
Just last week the Raiders were on the losing end of the Jake Lacoste show while playing West Albany, but don't let that fool you. Lacoste has broken off every team that he has played thus far, and until someone stops him the chances are good that the Bulldogs will make a run at a title.
The Raiders already have the state's top junior recruit in Tanner Sanders (6-5 200 Jr. QB/ATH/S) who has been offered by Oregon St and San Diego St. Bucher is a kid that we have ranked the #5 Jr. backer in Oregon, after a sophomore season that saw him rack up 85 total tackles, 3 sacks, and an INT. The stats are impressive, but talking to Jacob you get to see what he's all about which is even a better story.
Bucher says, " Im not a party guy, Ive never drank or smoked.. Im big into my family and friends and I love them all". Jacob has volunteered some of his time at places like Habitat for Humanity and the Heartland Humane Society. If you ask anybody he's extremely humble, really not wanting to talk about himself. That said, he knows what he is capable of and would rather prove it on the field. The last conversation we had he only wanted to talk about his teammates and not himself, which just goes to show you about the character of the kid.
Crescent Valley lost a close ball game to a team from Hawaii in week one before blasting Putnam in week 2. The loss to West Albany is something they would rather forget, but CV still has a chance to do some big things moving forward. Bucher is teaming with one of our other favorite backers in Tanner Fiez (6-2 220 Sr. LB) who is a bubble kid, and on a lot of Big Sky radars after leading the state in tackles as a junior. These two together provide Crescent Valley with a solid nucleus that should be able to stop most offensive attacks.
Its kids like Jacob that make what we do worth it, as he's just a passionate individual. He originates from Boise and loves the Broncos and will always have a place in his heart for the land of the Potato. " Ive battled through many differences and big obstacles in my life, like being in foster care for a year in Boise. He continued, " I think it shows my tenacity and heart, as it has helped me to become a much stronger person"
We look forward to following the Raiders for years to come. Head Coach Scott Sanders does an excellent job with his athletes, and has compiled one of the most elite coaching staffs in the northwest. Bucher is a kid we really like moving forward and we wish nothing but success.