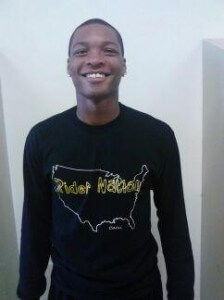 Last year we got to know Christian Swain and the Roosevelt Roughriders pretty well. Swain is one of the most dedicated young coaches anywhere in the country, and has given his life to helping his kids become better young men first and athletes second.

Its no secret Roosevelt's in a rough part of town where resources are limited, and opportunies can be hard to come by. That said nothing has stopped the Roughriders from improving immensely over the last few seasons. They have some of the top young athletes in the State of Oregon, and could very well be a 5a contender in the coming years.
The senior leader of the of the group is one of the top two way threats in the northwest in Antonio Bella (5-11 175 Sr. Slot/DB). With that established sophomore QB Kimane Domena (6-2 180 So. QB/S) looks like he could be the next special athlete to come out of Portland. Domena looks like a man amongst boys on the field, but he's the one two years younger then most. This last week he ran the ball 14 times for 207 yards and 5 TDs, while going 9 of 14 for 147 yards and 2 TDs through the air. Roosevelt is currently (2-1) with there only loss coming to the state's #1 ranked 4a team in Gladstone.
Through 3 games Domena has accounted for 14 TDs (8 rushing, 6 passing) completing 61% of his passes while only being intercepted twice. Roosevelt looks like the top Portland school at the 5a level, but they have some work to do if they want to compete state wide. When referencing Kimane assistant coach and former NFL QB Neil Lomax says that Domena has the potential to be a kid invited to the prestigious "Nike Opening" in a few years. A bold statement, but something that isn't taken lightly.
Coach Swain says, " Kimane is really developing maturity wise and benefiting greatly under the instruction of Neil Lomax.". He continued, " He might be one of the top sophomore QB's in the country and not just the NW, if you watch his film it speaks for itself".

One way to find out where your quarterback stands is by having him get with Taylor Barton in the off season, which is the plan as of right now. Barton has had two of the nation's #1 ranked QB's in the last 3 years (Max Browne-USC, Jake Heaps-Kansas) along with a host of D1 and current NFL starters. Barton's evaluation of Kimane will be crucial on multiple fronts , as many people will question the 5a/4a teams that they play against. That's not to take away from what he's done, its just reality.

Bella is a kid that has caught 22 passes for 375 yards and 2 Tds in the last 3 games, and is equally dangerous as a DB and a Kick/Punt returner. Antonio is a kid that you will see be added to our " Top Athletes No Offers" list shortly as he continues to dominate the competition.

Add in two of NEI's top ranked lineman for the 2014 class in Sione Taumoeanga (6-1 280 Jr. OL/DL) and Semise Kofe (6-2 275 Jr. OL/DL), and you have what amounts to a group with unlimited potential that is still very young. Sione has gone off early this season accounting for 30 tackles and 4 sacks from his nose guard spot, while Kofe has added 5 sacks and 19 tackles. Between the two of them they are going to be tough for anyone in the PIL to stop.
If that wasn't enough the addition of one of the state's top junior perimeter players, Vontrelle Mills (5-9 155), has been huge. The transfer from Jeff has done very well for himself thus far catching 7 passes for 163 yards and 3 Tds. He is one of the most dangerous kids state wide in the open field.

Damalia Spires (5-11 200 Jr. RB) and James Schell- Buchanan (5-11 180 Jr. WR/DB) are two other juniors that will play a huge role moving forward , and are considered two of the better junior athletes in Oregon.
Under the guidance of Swain this Roosevelt team has made an incredible turnaround in the last few seasons. Kimane now lives with Coach Swain and his wife in what is a very touching story. Without football god knows where some of these athletes would be, but having an opportunity to be a part of something built from the ground up has changed lives. Kimane calls coach "Dad" , and Coach calls Kimane "son". That in itself is more important then any statistic or victory could ever amount to.
We wish the Roosevelt team continued success, as can't say enough good things about what is going on there.
http://www.hudl.com/athlete/790249/highlights/18327382 Kimane Domena Highlights
http://www.hudl.com/athlete/790218/highlights/17362411 Antonio Bella Highlights
http://www.hudl.com/athlete/790232/highlights/16958379 Sione Taumoeanga Highlights
http://www.hudl.com/athlete/790231/highlights/8875382 Semise Kofe Highlights