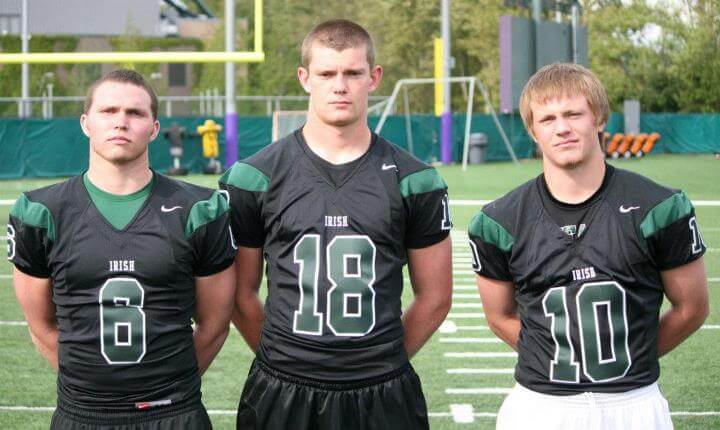 Oregon Official NEI 6A – By Jordan Johnson
1. Jesuit (3-0) – AJ Glass continued his tear and now sits with 14 Tds on the season, adding 4 more against Canby on 224 yards rushing.. Jesuit's junior trio of Henry Mondeaux, Joey Alfieri, and Trent Werner has been phenomenal and the line has been lights out. They will get their toughest test of the season against CC, in one of the biggest rivalries state wide… W H- Canby 42-3
@ #6 Central Catholic (1-2)
2. Sheldon (3-0) – Pounded a struggling South Eugene team where most of the starters were out mid 2nd quarter; The Irish will most likely not be challenged again until the state playoffs after South Medford just fell to Thurston last week. This is a down year for the Southern Conference and the Irish will blast most everybody… W @ South Eugene 56-14
H- North Medford (1-2)
3. Aloha (3-0) – 643 yards and 10 Tds later Thomas Tyner sits with some records that may never be broken within the State of Oregon. It goes down as the 3rd greatest rushing performance in the nation's history and puts into perspective what the kid is capable of. Keep in mind the Aloha O line is nothing short of filthy, but the defense did give up 63 points so there are question marks… W- H Lakeridge 84-63
@ Sunset (3-0)
4. Lake Oswego (3-0) – LO's D is really good and they came up clutch once again..The offense did enough to win and Sr QB Justen Ruppe did a good job managing the game and using his legs. If the Lakers can stay healthy they can compete against anyone simply because the D is elite…. W- H #6 Central Catholic 23-14
@ #10 Southridge
5. Tigard (2-1) – Beat a much improved and undefeated Glencoe team that really hadn't played anybody, but it wasn't that impressive.. I think the Tigers were still a little tired from the close loss to Aloha, and let the Crimson Tide hang in there..Kaz Greene has been lights out all season, and Zach Floyd is the real deal…. W @ Glencoe 21 -7
H- #7 Century (3-0)
6. Central Catholic (1-2) – The Rams lost their second close ball game in a row to the defending state champions in Lake O. QB Aidan Wilder and WR Beau Duronslet both played outstanding, but it just wasn't enough. Wilder hit on 18/25 passes for 284 yards and Duronslet hauled in 7 receptions for 182 yards and a Td.. The Lakers D was just to tough..They will have to gather themselves after two tough weeks and prepare for a dogfight against #1 Jesuit… L @ #4 Lake Oswego 23-14
@ #1 Jesuit (3-0)
7. Century (3-0) – The Jags blasted a down and out Hillsboro team while the starters were out by half; Riddle continued his passing onslaught throwing 5 more Tds making it a 16 Td to 0 Int ratio on the year. This weeks game will be the most important in the schools history, as it sets up a conference title matchup with Tualatin being the only other team in the league that could compete. Xavier Mitchell (6), Vance Hamilton (5), and Brad Bennett (4) have accounted for 15 of the Tds… W H Hillsboro 66-6
@ #5 Tigard (3-0)
8. Sprague (3-0) – The Olympians have played outstanding this season, beating two of the state's top 5a teams in Wilsonville and the Cougars of Mt View last week. The 35-14 win in Bend proved how tough this Olympian team could be as there defense has continued to lock it down when necessary. The game this week can be considered a conference title matchup, as there isn't anybody else within the league other then West Salem that can match up with Sprague… W @ Mt View 35-14
@ West Salem (2-1)
9. Tualatin (3-0) – The T Wolves got an easy win over Forest Grove where they finally got their offense going. Jr QB Brandon Shroyer looked good and got his team up big by half 34-7 and cruised the rest of the way… W H- Forest Grove 48-14
@ Hillsboro (0-3)
10.Southridge (1-2) – The talented Skyhawks got their first win of the season as Jr. RB Devin Martinez ran for 313 yards and 4 Tds. Southridge dropped a couple tough ball games to Sheldon and Tualatin early and now faces a stiff test against the defending state champs in Lake O, making their schedule one of the toughest state wide.
H #4 Lake Oswego (3-0)
Others:
11. Lakeridge (1-2)
12. Sunset (3-0)
13. South Medford (2-1)
14 Canby (0-3)
15. West Linn (2-1)
16. West Salem (2-1)
17. Centennial (1-2)
18. McMinnville (2-1)
19. Gresham (3-0)
20. Oregon City (2-1)
21. Westview (2-1)
22. Thurston (1-2)
23. Grant (1-2)
24. Clackamas (2-1)
25. Crater (1-2)
26. Glencoe (2-1)
27. Lincoln (0-3)
28. Beaverton (3-0)
29. David Douglas (1-2)
30. Roseburg (1-2)
31. South Salem (1-2)
32. Grants Pass (1-2)
33. Barlow (0-3)
34. Reynolds (2-1)
35. Newberg (1-2)
36. McNary (1-2)
37. McKay (2-1)
38. North Medford (1-2)
39. Forest Grove (0-3)
40. North Salem (0-3)
41. South Eugene (0-3)
42. Hillsboro (0-3)
Oregon Official 5A – By Jordan Johnson



1. Sherwood (3-0) – The Bowmen squeaked out a win against a feisty Hermiston team last week, in what was a much more difficult contest then expected. Cristian Morris went for 100 yards again, but the close win makes top ranked Sherwood look suspect….W H Hermiston 35-28
@St Helens (1-2)
2.West Albany (3-0) – Jake Lacoste going for 300 again, against a good CV D makes the bulldogs maybe the most dangerous team in 5a football. As of right no one has come close to stopping him and the teams haven't been bad. Expect this next weeks gave to be over after the first quarter… W H #8 Crescent Valley 49-13

@Woodburn (1-2)
3. Wilsonville (2-1) – High profile two way threat Nick Highberger returned for the Cats and Ryan Walsh went off touching the ball 4 times, scoring 3 Tds and gaining 254 rushing and receiving yards.. Tanner Shipley did his thing scoring 2 more Tds, but it wasn't a blow out which is interesting. The Cats get a Putnam team that returns the NW's top receiver in Deshawn Stephens this week..W @ Parkrose 35-14
H-Putnam (1-2)
4. Marist (2-1) – The Spartans blasted a decent Ashland team as this one was over early scoring all 47 of their points in the first half. WR/DE Josh Harper scored another 4 Tds giving him 8 for the year, and making it so everyone just can't double Austin Baird…. W @ Ashland 47-0
@ Marshfield (0-3)
5. Churchill (3-0) – The Lancers finally got a chance to play a decent team last week and did a good job in victory. They were without top junior RB Tyler Reid who was out due to injury, but WR Andrew Bennion stepped up big catching 13 passes for 147 yards and 3 Tds… W H Eagle Point 35-14
@ Ashland (1-2)
6. Silverton (3-0) – The Foxes continued there impressive season with a 40-6 beat down of Dallas. The Silverton defense has been nothing short of phenomenal this year with Sr. RB/LB Chris Gracia leading the way. Sophomore QB Cole Chandler has been one of the more impressive QB's state wide, and provides Head Coach John Mannion with two solid young QB's to go with an already young team….W @ Dallas 40-6
H- Corvallis (2-1)
7. Mt View (1-2) – The Cougars have lost to 2 Top 10 6a teams at home over the last few weeks, but that doesn't take away from their potential. They are still one of the top 5a teams in the state and will do well moving forward..L H #8 (6a) Sprague 35-14
@ McNary (1-2)
8. Crescent Valley (1-2) – There was no answer for Jake Lacoste last week which seems to be the trend for most. CV will need to win out in already tough 5a conference if they want to prove they are one of the state's best 5a teams. They have the players, now they need to prove it on the field… L @ #2 West Albany 49-13
H-Lebanon (1-2)
9. Redmond (3-0) – The Panthers beat a much improved and undefeated Hood River team on the road, as the 30 seniors they carry provide a solid foundation. This will be the 3rd 4a team they have played in their first 4 games which puts the competition factor into question…W @ Hood River 41-28
H- Henley (1-2)
10. Springfield (2-1) – A 2 point loss to #6 Silverton is the only thing that is keeping the Millers from being undefeated right now. Springfield beat up Willamette 43-14 last week and enters our top 10 with a very talented new coaching staff leading the way.
@ Eagle Point (2-1)
Others:
11. Eagle Point (2-1)
12. Hermiston (1-2)
13. Hood River (2-1)
14. Bend (0-3)
15. Putnam (1-2)
16. Roosevelt (2-1)
17. Corvallis (2-1)
18. Milwaukie (2-1)
19. Pendleton (0-3)
20. Ashland (1-2)
21. Wilson (2-1)
22. Sandy (0-3)
23. Parkrose (2-1)
24. Dallas (1-2)
25. Lebanon (1-2)
26. Liberty (1-2)
27. Madison (2-1)
28. Willamette (1-2)
29. St Helens (1-2)
30. Summit (1-2)
31. S.Albany (1-2)
32. Woodburn (2-1)
33. The Dalles (1-2)
34. Cleveland (0-3)
35. North Eugene (1-2)
36. Jefferson (0-3)
37. Marshfield (0-3)
38. Franklin (0-3)
39. Benson (0-3)
Washington Official 4A/3A By Jordan Johnson, Ryland Spencer, Scott Eklund
**2A/1A Included
NEI Official 4A
1. Skyline (3-0)
2. Mead (3-0)
3. Federal Way (3-0)
4. Camas (3-0)
5. Bellarmine Prep (2-1)
6. Skyview (2-1)
7. Kentwood (3-0)
8. Issaquah (2-1)
9. (tie) Bothell (0-3)
9. (tie) Gonzaga Prep (3-0)
NEI Official 4A
1. Bellevue (3-0)
2. Mt Si (3-0)
3. Meadowdale (3-0)
4. Eastside Catholic (3-0)
5. O'Dea (2-1)
6. Glacier Peak (3-0)
7. Kamiakan (2-1)
8. Mercer Island (2-1)
9. (tie) Shelton (3-0)
9. (tie) Ferndale (3-0)
9. (tie) Lakes (1-2)
9. (tie) Kennedy (1-1)
JORDAN JOHNSON PICKS
4A
1. Skyline (3-0)
2. Mead (3-0)
3. Federal Way (3-0)
4. Camas (3-0)
5. Skyview (2-1)
6. Bellarmine Prep (2-1)
7. Bothell (0-3)
8. Issaquah (2-1)
9. Kentwood (3-0)
10. South Kitsap (3-0)

3A
1. Bellevue (3-0)
2. Mt Si (3-0)
3. Meadowdale (3-0)
4. Eastside Catholic (3-0)
5. O'Dea (2-1)
6. Mercer Island (2-1)
7. Glacier Peak (3-0)
8. Kamiakan (2-1)
9. Lakes (1-2)
10.Kennedy (1-1)

RYLAND SPENCER PICKS
4A Top 10
#1 Skyline (3-0) 71-20 win over Coeur d'Alene (ID) (3-1)
The Skyline Spartans made Coeur d'Alene look silly om Saturday night at the Kibbie Dome in Moscow, ID. Max Browne could do no wrong and finished with 446 yards passing and 6 TDs. The Spartans also ended CdA's 24 game winning streak.
#2 Mead (3-0) 41-7 win over Lewis & Clark (1-2)
Through three games the Panthers are averaging close 44 points for and 8 points against. A few weeks ago we put RB Davian Barlow on our "Top Athletes/No Offers" page (Tab at the top) and since then he has reeled off two straight 200 yard games. They play (3-0) Gonzaga Prep in two weeks.
#3 Federal Way (3-0) 62-28 win over Graham-Kapowsin (2-1)
In one of the more impressive wins of the week, Federal Way took Graham-Kapowsin to the shed in a battle of two very good teams. The Eagles had cruised through the first two weeks before running into and over GK on Thursday night. Sopohmore RB Chico McClatcher returned a punt for a TD and took a screen pass 50+ yards for another. He is quickly becoming one of the best backs in the state.
#4 Camas (3-0) 45-14 win over Auburn Mountainview (1-2)
The Papermakers continued to impress. QB Reilly Hennessey went over 300 yards for the second time this season. This week they travel to Lakewood to take on a good Lakes team before beginning league play with #7 Skyview.
#5 Kentwood (3-0) 70-0 win over Mount Rainier (0-3)
The Kentwood Conquerors have 3 wins, all in conference and all without one of the better LBs in the state, Chance Kalua-Fuimaono. A defense that has allowed total points in 3 games wil only get better when he returns.
#6 Bellarmine Prep (2-1) 42-7 win over Central Kitsap (2-1)
Back in the win column for the Lions after last weeks loss to Lakes. Sefo Liufao passed for a TD and rushed for two more while Lou Millie played the part of a workhorse rushing 24 times for 135 yards and a score. This week will be a battle as BP plays host to the undefeated South Kitsap Wolves.
#7 Skyview (2-1) 35-14 win over (3A) #5 Lakes (1-2)
The Storm have rebounded nicely after being beaten down in week one by Central Catholic (OR). QB Jordan Berni has been doing a little bit of everything while RB Jabari Marshall has been a great compliment to keep defenses on their toes. This week they travel to Enumclaw to play a physical Hornets team that will look to slow the game down.
#8 Gonzaga Prep (3-0) 39-13 win over Ferris (2-1)
The Bullpups came up with a big win over the Ferris Saxsons this week that should setup a week 5 matchup against #2 Mead. Gonzaga Prep likes to run the ball and this week they were very successful finishing with 442 yards. Griffin Hare is the name most people know, but this week it was QB Zach Bonneau that led the Bullpups in rushing with 140 yards on 18 carries.
#9 Issaquah (2-1) 33-30 win over (3A) #2 O'Dea
Well the Eagles didn't stay down long after last weeks shutout loss to Mount Si. They traveled to West Seattle Stadium and rode the back of Jr RB Jack Gellatly to a big win over O'Dea. Gellatly finished with 213 yards and 4 TDs on the night. Issaquah will play a third straight road game this week as the begin KingCo Conference play at Newport.
#10 Bothell (0-3) 27-11 loss at (2A) #1 Capital (3-0)
Say what you will, but the Bothell Cougars are still very much capable of winning a state championship. 0-3 means absolutely nothing here as they have faced the #1 team from 4A, 3A and now 2A. This week they come home to an always rowdy Pop Keeney Stadium for a conference game against Eastlake.
Others: South Kitsap (3-0), Battle Ground (3-0), Ferris (2-1), Lake Stevens (2-1), Woodinville (2-1), Graham-Kapowsin (2-1)
3A Top 10
#1 Bellevue (3-0) 69-0 win over Sammamish (0-3)
Well, what can you say about this? Some people might say that Bellevue ran up the score. I say Bellevue was nice and didn't put up triple digits. This week will probably be much of the same as they play Lake Washington. The Wolverines are ranked nationally for a reason. They are the best team in the state and might be the best ever.
#2 Mount Si (3-0) 60-6 win over Juanita (0-3)
The boys from Snoqualmie continue to roll. The first team defense has still yet to allow a point as Juanita scored late in this contest with the Wildcats starters already on the sideline. Collision course appears to be set for a #1 vs #2 matchup with Bellevue on October 12th in Snoqualmie.
#3 Meadowdale (3-0) 28-14 win over (4A) #10 Edmonds Woodway (2-1)
One of my favorite teams right now are the Meadowdale Mavericks. They play a physical brand of defense that I love watching. They get good pressure with their DL and are stout against the run. Then when you get a pass off they either intercept it or hit you square in the mouth. DB Josiah Evans had three INTs last week and now has 5 through three games.
#4 Eastside Catholic (3-0) 56-20 win over Centennial (BC, Canada)
The Crusaders are a team that continues to get it done and I feel like they are very much under the radar. This week they beat one of the best teams in BC, but did allow a lot of yards rushing. Centennials Nathan Lund finished 231 yards on just 12 carries. If the Crusaders are going to win the Metro, they will need to fix that.
#5 O'Dea (2-1) 33-30 loss vs Issaquah (2-1)
Losing to Issaquah is not something that will keep the Irish down. Monte Kohler is one of the best coaches in state history for a reason. He will fix the run defense that allowed Gellatly to run wild. The Irish will be in the playoffs and will be a factor, I guarantee you that. This week they get a rivalry game when they start conference play with Seattle Prep.
#6 Glacier Peak (3-0) 45-35 win over Jackson (2-1)
I am really starting to like this team. Sr's Chris Becerra (QB) and Sean Elledge (WR) are doing exactly what seniors should do… Lead! The Grizzlies continue to get better and begin league play this week against Montlake Terrace. Throw in a non-league game against Bothell in 2 weeks and Meadowdale in the final week, Glacier Peak definitely has a lot of work still to come.
#7 Oak Harbor (2-1) 41-28 loss vs Lake Stevens (2-1)
I don't believe in the term "a good loss", but for those who do, this might be considered one. Lake Stevens lost week one to Glacier Peak and has since beat two very good teams. The Wildcats defense had all kinds of problems in allowing the Vikings to gain over 500 yards. Offensively they struggled early which meant they were playing catch-up all night.
#8 Kamiakin (2-1) 25-19 win over Sunnyside (1-2)
I should probably have the Kamiakin Braves higher on this list. Their only loss was in overtime to a VERY good Prosser Mustangs team in week one. This week they play an undefeated Southridge team that seems to embrace the idea of coming from behind. This should be a battle and one of the better games of the week on the eastern side of the state.
#9 Shelton (3-0) 35-25 win over Wilson (2-1)
Ralph Kinne, Ralph Kinne and Ralph Kinne. The Sr RB continues to rack up a ton of yards and is now averaging almost 300 yards per game. With the ability to control the clock the Highclimbers have an advantage over almost any team in the Narrows 3A. This week they play Yelm and RB Jacob Swilley. I can see those two going run for run and combining for over 500 yards. Should be fun.
#10 Southridge (3-0) 16-15 win over Kennewick (1-1-1)
The Suns don't seem to like the idea of winning easy. They now have 3 wins by a combined 7 points! All three wins have been in come from behind fashion. I hate the term "Cardiac Kids", but that seems fitting for these guys. In week one they beat a good Richland Bombers squad with a last second hail mary. Week two saw them get behind against Sunnyside before winning 25-21. This week they used a trick play with about 2 minutes left to beat Kennewick.
Others Considered: Ferndale (3-0), North Thurston (3-0), Kelso (3-0), Mercer Island (2-1), Marysville-Pilchuck (2-1), Timberline (2-1)
2A Top 10
#1 Capital (3-0) 27-11 win over (4A) #9 Bothell (0-3)
#2 Othello (3-0) 30-14 win over Prosser (2-1)
#3 Lakewood (3-0) 22-20 win over Blaine (2-1)
#4 Lynden (2-1) 55-14 win over Mount Baker (2-1)
#5 Burlington-Edison (3-0) 49-43 win over Mount Vernon (1-2)
#6 Prosser (2-1) 30-14 loss vs #2 Othello (3-0)
#7 Archbishop Murphy (2-1) 40-15 loss vs (1A) #1 King's (3-0)
#8 Ellensburg (3-0) 20-16 win over Selah (1-2)
#9 W.F. West (2-1) 52-14 loss vs Lake City (ID) (1-1-1)
#9 Orting (3-0) 42-21 win over Franklin Pierce (1-2)
Others Considered: Hockinson (3-0), Squalicum (3-0), East Valley-Spokane (3-0) Tumwater (2-1), Mark Morris (2-1), Sumner (2-1)
1A Top 10
#1 King's (3-0) 40-15 win over Archbishop Murphy (2-1)
#2 Cle Elum/Roslyn (2-0) 35-14 win over Connell (1-2)
#3 Royal (3-0) 61-0 win over Warden (0-3)
#4 Cashmere (3-0) 68-0 win over Omak (1-2)
#5 Cascade Christian (2-1) 63-15 win over Vashon Island (0-3)
#6 Hoquiam (3-0) 41-14 win over Montesano (1-2)
#7 Woodland (3-0) 66-6 win over Seton Catholic (0-3)
#8 Blaine (2-1) 22-20 loss vs Lakewood (3-0)
#9 Cedar Park Christian (2-0) bye
#10 Tenino (3-0) 50-22 win over Elma (0-3)
Others Considered: La Center (3-0), Charles Wright Academy (3-0), Mount Baker (2-1), Nooksack Valley (2-1)
SCOTT EKLUND PICKS
4A
1. Skyline (3-0)
2. Mead (3-0)
3. Federal Way (3-0)
4. Camas (3-0)
5. Bellarmine Prep (2-1)
6. Skyview (2-1)
7. Kentwood (3-0)
8. Issaquah (2-1)
9. Gonzaga Prep (3-0)
10. South Kitsap (3-0)
Others receiving consideration: Woodinville (2-1), Edmonds-Woodway (2-1), Lake Stevens (2-1), Union (2-1), Battleground (3-0)
3A
1. Bellevue (3-0)
2. Mount Si (3-0)
3. Meadowdale (3-0)
4. Glacier Peak (3-0)
5. Eastside Catholic (3-0)
6. O'Dea (2-1)
7. Kamiakin (2-1)
8. Mercer Island (2-1)
9. Ferndale (3-0)
10. Kennedy Catholic (1-1)
Others receiving consideration: Lakes (1-2), North Thurston (3-0), Kelso (3-0), Oak Harbor (2-1), Marysville-Pilchuck (2-1)