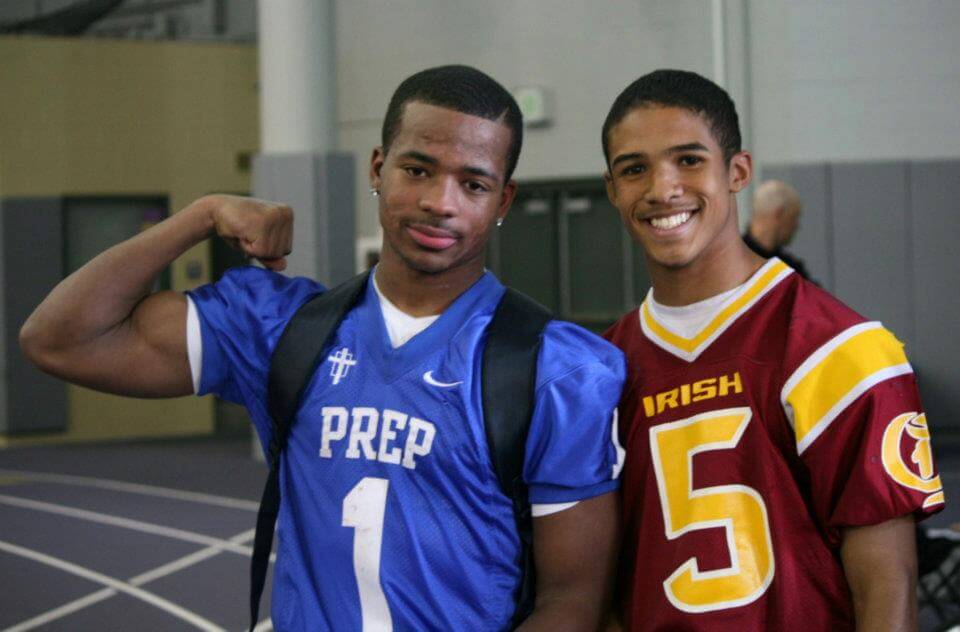 One of the best things about NEI and the Barton Football Academy is being able to work with the top kids in the region all year long. This last season we saw two elite northwest athletes land multiple offers from a host of schools. Tere' Calloway (5-11 190 Sr. ATH/S) and Tatum Taylor (5-10 165 Sr. ATH) are best friends and have recently added to their list of offers.
Calloway is the #1 ranked DB in Washington, and was part of NEI-North that traveled with us to Las Vegas back in the spring. Since that time Tere' has added double digit offers and just recently added Colorado St. He now sits with a laundry list of schools from all over the country that are vying for his services. These include (Colorado, Colorado St, Idaho, Purdue, Memphis, Nevada, SMU, Central Florida, Wyoming, San Diego St, Southern Miss, Tulane, Syracuse, Temple, and Portland St).
Tere' says, "CSU is turning things around and I have been speaking with Coach Mac, who was the former offensive coordinator at the University of Alabama". He continued, "Coach said he really likes myself and Tatum and they are recruiting us as a package as are most other schools".
"They run a pro style defense which would be very helpful in trying to prepare for the NFL , as the DB coach was in the league for 8 years and has a lot of NFL connections". Tere' added, " Its definitely a school I will consider for my top 5 and would like to take an official visit… I'm very excited about this offer and feel blessed by god to be in the position I am today".
Tatum is one of the fastest players in the country, breaking multiple records on the track and locking up some big time offers in the process. Ole Miss was his first offer from an SEC school showing that his interest has spread all over the country. At one of our NEI/Barton regional combines he ran a 4.21 hand timed 40 yard dash in bare feet, to put into perspective how quick the kid is. Thus far he has been offered by (Purdue, Oregon St, Washington St, Idaho, Wyoming, Utah, Nevada, SMU, S.Mississippi ) and now Mississippi.
Taylor went for 23 Tds and over 1100 rushing yards last season, earning conference player of the year honors and averaging over 10 yards per carry. He will be an outstanding slot or receiver in college, where he will be able to exploit his world class speed.
We are excited for both of these athletes, and feel fortunate to have been able to work with them over the last couple of seasons. We will keep everyone updated as additional offers come in, and anxiously await which school (s) land two of the northwest's top kids.