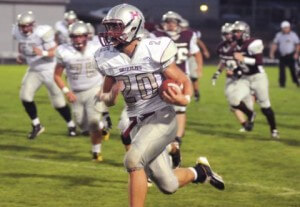 He plays for a small school out on the coast of Washington, but Hoquiam RB Nolan Hoiness is playing on a very high level and has the size and speed combination that college coaches are looking for in a tailback. Northwest Elite Index caught up with the talented senior runner recently and he updated us on his senior season, recruiting as
well as what he does best on the football field.
"I'd say I'm probably more of a balanced back," Hoiness told NEI recently. "I used to use my speed (4.49) a lot and relied on that, but over the past six months or so, I put on about 30 pounds and that has helped me be more powerful in the way I run, so I can go inside or outside to make plays."
At 6'0 and 185 pounds, Hoiness is a load, especially at the 1A level where he has dominated teams so far this season, rushing for 750 yards and 10 touchdowns in four games including a 354-yard, three-touchdown effort against Hoquiam's rival Montesano which hadn't lost a league game in seven years and a team the Grizzlies hadn't beaten since 2003.
"It was just a great game, a great atmosphere to play in," Hoiness said. "The fans were jacked, we were jacked, I mean it was just great to get out there and play together and to get the win. They are a great team and they've been dominant for a while, so it was nice to get out there and get that win and keep us on the right path."
That right path, at least in Hoiness and his teammates' eyes, is the road to a state championship and he said that was a goal the team set for themselves.
"We just want to be the best team we can be, first of all," Hoiness said. "We also wanted to beat Montesano, so that goal has been accomplished, and now we can focus on winning each week and getting a
state title."
"As far as my personal goals, I just wanted to improve on breaking tackles more, getting more yards after contact and I think that's been coming along for me."
"I like playing both ways because I sorta feed off of the competition," Hoiness, a team captain, added. "I just like getting out and competing and also being with my friends and teammates and making
sure we play the best we can every day."
Hoiness has been so dominant that schools have been in contact with him although none have ponied up an offer at this point.
"Eastern Washington has been talking to me a little bit and I've heard from Humbolt State and even Harvard," Hoiness said. "Oregon State and Washington State have both sent me letters, but I'm not really sure
how much they are interested in me."
We will continue to keep tabs on Hoiness over the next several months and will update news as it happens with him.