*Our Mid season MVP report will be up for each state covering 6a/5a in Oregon and 4a/3a in Washington. There are a lot of deserving kids, but we are talking Player of the Year state wide so its a very select class of athletes.
Most of these kids listed will either be the Conference Player of the Year or right there in the running. We can't say enough good things about our Northwest athletes and we wish all of them continued success.
Jordan Johnson-NEI
OFFENSE:
1. Thomas Tyner – 6-0 205 Sr. RB Aloha …Tyner has been off the charts good and has shown a poise necessary to break every Oregon rushing record ever set; The future Duck has gone for 1487 rushing yards with 20 total Tds in 4 games as the Warriors are 4-0.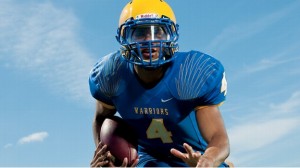 2. Connor Strahm – 6-1 220 Sr. ATH Sheldon … The returning SWC Offensive Player of the Year was a first team All State kid on both sides of the ball last season. The Irish are (4-0), and ranked #1 in the state as Strahm has 8 total Tds while only playing a half in two blowout wins; There isn't a more versatile kid in the state.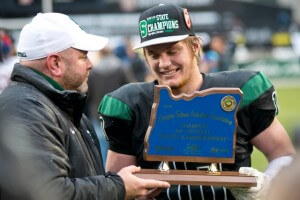 3. Sam Riddle – 6-2 200 Sr. QB Century … Kid has just gone off thus far throwing 20 Tds/ 2 Ints for a state leading 1363 yards. He is 72/105 with a 68.6% Completion Pct and ranked our #1 Sr QB state wide.. The Jags are a Top 10 team and Riddle is an incredible overall athlete.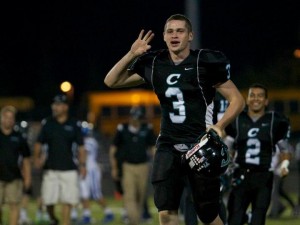 4. AJ Glass – 6-1 200 Sr. RB Jesuit … Glass is a workhorse and hits the hole as quick as any back state wide.. He is on pace to crush his remarkable season from a year ago with 953 rushing yards and 15 total Tds in 2012 through 4 games; Last year he went for 2006 yards and 25 Tds in 13 games.
5. Mitch Thompson – 5-8 170 Sr. RB Oregon City … The kid has put the team on his back and led them to a surprising 3-1 record with there only loss coming to one of WA's best in Camas. He has run for 971 yards and 11 Tds in 4 games averaging 242.7 yards a contest.
6. Devauntae Hoffman – 5-8 190 Sr. RB Gresham … Hoffman has led the Gophers to a 4-0 start as Gresham could be the most surprising team state wide thus far. He has been a first team all league kid the last two seasons; gaining 713 rushing yards with 6 Tds in 2012.
7. Xavier Mitchell – 6-1 170 Sr. WR Century … Mitchell has the best stats of any WR state wide and he has done it against good teams; The returning first team all league unanimous WR has gone for 10 Tds with 25 receptions and 441 receiving yards against the likes of Tigard and defending 5a State Champion Mt View.
8. Spencer Payne – 5-9 185 Sr. RB McMinnville … 10 total Tds and 721 rushing/receiving yards over the first 4 weeks for the returning Pacific Conference Offensive Player of the Year. The Grizzlies go as Payne goes, and it shows how much respect the coaches in the league have for him earning POY honors on a 4th place team.
9. Zach Floyd – 5-10 180 Sr. RB Tigard … One of the most exciting backs in the entire NW. Returning 1st team all league kid that went for 23 Tds last year splitting time with 2 other top backs; In 2012 he has gone for 9 total Tds and 481 rushing yards.
10. Devin Martinez – 5-8 190 Jr. RB Southridge … The human ping pong ball has been huge for the Hawks, after earning 1st team all league honors as a sophomore. He has gone for 565 yards and 6 Tds in 4 games against 3 of the state's top teams in #1 Sheldon, #3 Lake Oswego, and #8 Tualatin.
DEFENSE:
1. Dallin Leavitt – 6-0 205 Sr. DB Central Catholic …The BYU commit has just gotten better as the season has progressed, with last weeks performance against #1 Jesuit being a statement game in the 16-7 victory; 20 tackles (12 solo), 2 forced fumbles, 2 knock downs, 1 Td.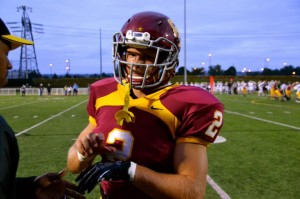 2. Mitch Lomax – 6-4 240 Sr. LB Lake Oswego … Lomax is a game changer coming off the end, and is just extremely quick for a big man. He returns after a 1st team all league season a year ago, and has helped LO stifle opponents all year.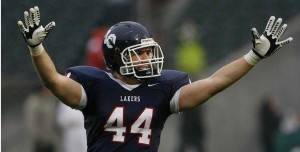 3. James Banks – 6-1 225 Sr. LB Sheldon …. One of the state leaders in tackles averaging 11.0 per game, and was a huge part of both close wins against Southridge and Central Catholic; 1st team all league at Marist last year, super smart backer with nose for the ball.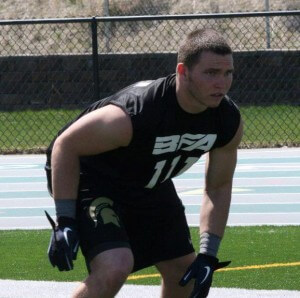 4. Connor Strahm – 6-1 220 Sr. S Sheldon … The best instincts of any defensive player state wide. Second in the state a year ago with (7) Int's.. 1st team all state Safety in 2011, blowout wins have him only playing a half much like Banks.
5. Jack Anderson – 6-3 195 Sr. S Lake Oswego …The state leader in Int's from a year ago (9) is just a ball hawk and will help LO immensely against any team trying to air it out. 1st team all league kid that uses his overall athletic ability to read.
6. Mike Ralston 6-6 240 Sr. DE Sheldon … Ralston has been lights out, currently tied for the state lead in Sacks (5) Max preps, and 23 total tackles….Just a big athletic kid that creates a lot of havoc in the middle; currently holds offer from N.Colorado.
7. Evan Colorito – 6-4 235 Sr. OLB Beaverton … The Beavers are 4-0 against sub par competition, but without Colorito who has 5 big time offers Beaverton would have come up short on a few of those contests. He is a game changer and so incredibly fast off the ball.
8. Mike Kluge – 5-10 285 Sr. DL Aloha … Kluge will just continue to climb the charts and will be your leading candidate for defensive player of the year in the Metro League. He is a three year starter and one of the best D lineman in the region 18 total tackles.
9. Maurice McSwain – 5-10 170 Jr. DB Aloha … The junior athlete has been phenomenal, with 4 Int's in the first 4 games with 2 coming last week against Sunset. He is an outstanding Kick/Punt Returner and has accumulated 12 tackles as well. One of the only junior's on this list.
10. Chet Spears – 6-2 300 DL Sr. Sheldon … One of the state's best D lineman, that is also one of Oregon's top wrestlers.. Just a beast on the inside, 27 total tackles- Top 10, with 2 sacks and the ability to out maneuver and power.
11. Marqueese Royster – 6-1 250 Jr. DE Lakeridge … He is going to shatter most of the school's all time weightlifting records. Comes off the end as hard as any player in the state and is only a junior. Had 4 sacks in the season opener, with forced fumbles and fumble recoveries to boot.
12. Xavier Griggs – 6-2 215 Sr. LB Central Catholic … X has led CC in tackles and looked good doing it. He has just gotten bigger and faster and will add to his two D1 offers before all is said and done 19 total tackles.
13. Doug Brenner – 6-3 280 Sr. DL Jesuit … The Oregon commit requires a double team on most occasions, otherwise he will just the toss the person in front of him. Incredibly strong and athletic, and will change a ball game.
14. Joey Alfieri – 6-2 215 Jr. LB Jesuit …1st team all league backer as a sophomore, 105 total tackles.. Stepped up and will team with fellow junior Henry Mondeaux to form maybe the most deadly underclassmen LB duo in the state.
15. Dominic Johnson – 6-2 245 Sr. LB Aloha …The transfer from Grant is so fast coming off the ball. He along with Kluge are Metro League defensive Player of the Year candidates; One of the state leaders in tackles with 27.