The biggest question mark to begin the 2012 season for Glacier Peak may have been the Quarterback position. In a 42-31 week one win over Lake Stevens, senior Chris Becerra (6-1 215) ended all doubt by going 22-33 for 303 yards and 4 TDs.
"It was a big confidence booster," Becerra said. "I feel like I answered all the questions any doubters had."
So far through four games Becerra has completed 60 of 110 passes for 1,064 yards and 12 TDs.
Becerra has had plenty of time to work on his form as he spent the last two seasons behind Sr QB's. As a Sophomore he was behind the 2010 Wesco 3A First Team QB, Kevin Campbell. Last year Becerra was behind 2011 Wesco 3A First team QB, David Linney. Although Becerra was a starting DE, that isn't where he had his eyes.
"I've always wanted to be a quarterback," he said. "It is something I've worked up to since I started playing football when I was 4 years old."
One guy who saw that work first hand is Sr. WR/DB Sean Elledge (6-0 195). "I was expecting a lot out of Chris from the start," Elledge said. "He is a hard work that will do anything to make himself better."
Elledge is a guy that knows a thing or two about hard work. Last season he won a state wrestling championship in the 182 pound weight class. As a Sophomore Elledge was voted 2nd Team All-Wesco on both offense and defense. Last season he upped that to 1st Team All-Wesco on both sides. When asked how he is going to top that Elledge chuckled "I guess I got to get All-State."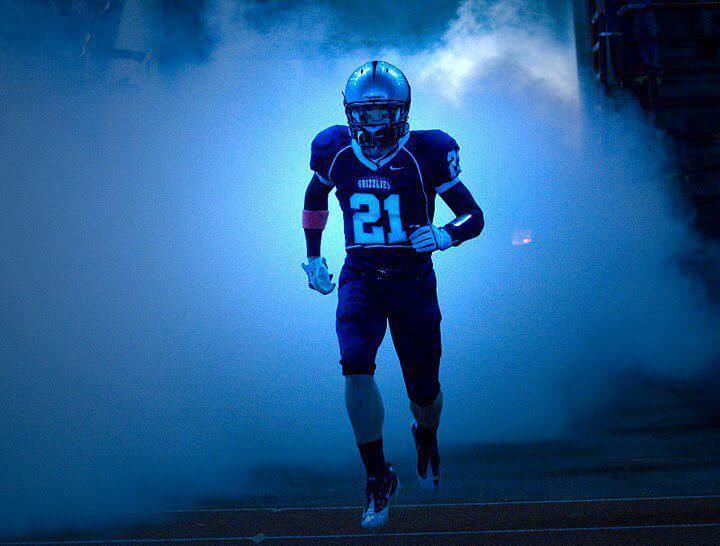 Going into his third year as a starter, Elledge became a team captain (At GP only Sr's are captains). His playmaking ability is as good as any, but the leadership he brings is something that can't be measured by yards and TDs.
"Not only is he my go-to-guy, but he is a guy that others look up to," Becerra said of Elledge. "He brings a ton of experience. He always knows what is going on and uses his experiences to help the other receivers."
Elledge rarely leaves the field and is a great all-around athlete that is getting interest from colleges for his services on both sides of the ball. I asked if he prefers one side over the other, he said "I like to score TDs, but I also really like to hit people."
On the season Elledge has 14 receptions for 296 yards and 5 TDs. He has also chipped in with 10 rushes for 90 yards and another score.
Becerra has plenty of weapons to choose from while working out of the spread. Along with Elledge at WR are four other Sr's in Josh May (6-0 185), Marcos Baruch (5-11 165), Cody Campo (6-0 195) and Quinton Dunbar (6-1 215). A good portion of the Grizzlies offense so far has been with the legs of Sr. RB Michael Palmer (5-10 205) who now has 447 yards on only 62 carries and is currently rushing over 7 yards per carry.
The Grizzlies are 4-0 and are team we at NEI are keeping a close eye on. Next week they play a Thursday game against Bothell at Pop Keeney that I will be in attendance for. I am very excited to see this great group of seniors go to work against a very tough KingCo opponent.