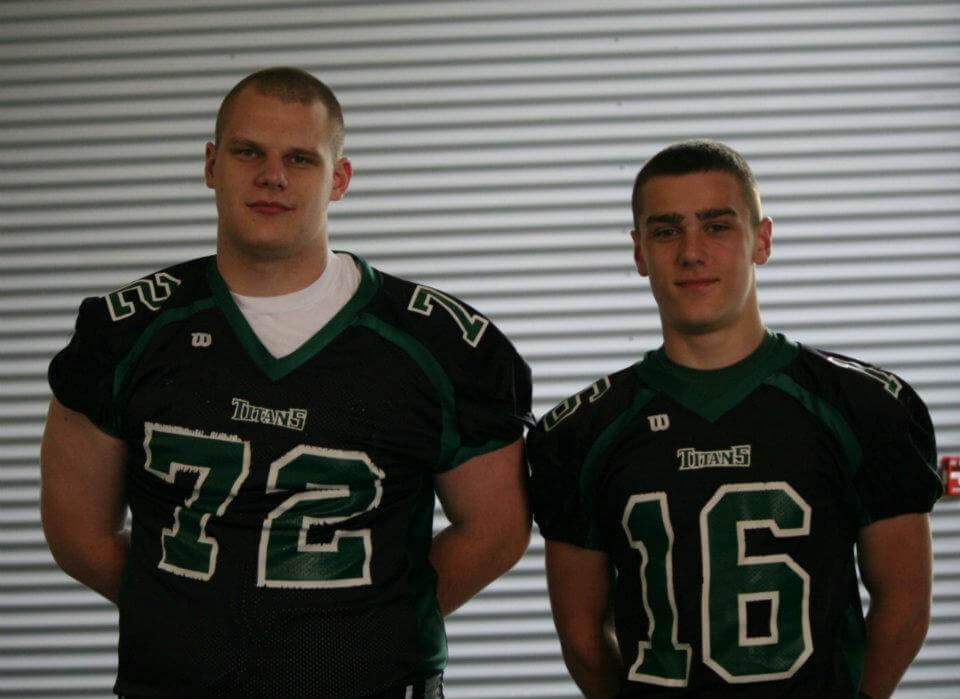 One team that continues to impress in the State of Oregon is the always tough West Salem Titans out of the Central Valley Conference. The kids from Salem moved to (4-1) after last nights 44-21 victory over Lincoln, which wasn't as close as the score indicated. The Titans are different this season in that they only return 1 offensive starter from a year ago, and less then a handful of returning defensive starters.
Head Coach Shawn Stanley is one of the most respected coaches in the entire northwest by players, families, and other coaches alike. He is extremely humble and won't talk about himself so we have to do that for him. If you took a poll amongst players, I guarantee he would be at the top of guys you would want to play for. His ability to relate to kids on and off the field is very unique, and he has implemented a system where everyone year in and year out buys in.
Part of the schools success comes from the talent of Coach Stanley's staff. (Just some of the Coaches: Damien Ramirez, Mark Walsh D Line (Roseburg/Oregon St.), Chris Vandiver LB's (Oregon), Chris Boock DB's (Linfield National Title) and Joe Looney WR's (Boise St.). Every year we go out to West and can't say enough good things about the way things are run. Coach Stanley says, " I feel very fortunate to have the coaches that we do on staff, they are a great group of guys and we all hang out together so its a close group". Many of the coaches are similar in age and have young kids so there is a common bond.
"We have had some great players come through here such as Brett Smith, Lochlin Deeks, Jordan Jenkins, and Jordan Bishop just to name a few". Coach Stanley continued, " Those guys set a precedent here with there hard work on and off the field that has translated to the younger guys…. We have only had two freshman teams in school history that had winning records, so its definitely been something that they have worked for".
Last season's squad finished with a 3.31 accumulative GPA, making it one of the top academic schools in the state and the trend only continues. Many remember Oregon's Gatorade Player of the Year Brett Smith, was a freshman all american at Wyoming last season. His work with Stanley and Taylor Barton made him one of the better QB's in the country, and his younger brother Cade (6-1 180 So. QB) is now running the show as a sophomore.
He is the only sophomore in the northwest with a D1 Offer (Wyoming), and has recently found his groove leading his Titans into our Top 10 rankings. Cade says, " We have a bunch of kids who believe in what we are doing, and have been able to execute as of late". Through four games Smith was 42/58 for 635 yds, 6 Pass Tds/3 ints, with 206 rushing yards on 43 attempts. The kid is multi dimensional, and considered one of the top overall athletes in the Northwest for the 2015 class.
Smith helped West Salem beat the undefeated, and #8 Sprague Olympians a few weeks back to take control of their own destiny among teams in the CVC. He hit one of the better overall athletes in the Salem area in Riley Rediger (6-1 180 Sr. WR/DB) for a couple late touchdowns to seal the deal. Rediger is a talented baseball kid that has stepped up big this season, along with one of the top WR's in the conference in Cody Oden (5-11 170 Sr). Oden entered week 5 as one of the state leaders in receptions (29), with 388 yards receiving and 3 Tds. He has been one of the most impressive wide outs in the state, after an outstanding camp and combine season.
Add in two of Oregon's top lineman in Matt Sommer (6-5 300 Sr. OL/DL) and William VanSmoorenburg (6-4 285 Sr. OL/DL), and a returning all league center Carter Frantz-Geddes (6-1 225 Sr.), and you have some solid kids doing work up front. Both Sommer and VanSmoorenburg go both ways as they are just too talented to keep off the field on either side of the ball. You would be hard pressed to find a better kid then Sommer as he is ranked our #2 D lineman state wide, and has multiple D1 offers. VanSmoorenburg transferred from 3a Blanchet in the off season, and made a name for himself last off season on the NEI/Barton Camp and Combine Tour. He has been a pleasant surprise and addition to the group, as Coach Stanley and Coach Walsh both rave about his ability and overall potential. William is a kid that you will see making a big jump on our rankings boards, and also potentially on to our "Top Athletes No Offers" List.
Some of the younger talent on the team includes another Rediger in Brady, and one of the top sophomore WR's in the State of Oregon in Keegan Hlad (6-4 170). Hlad is a legit D1 prospect as Coach Stanley says, " He played a little bit of JV to begin with, but he was just to good to keep off the field on Friday nights".
Ambrose Soh (5-10 185 Sr. RB) has been starting in the backfield with Nate Henkel (5-9 180 Sr. RB) and Jalen Jones-Haines (6-0 175 Sr.) also getting PT. Soh is a kid that has only played a couple seasons of football, and has a huge upside moving forward. " Ambrose has done well for himself, and is really going to go off one of these weeks".
Every year we look forward to going out to see Coach Stanley and his staff, as they run one of the classiest and most talented programs in Oregon. For anyone who hasn't seen the new black turf, you need to make a special stop. Its night and day versus what they had previously, and looks pretty sick if I do say so myself.
All of us at NEI and Barton Football are huge advocates of Coach Stanley and West Salem for what they do on and off the field. What they are doing this year more then at any other time exemplifies why they are considered one of the best programs in Oregon every year. We wish all of the Titans continued success, and can't say enough good things about everyone involved.