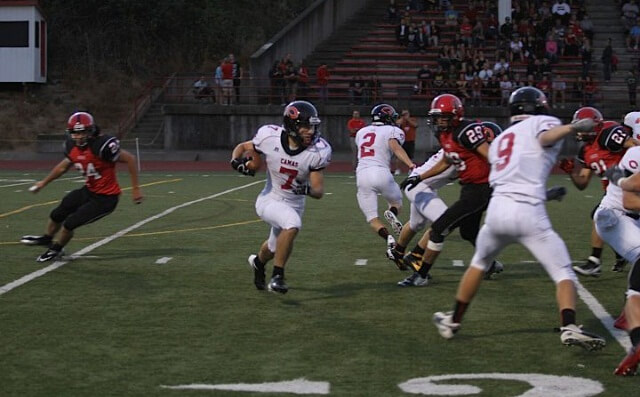 Watching Fridays 42-17 Camas win over a good Skyview team we saw the reigning conference defensive player of the year John Norcross run for 5 Tds. We also saw an incredible rushing display by highly touted RB Nathan Beasley (5-11 175 Jr. RB). The junior looked all that, as we have him ranked one of the top junior backs in the state. He upped his stock immensely on Friday, as it was one of the most impressive rushing performances in either state all year.
Beasley ran 24 times for 231 yards, setting up most of Norcross' touchdowns. He ran with legit speed, and unique body control that allowed him to bounce off tackles and immediately accelerate. Beasley came into the game with 12 Tds in the first four games of the season (8 rushing, 4 receiving), as the Papermakers could very well be the state's #2 4A team when the rankings are released.
Speaking with Nate the night before the game he seemed quietly confident about the contest, "We have a lot of talented guys , and a really good group of younger athletes so we are excited for the future". Camas has an extremely talented junior cast, as QB Reiley Hennessey is one of the top junior QB's in the state and WR/DB Zach Eagle is a two way threat all day.
The line and the backs played outstanding in front of a crowd the likes usually only seen in Texas. Camas should be proud of how well they represented, as they have a legit shot of competing for a state title this year.
Beasley was phenomenal on Friday almost breaking multiple kickoffs, and running Storm defenders ragged. He is a three sport athlete that also plays soccer and has a 4.0 GPA. He's only 5-11 but has legit D1 ability and earned 2nd team all league honors as a sophomore. He was hands down one of the best players I have seen all year.
This Camas team is for real, and I recommend anyone wanting to see one of the best juniors in the entire region get out to see Beasley. We will hear his name for years to come.