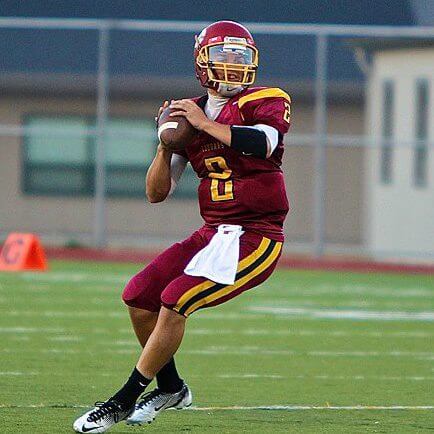 One of our top ranked QB's for the 2014 class in the State of Washington is Derrick Becker (6-0 175 Jr. QB) of 2a Capital. Becker doesn't have the prototypical QB size, but has some of those unique intangibles that you can't teach. He returns after an honorable mention all league season in 2011 that saw him help the Cougars go 8-4 at the 3a level, with 2 losses to O'Dea, and one to Lakes and Olympia. It was an impressive season that put Becker on the map.
His sophomore stats had him passing for 1205 yards, with 12 Tds to 8 Int's with an impressive 64.7% completion pct. Becker also rushed for 349 yards on the ground as his overall athleticism is a major part of his arsenal. Taylor Barton did the broadcast of Becker's game against Olympia and said, " The kids a really good overall athlete, and uses his feet well.. I think if he continues to focus and work he's going to have a very successful career".
Becker attended our elite events over the off season and did very well for himself. Capital is extremely talented and has beaten some of the top 4a/3a teams in Washington, after dropping a classification level in the off season. The Cougars have beaten the likes of Bothell, Newport, and Olympia thus far with a loss coming to Tumwater. Capital sits at (4-1) and is a legit state title contender.
Kai VanSickle is one of the best running backs in the state and they have a host of other players that are legit college kids. As of right now his primary job is to manage the game, which he has done to near perfection. Becker says, " The goal is to win a state title, none of us will be satisfied with anything less". He continued, " personally I would love to play D1 ball and be an all state QB".
One thing that sticks out about Becker is his work ethic. He's a kid that's willing to grind and will spend the entire off season doing so, much like last year. So far in 2012 he has gone 48-63 with a remarkable 76.1% completion percentage. He has 574 passing yards, with 4 throwing and 3 rushing Td's. The offense isn't designed for him to go up top on a regular basis, so he's going to have to be a kid that is consistent and does not turn the ball over.
We look forward to following Becker and his Capital teammates, as they are one of the best teams in Washington regardless of classification level. Derrick's an outstanding kid and someone that has been able to lead from a very young age. The future is bright for the this young QB, and he's actually just getting started.