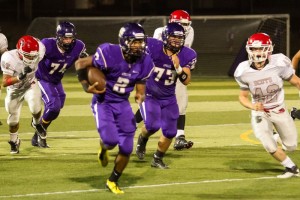 Bruce Jones Jr. (6-0 175 Sr. RB/DB/KR) of Sunset is a 16 year old senior that is one of the best overall athletes in the Northwest. Both him and his Sunset Apollos have played outstanding football thus far in 2012. Jones Jr holds an offer from Portland St, in what was a great move by Nigel Burton and company. Bruce really likes the Vikings and has spent recruiting time down at the campus, but his primary focus remains on the season.
"We have played well so far, so we just want to continue to build on that and finish the conference season strong". The Apollos have been one of the more over achieving teams state wide, under the leadership of one of the northwest's legendary head coaches in Faustin Riley. They sit at (3-2) and ranked #11 on our latest NEI Top 10. Both close losses came at the hands of #2 Jesuit and #4 Aloha, who are regarded as two of the top teams in the entire region.
Jones Jr is ranked as one of our top DB's and RB's in Oregon, and has 9 Tds over the first 5 weeks. Bruce attended our elite events over the off season and multiple regional camps and combines, before his big day at the UW Showcase Event. This was huge as PSU was able to make an important evaluation before offering.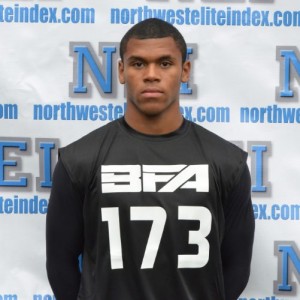 You could tell from a young age that Bruce had some god given attributes that couldn't be taught. The most exciting thing about Jones is that his upside is through the roof. He's not even close to reaching his size and strength potential, and he is an almost certain candidate to red shirt due to his age.
Bruce is one of the most dangerous return men in the entire northwest, which only helps up his stock. He projects as a DB, but is one of the best running backs in the state, and just so happens to have returned multiple kicks in his career already. All of these options make him extremely versatile and valuable to schools looking for a kid that gives them options.
"I couldn't ask for a better Coach to play for (Faustin Riley), and my teammates have been ballin", Jones Jr says. " There are too many guys playing well to name just a few, but our WR's are some of the some state's best in Jeff Bieber, Trevor Caldwell, and Ryan Hendry and lineman Austin Johnson has been phenomenal".
We are big backers of Bruce as he is a great kid, that could legitimately be a Pac 12 type athlete if his upside is any indicator. He has his Sunset Apollos playing good football, with a monster game tonight coming against #9 Southridge. Good things lie ahead for Sunset and Bruce Jones Jr.