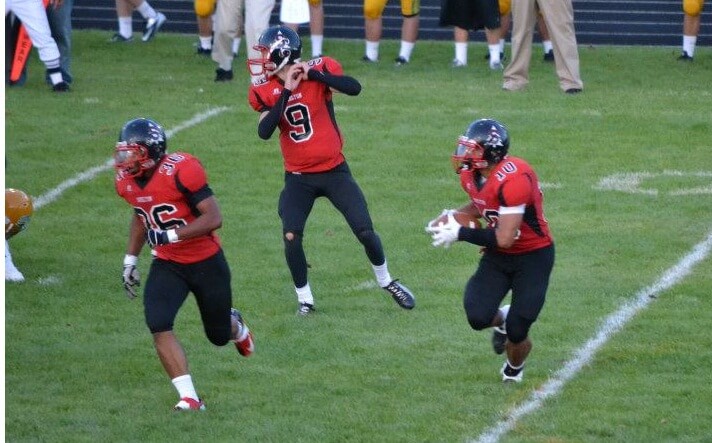 Every night when I get home from whatever broadcast I am on the first thing I do is hop online to see what Shelton RB Ralph Kinne (Sr, 5-11 208) did that night. 200 yards here, 300 yards there… It has almost gotten ridiculous.
In just 5 games this season Kinne has rushed for 1,459 yards on only 134 carries. That means on average when he touches the ball it is a first down. He also adds 14 TDs.
Only once this season has he been held to less than three TDs in a game, one in a week three win vs Wilson. No team has held him to under 200 rushing yards and in all 5 games he has broke a run of 50+ yards.
Kinne didn't begin playing RB until 8th grade. "Before that I was a lineman," Kinne said. "Coming into 8th grade we got new coaches and got to pick our position. I decided to try RB".
It has worked out nicely and he is now closing in on school records. Should Kinne keep his 200+ yard average against Lincoln this week, he will surpass the single season yards mark of 1,657 set in 2007.
At the rate he is going, 291.8 yards per game, Kinne could legitimately break the state record for rushing yards in a season in just 10 games. Last season Interlake (Bellevue) Sr. RB Jordan Todd rushed for 2,681 yards in 12 games before graduating on to Central Washington University. With a decent playoff run 3,000 yards is not out of the question.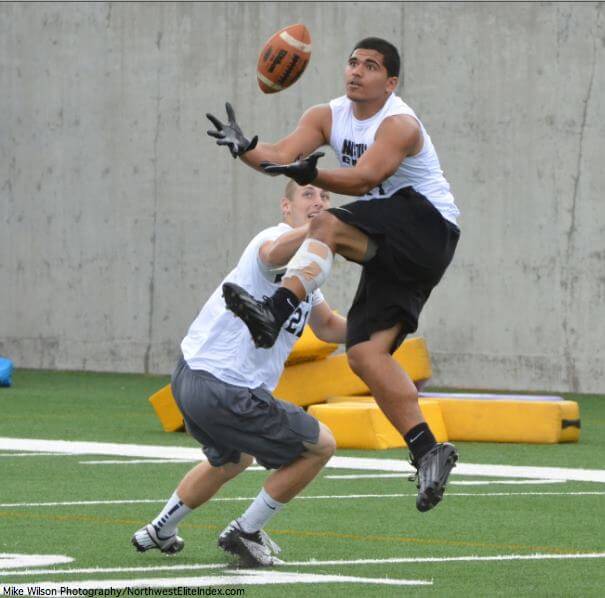 The first time I saw Kinne live was at the Northwest Stars Camp and was thoroughly impressed with his play. One thing camps don't show is a players ability to take a hit. Kinne is a RB that doesn't avoid contact. Heck, he almost welcomes it. He proudly said, "I ain't scared of nothin".
That fearless attitude leads to Kinne being one of the better kick returners in the state. Last season in 20 returns he finished with 870 yards and 3 TDs. This year hasn't been nearly as easy as teams avoid kicking to him. "They usually kick far to one side or to an upman," Kinne said. "My first return was against Yelm and I ran it back".
Kinne has been lauded and rewarded for his work ethic and leadership. He was a captain as a Jr and Shelton head coach Matt Hinkle described Kinne, "He has such a great work ethic. He never stops trying to get better."
As much confidence as Kinne has, he is quick to deflect the credit to his lineman and Sr. FB Deshon Bell (5-11 205). Bell transferred from Idaho last season and began playing for the Shelton High School Rugby Club. He became an all-state player in the Centers, which compares to a RB/LB position in football. Kinne's quick description of Bell, "He blows EVERYONE up".
Straight across the line for the Highclimbers are some pretty big boys. The group is led by Sr's Lake Lindley (RT, 6-5 250), Ben Anderson (LT, 6-2 260) and Kaeleb "Big Hoss" Wright (RG, 6-3 305). At Center for Shelton is Hunter Ostensten (Jr, 5-9 250) who Kinne said, "Is very athletic and really becoming a leader".
The only lineman that doesn't pass the eye test for Shelton is So. LG Brian Nault (6-2 200). What he lacks in size he makes up for in ability. Last season as a Freshman, Nault had 48 tackles in 5 games from the LB position. Nault is another Rugby player that last year was invited to the HS All-American camp.
I look forward to following Kinne in his search for history and will be sure to keep you updated.