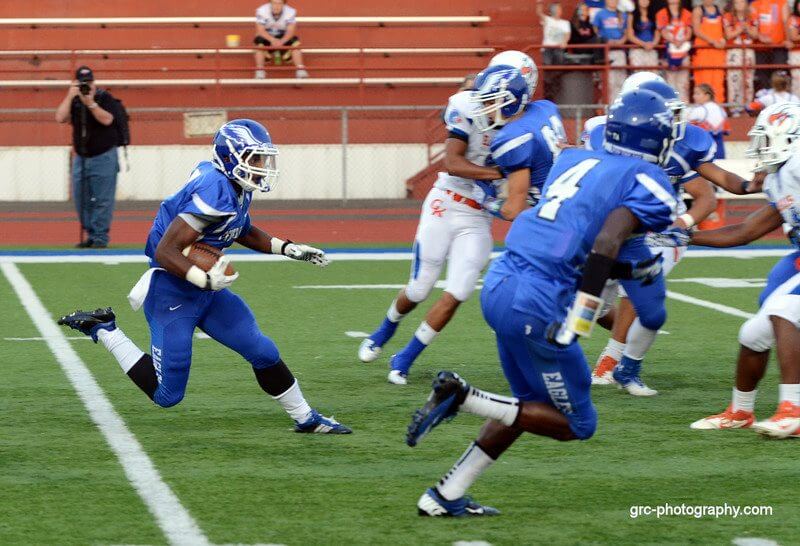 The Federal Way Eagles have been all over the football news this season as one player after another picks up one offer after another. Last week it was Sr. LB Albert Havili and Montana State, this week it is So. RB/DB Chico McClatcher and the University of Washington.
"It was great to get an offer from them. They are my second offer. Portland State also has offered," McClatcher said. "The other schools recruiting me pretty hard are UCLA, Washington State and Oregon State right now."
These are the first of what will be many for the 5'7″ 165 pound defensive nightmare. On the season McClatcher has 10 total TDs while splitting time in the backfield with Sr's Rod Jones and Ezekiel McNeal. He has 3 TDs on the ground, 4 through the air and 3 more coming off punt returns. 5 of those 10 TDs have come from 50+ yards.
"All of the schools are looking at me on offense". He continues, "They said they like my explosiveness and my speed. They want me on returns too."
Last season as a Freshman, McClatcher finished with 350 yards rushing and three touchdowns.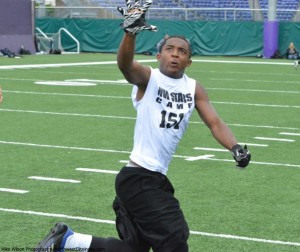 In June McClatcher participated in the Nike SPARQ Combine and finished 25th out of 584 athletes. The number that really stands out though is the 4.47 40 yard dash, which was the fastest on the day. A 4.47 is fast for anyone, let alone a Sophomore.
This past offseason also saw McClatcher attend the NW Stars Camp on the campus of the University of Washington. He proved he was ready to play against the best of the best and even made one of the best catches of the day.
McClatcher and Federal Way are 6-0 on the season and currently sit at #2 in our 4A rankings. The Eagles have all but sewn up a 2nd consecutive SPSL South Division Championship. We look forward to following the Eagles and McClatcher as he adds to that offer list over the next three years.
Chico McClatcher Highlights – http://www.hudl.com/athlete/929752/highlights/21696392