*This game is being featured as a Game Of The Week and you can find the online broadcast at WIAANetwork.com . When the game ends it will be archived and available to view within the hour. This is a free service presented by PlayOn! Sports.

Quarterbacks:
Advantage: Mount Si
Mount Si's Nick Mitchell (6-2 170) is our co-#1 ranked for the 2014 recruiting class. The Wildcats are the better passing of the two teams, partly because Bellevue doesn't do much of it. Through 5 games the Wolverines hadonly thrown for 353 yards. Its not because Bellevue Sr Jack Meggs (6-0 170) can't throw, because he absolutely can, but because the Wolverines are so successful on the ground they really have no need to throw. I have actually seen games where Bellevue didn't throw the ball one time all game. Meggs runs the Bellevue offense to perfection and that doesn't go without notice, but I am giving the advantage to Mount Si and Nick Mitchell
Runningbacks:
Advantage: Bellevue
Even with the loss of speedster Ari Morales, the Wolverine running game has been clicking along with no problem. The trio of John Nguyen (Sr, 5-9 185), Budda Baker (Jr, 5-10 175) and UCLA commit Myles Jack (6-3 225) is no doubt the best in the state. In my opinion John Nguyen is what makes the Bellevue offense click. Arm tackles do not bring him down as he carries the heavy load for the Wolverines and does basically all of his running up the gut. Nguyen is good for 5+ yards a carry and teams have to respect that which really begins to open up the outside game with Baker and Jack. The key to this game might be if Mount Si can stop the Bellevue rushing attack.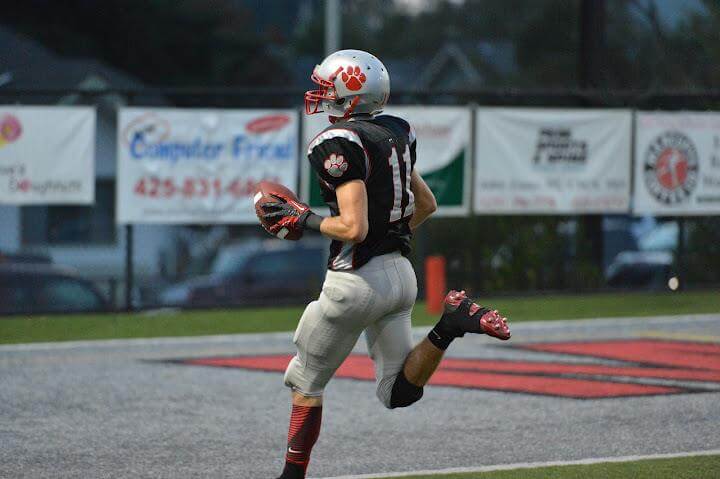 Wide Receivers / Tight Ends:
Advantage: Mount Si
No doubt who wins here and that isn't a shot at the Wolverine WR's. Mount Si's Trent Riley (Sr, 6-2 194) and Tyler Button (Sr,5-6 140) are both in the top 12 in KingCo statistically with Riley leading in TD receptions (7). Throw in speedster Jimbo Davis (Sr, 5-10 160) and big time TE Griffin McLain (Sr, 6-4 245) and the Wildcats give Mitchell a plethora of options. Reuben Mwhela (Sr, 5-10 190) for Bellevue is committed to the University of Idaho and is a very good receiver with game changing speed, but as stated earlier the Wolverines don't throw the ball much.
Offensive Line:
Advantage: Bellevue
When Bellevue played Trinity a few players REALLY stood out to me. One was center Darien Freeman (Sr, 5-11 290). Freeman appeared to be battling cramps or just pure exhaustion as he rarely left the field during a hard fought win. He was an absolute stud against guys that were more athletic and some that were even bigger than he is. Bellevue tackle Morgan Richey (Jr, 6-4 270) was recently ranked #2 in our 2014 rankings on the OL. He is an absolute mauler and will remind a lot of people of former Wolverine and NFL lineman Stephen Schilling.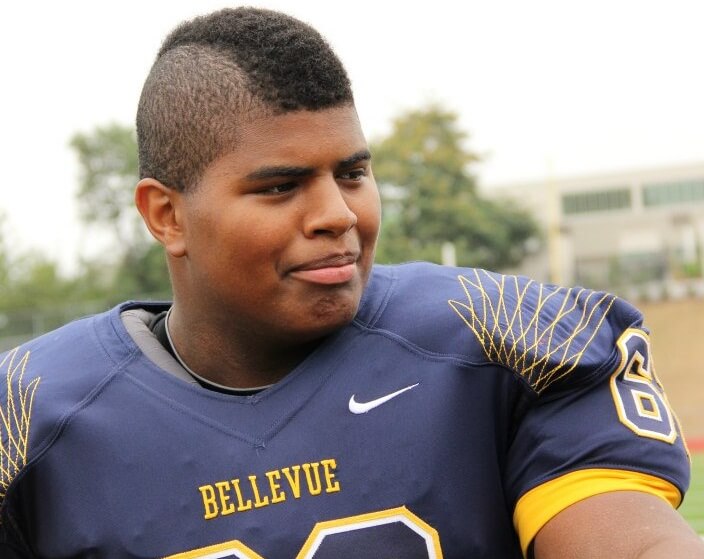 Defensive Line:
Advantage: Bellevue (slight)
This is where the game will be won and lost. The Wildcats are going to have a tough time running the ball against a good Bellevue DL that features Darien Freeman, Marcus Griffin (Jr, 6-3 280) and Shane Bowman (Jr, 6-4 220). Recently Griffin and Bowman were ranked #2 and #3 in our 2014 DL rankings. Both players are big time athletes with bright futures. The Wildcats are VERY good on the defensive line and in all honesty this position could very well be even. Zack Blazevich (Sr, 6-2 311), Stephen Nnabue (Sr, 6-1 250) and Griffin McLain are all at about a sack per game. That will be tough this week as when Bellevue does throw it is mostly bubble screens and quick stuff.
Linebackers:
Advantage: Bellevue
With two Pac-12 commits in Myles Jack and Sean Constantine (UW, Sr, 6-2 225) the Wolverines will never be beaten at this position. Those are two of the best LBs this state has ever seen and when you add in Nathan Derider (Sr, 6-1 190) you have an absolutely fearsome set of LBs. The Wildcats actually give the Wolverines a good run for their money at this position. Mount Si MLB Hank Van Liew (Sr, 5-11 205) is one of the most underrated LBs in the state. He is one of those guys that doesn't wow you when you look at him, but when he steps between the lines he is an absolute beast. One the season he is averaging close to 7 tackles per game. That might not sound like a ton, but remember this… Mount Si starters have really only had to play 3 quarters every game and even at that the opposition has been running into a lot of 3 and out situations. Another LB from I really like from Mount Si is Evan Johnson (Jr, 5-8 200). He leads the KingCo in tackles through 5 games and was our player of the game earlier this season in a win over Issaquah.
Defensive Backs:
Advantage: Mount Si
No doubt in my mind here and don't get me wrong Bellevue is very good at DB, but you won't find a better set of DB's in the state than what the Wildcats have. Trent Riley and Hunter Malberg (Sr, 6-0 190) are two of the best safties you will see all season. Jimbo Davis is a shutdown corner that hasn't seen much action this season because teams are afraid to throw his way… I don't blame them one bit. Should you decide you want to throw opposite of Davis you will find Tyler Button who while small in stature is a big time player. The ability of this back four allows the LBs to make plays without worrying what goes on behind them. The Generals have got it covered. Throw the ball… I dare you!
Prediction:
I REALLY like both teams and regardless of who loses, neither will be lower than #2 in my rankings next week… Sorry Meadowdale… I just don't think this is a great matchup for Mount Si. Bellevue has a ton of big game experience and usually rises when people start to think they can be beaten. I have a lot of friends at both programs and my heart says this will be a great game, but my brain says it will be all Bellevue. They will meet again in the playoffs… Unfortunately it looks like the brackets have them meeting in the Semi-Finals. The WIAA needs to wise up and change their playoff system, but that would make too much sense… Wolverines win 35-14.