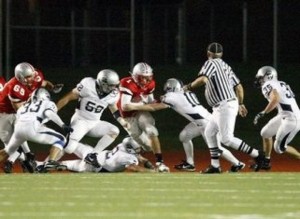 Coming to you first once again with Devante's second offer, this time from the University of Utah.
"I talked to coach Duff who watched my film yesterday and then spoke with the head coach who offered me." Devante said.
As expected his UW offer would be the first of many. We have been in contact with a host of other schools that have Devnate right on the bubble.

Downs is a superstar on both sides of the ball. Devante said, "They would like me to come in and run the ball, which is my preference."
Utah is a growing program and joining the Pac-12 has really changed their recruiting base. Coming to the northwest to try and snag a kid is no surprise to as coach Grant Duff attended the NW Stars Showcase event last June.
"I've been paying a lot of attention to Utah," Downs said. "I think they are very underrated."
Don't expect it to be long before you see us writing about Devante and another offer. The Mountlake Terrace star is on his way to being one of the most highly recruited players in the class of 2014 and we look forward to keeping you up to date as soon as it happens.