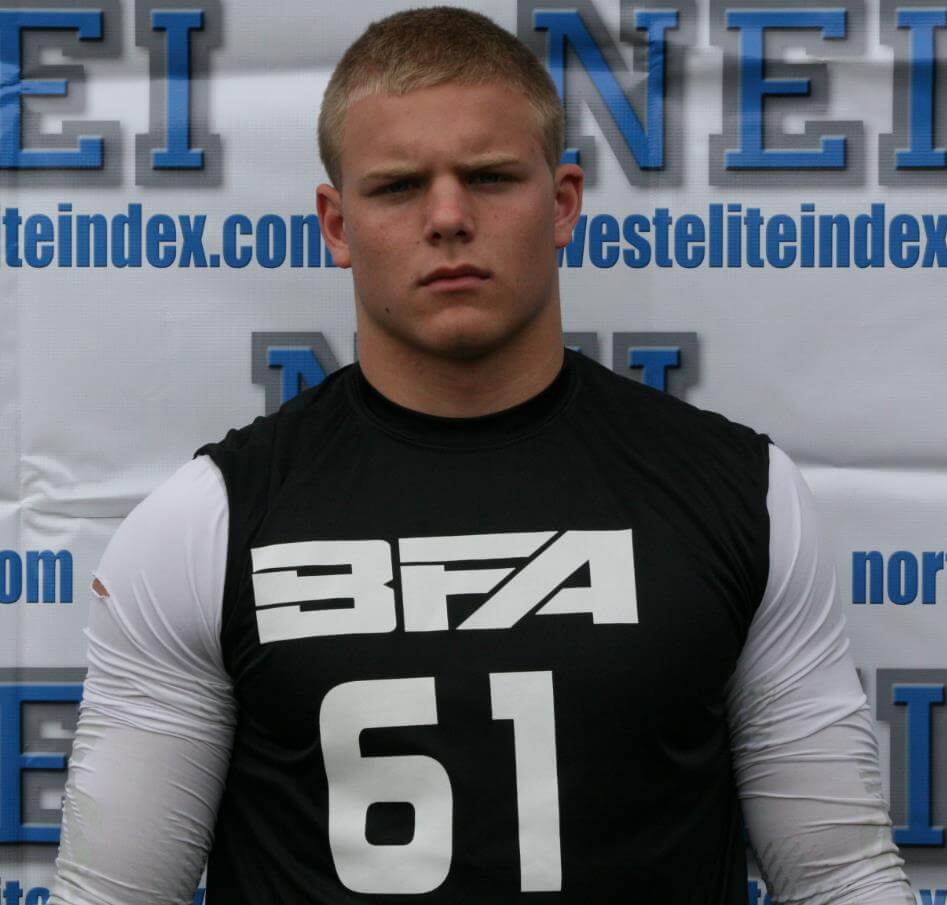 The NW's top safety Dallin Leavitt (6-0 200 Sr. S/RB) of Central Catholic is an athlete that we became very familiar with both as a player, and as a kid over the Camp and Combine season. He attended all of our Elite Events and was a fixture on the NEI/Barton Camp and Combine Tour. He was also part of NEI-South that traveled with us to Vegas. Leavitt's an athlete that has a John Boyett type mentality, and only knows one speed.
Dallin's a BYU commit and ranked nationally among safeties, but more importantly is just a good kid. He was NEI's Defensive Underclassmen of the Year in the State of Oregon last season, and is currently a favorite for Defensive POY honors in the State for 2012. He is one of the most aggressive athletes we have come across, and we feel that he has an extremely bright future at the D1 level and beyond. He also holds offers from Hawaii and Wyoming, but is firm on BYU.
We are big fan's of Dallin and caught up with him the other day as he had this to say…..
Jordan J-NEI: Talk about BYU and how your commitment came about and what it means that your dad played there?
Dallin Leavitt: "BYU has been my school growing up. There are pictures of me as a little guy in my BYU uniform and helmet, and that's just always been where I've wanted to play since I was a kid… Things changed as I got older and I realized that BYU wasn't the ONLY place I could play college ball at. After the recruiting process and getting to know who my coaches are I've learned that BYU is the best place for me and what I'm trying to do in this life….This along with the coaching staff being great and amazing for what they do on and off the field".
Jordan J-NEI: What would it take to get a state title at CC, as no Mt Hood team has played in a state championship since Gresham in 1983 almost 30 years ago.
Dallin Leavitt: "To win state we need to play with a swagger, like we did against Jesuit.. We came out with a different type of attitude and knew we were the best team on the field… We need to play with that confidence all year, and if we do that and limit our turnovers and penalties we will be fine…. The Mt. Hood curse or whatever doesn't mean anything to me, we are too good of a team to even worry or think about that. We almost got there last year, now we just need to finish".
Jordan J-NEI: Where does your aggressive mentality come from, was it learned or something you were born with?
Dallin Leavitt: "My aggressive mentality is something I've always had. My dad was an extremely aggressive person when he played and I guess I got it from him. Growing up I had my dad and another coach by the name of Michael Kempt who really pushed me hard, to EARN everything I got…That's kind of what put me out there to always play with a chip on my shoulder and take care of what is mine… Being a white DB at the highest level, its hard to earn respect so that always gives me extra drive as well."
Jordan J-NEI: Talk about your goals with regards to College, the NFL, and the LDS Church?
Dallin Leavitt: "My goal is to win state, be an All-American at BYU, and I expect to be a top 3 round draft pick… Its not cocky or arrogant, its just what I believe, if I keep my mind right and stay healthy and continue to work hard.
Other then football, after my freshman semester at BYU I will be going on a LDS/ church mission for two years, where I will stay away from football 100% and focus on God and trying to serve others… This is good for me because it makes me a well rounded person, and allows me to put others before myself for two years of my life… Its not what most people do from the ages of 19-21, so I feel like it is a huge sacrifice but I will be blessed in the end".
Jordan J-NEI: Who has influenced you and made you the player that you are today?
Dallin Leavitt: "I would just like to thank all of my coaches, especially Anthony Newman. There is no way in the world I would be where I am today without him. After playing in the league for 12 years he has taught me so much about the game, including little nuances of the game that you couldn't learn anyone else other than from a pro… We have the best DB's in the state for a reason, its not just luck.. I would also like to thank my strength coach Ryan Paul, he has made me a better athlete than I ever thought possible, leading me to the healthiest season of my career… Without him in the off season I wouldn't be making the plays that I am.
Finally thank you to Barton Football and NEI… They have done more for me then I could ever ask for. All the way from Coach Laurence helping me with my tech, to TB calling coaches for me day in and day out, and of course JJ for writing these outstanding articles, allowing all athletes to get additional high profile exposure that no one else in the northwest can provide.
It also puts the best kids in the NW on the same field. It allows them to compete and get better so that when we go back to our teams we can help our teammates improve with all that we have learned… Its a rare experience that not a lot of people get, and once again thanks to TB and JJ and the rest of NEI… They are like a second family to me, thank you!