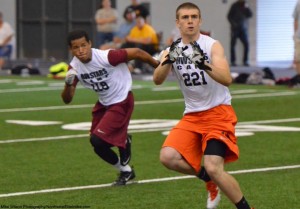 One of the State of Washington's most exciting Junior's is Caleb Lyons (5-9 170 ATH/DB) out of Lakes HS. Lyons is a kid we have become familiar with on the camp circuit, and comes in ranked one of the top positional players for the 2014 class.
Lyons currently leads all wide outs in receptions (28) through 7 games with two high profile D1 receivers on his team in Sammie Long and Marquin Russell. Long is the state's top ranked WR and Russell has multiple D1 offers as well, putting into perspective the talent that Caleb has. He is one of the most versatile athletes in the state, as you see him returning punts/kicks and being one of the best defensive players on the field. Lyons has a team leading 5 Int's and has also added 22 total tackles in the process.
In what some consider one of the greatest HS games they have ever seen, Lyons returned a kick against #4 Bellarmine Prep 100 yards in there 42-38 upset win. The Lancers currently sit at (4-3) but have lost to some legit programs in #3 Camas, #8 Skyview, and Woodinville. Caleb has 7 total Tds with close to 800 All Purpose Yards on the season, and looks to be only getting better. Lyons says, " We went through a lot of adversity early in the season with all of the athletes that graduated last year, but have really come together as a team and want to prove all the doubters wrong".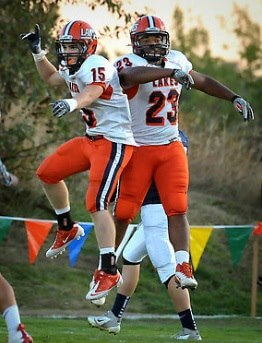 Lakes has a phenomenal coaching staff and some of the top overall athletes in the state at their position, but the loss of kids like All American Zach Banner and D1 lineman Zaheer Webb would be tough for anyone to make up for. The Lancers have one of the most talented line coaches anywhere in the country in Matt Roth, and are improving weekly.
Caleb says, "I eat, sleep and breathe football so my ultimate goal is to find a home at the next level, but right now I just want to help my team in any way that I can". Lyons is a kid we really like and think he will be one of the top two way threats in Washington in the coming years. " I have a lot to be thankful for, we have been through a lot in the last couple years but my mom is my biggest supporter and I definitely wanted to send some love her way".
We look forward to keeping up with Lyons and this Lakes program. Its a class group and we have nothing but good things to say.