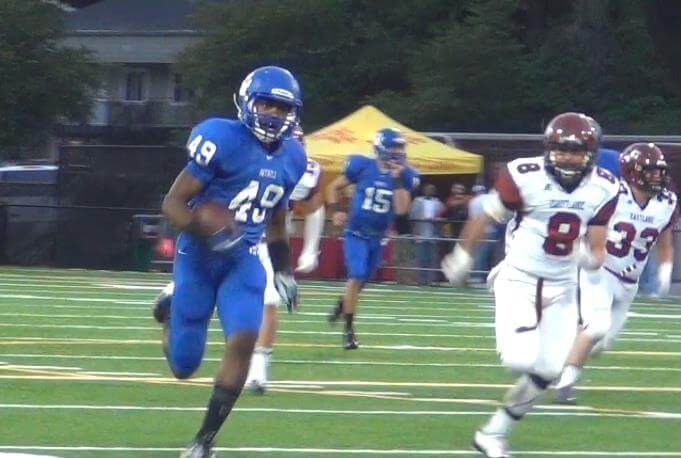 Danny Wilson, Sr. RB Bothell – It should be no surprise that since Wilson has started running wild that the "Blue Train" has been unstoppable. This week Wilson went nuts, rushing for 364 yards and 5 TDs on just 12 carries as the Cougars blasted Inglemoor 66-21 in the annual Spaghetti Bowl. Wilson appears to be running with a chip on his shoulder in his last four games as he has rushed for 913 yards and 12 TDs on just 63 carries. The Cougars are really clicking right now and with a win this week they will book a date in the KingCo Championship Game.
Kai Van Sickle, Sr. RB Capital – Van Sickle carried 22 times for 294 yards and 4 TDs as the Capital Cougars got back on track with a 56-7 thrashing of Black Hills on Friday night. The win brings to Cougars to 5-2 on the season with a 2-1 conference record.
Austin Mace, Jr. RB Mountain View– Rushing just 13 times, Mace compiled 233 yards and 4 TDs as the Thunder throttled Hudson's Bay 50-0. Mace had scoring runs of 65, 34, 25 and 10 with the first three coming in the second quarter. On the season he now stands at 85 carries for 804 yards and 7 TDs.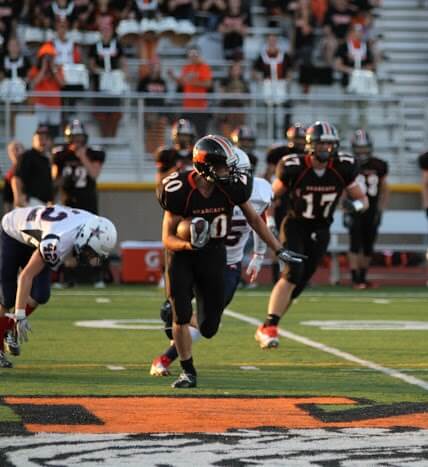 Gabe Moore, Jr. RB Monroe – Last week he picked off a pass to put the final nail in the Snohomish coffin and was our WIAANetwork.com Player Of The Game. This week the junior went absolutely bonkers against Arlington rushing 33 times for 323 yards and 2 TDs as the Bearcats topped Arlington 29-22 in OT. The win clinched the Wesco 4A North Title.
Dylan King, Jr. QB La Center – In a 70-0 win over Seton Catholic, King completed 11 of 17 passes for 156 yards. Not that special, right? Well King also had 6 TDs, all in the first quarter. La Center is undefeated at 7-0 and currently ranked 8th in our 1A Top 10.
Max Browne, Sr. QB Skyline – Browne continues to rack up the yards as he completed 19 of 24 passes for 343 yards and 4 TDs as the Spartans beat a VERY good Newport team 56-28.
Brett Rypien, So. QB Shadle Park – Moving up the single season passing ranks, Rypien completed 20 of 36 passes for 353 yards. He is now third for passing yards in a season and only needs 45 yards to pass WSU QB Connor Halliday for the top spot.
Mason Stone, Sr. ATH Mountlake Terrace – In a 28-0 win over Shorecrest, Stone rushed 10 times for 113 yards and 3 TDs. His scoring runs came from 51, 22 and 7 yards out.
Mario Gobbato, Sr. RB Blaine– Gobbato continued to impress as this week he led his Borderites to a 34-27 win over Meridian by rushing 45 times for 290 yards and 4 TDs. The 290 yards now puts Gobbato over 5,000 yards for his career.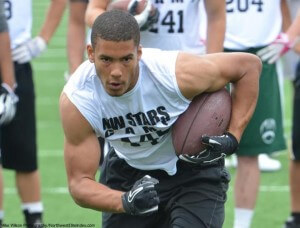 Isaiah Brandt-Sims, Jr. ATH Wenatchee – The speedster finished with 16 carries for 289 yards to help the Panthers to a 53-10 win over Davis. The win keeps the Panthers slim playoff hopes alive in the Big Nine Conference.
Devon Phillips, Sr. RB Wilson – The Rams are fighting for a playoff spot and got a big boost with a 39-14 win over Foss on Friday night. Phillips carried 20 times for 184 yards and 4 TDs.
Budda Baker, Jr. RB/DB Bellevue – When #1 met #2 this weekend it became obviously that #1 was well above #2. Baker scored three amazing TDs on the night as Bellevue blasted Mount Si 49-10. His first TD came on a 53 yard run, which he quickly followed with a 36 yard INT return. He capped his scoring with a 46 yard INT return just before halftime.
Caleb Valko, Sr. DL Coupeville – In a rivalry game against South Whidbey, Valko figured in to 18 tackles with 2 being for a loss as Coupeville brought home "The Bucket" with a 18-13 win. The win also guaranteed the Wildcats would get at least a chance at the playoffs. They can do no worse than a tiebreaker game with 2 other teams.
Alex Galgano, Sr. RB Archbishop Murphy – The Wildcats appear to be back on track after this weeks 34-7 win over the Sultan Turks. Golgano went for 225 yards and had TD runs of 17, 12, 10 and 1 yards on the night.
Brady Austin, Sr. QB / Teague James, Jr. RB / Kahlil Dawson, Sr. WR Graham-Kapowsin – Austin had one of his finest days completing 9 of 16 passes for 245 yards and 3 TDs. James finished the night with 23 carries for 201 yards and 3 TDs while Dawson had 6 catches for 196 yards and 2 TDs. The Eagles beat Puyallup 54-36 and pretty much have a stranglehold on the SPSL South #2 seed if they win out.
Cam Nelson, Sr. WR/DB Eastlake – In a 16-0 win over top 10 ranked Meadowdale, Nelson finished with 5 catches for 102 yards and 2 TDs. On defense he was huge with 3.5 tackles, 4 pass break ups, a Fumble recovery and an INT. If that isn't a great all around performance, I don't know what is.