For all the latest news on athletes in the NW you can follow us on Twitter. Taylor Barton ( @TaylorBarton12 ), Jordan Johnson ( @JordanJNEI ), Ryland Spencer ( @RylandNEI ) and NEI ( @NWEliteIndex ). You can also find us on Facebook by giving us a *Like* at NEI Facebook .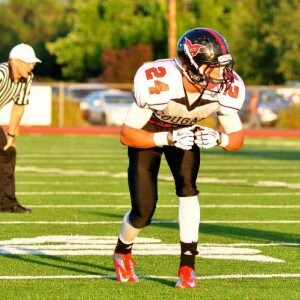 The Mt View Cougars of Bend are coming off a storybook 2011 season that saw them take the state by storm and win a State title. First year Head Coach Brian Crum called the shots offensively last season, and is one of the most respected offensive minds anywhere in the northwest.
That said the Cougars lost a lot of very talented kids to graduation, including the Conference Offensive and Defensive Players of the year in Jacob Hollister, and Oregon St LB Joel Skotte. Mt View also lost All State athletes Cody Hollister and Dimitre Dillard, so the question became how would they make up for all that talent?
The preseason schedule was one you had to respect as the Cougs played two Top 10 (6a) teams in #8 Century and #10 Sprague, along with a highly ranked Wilsonville squad. Those have been the three losses thus far as Mt View sits at (4-3) after being in all of those ball games.
Chad "Texas" Bach (6-4 275 Sr. OL/DL) and John Carroll (6-4 200 Sr. WR/DB) lead the group and are legit D1 recruits. Bach has already been offered by Portland St and a few other D1aa's, but his upside is off the charts and he is someone that we could for see playing ball at a Pac 12 type school. He was a first team all league , and all state athlete a year ago and did very well on the NEI/Barton Camp and Combine Tour.
Carroll is one of the Top 3 sport athletes in the entire region, and is even a better kid. He is currently ranked our Top WR for the 2013 class without an offer. We think very highly of him on both sides of the ball. So far this year he is one of the state's top receivers with 43 receptions for 867 yards and 8 Tds, good for 123.9 yards per game and 20.16 yards per catch. Coach says, "Johnny's been tough for anybody to stop, and Tex is one of the most underrated players in the state". I absolutely agree with Coach Crum, as I think both kids are legit D1 athletes.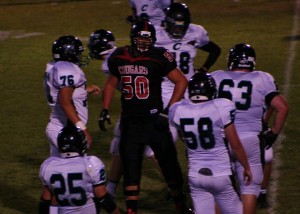 Mt view is playing their best ball right now and didn't have a ton of experience coming into the season. Both quarterback Toby Webb (6-1 165 Sr. QB) and Running Back Kyler Ayers (5-8 155 Sr. RB) have stepped in and done a phenomenal job, having to replace two high profile athletes in Hollister and Dillard. Webb has hit on 56.8% of his passes for 1386 yards with 14 Td's/5 Ints. Coach Crum says, " Toby has been great, he's always watching film and just continues to get better".
Ayers is one of the state's leading rushers after not seeing much time behind two big time backs last season. He has accounted for 1078 yards and 14 Tds on 6.3 yards per carry. He's not big, but extremely tough and quick and someone who is considered one of the "Breakout Performers" State wide.
The line is a group that has improved each week lead by Bach on both sides of the ball. Joe Hester (6-1 270 Sr.), Austin Philips (6-4 260 Jr.), Steven Livingston (5-11 220 Sr.), and Christiano Mazzioti (6-1 285 Sr.) all have played well, with Phillips being one of the top junior lineman in Oregon, and Hester coming from a football family. Kyle Shaver (6-0 210 Sr. LB/TE) is one of the top defenders at the 5a level, leading the team in sacks and being a huge defensive presence along with Carroll and Bach. Crum says, " Shaver's our emotional leader and people feed off his energy, he had 4 sacks last week against Summit". Trevor Roberts (6-2 200) is another 2 way star that has contributed heavily on both sides of the ball.

Expect to hear from Keenan Springer (5-11 190 Jr. ATH) and host of other young athletes coming up through the ranks. The #7 Cougars will be at home against an undefeated, and senior dominated #9 Redmond (7-0) team that has looked great but has played four (4a) teams. It will be a very telling contest.
We think Mountain View scored big with the hire of Brian Crum, and we always look forward to getting out to Bend and seeing a class program. Expect the Cougars to be a team that finishes the regular season strong, potentially making a deep playoff run. The kids from Central Oregon are legit.