For all the latest news on athletes in the NW you can follow us on Twitter. Taylor Barton ( @TaylorBarton12 ), Jordan Johnson ( @JordanJNEI ), Ryland Spencer ( @RylandNEI ) and NEI ( @NWEliteIndex ). You can also find us on Facebook by giving us a *Like* at NEI Facebook .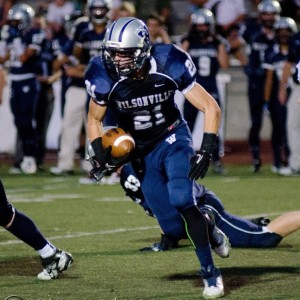 One of the leading candidates for Oregon 5A Player of the Year, Tanner Shipley of Wilsonville (6-2 185 Sr. ATH/DB), landed another offer from Colorado on Thursday night. Shipley has offers from (Oregon St, BYU, Wyoming) and has accounted for 16 total Tds, and 1267 all purpose yards in 7 games.
Tanner's a kid we have gotten to know well and can't say enough good things. He has trained at the academy for the last few years, and was part of our NEI -South squad that traveled with us to Vegas.
Shipley says, They called me a couple days ago and told me they were going to look at my film as a staff, and today took a vote and said it was unanimous from all…. so they called and offered a full ride"
He continued, "I feel very honored that they think so highly of me, and now I have some tough decisions to make.. I will be going on my official visits soon and really taking the time to analyze what school to call home"
Shipley's a kid that plays running back but projects as a receiver. He has NFL genes from back in the day, and is related to the NFL's Jordan Shipley. Tanner has unique elusiveness and is extremely recruitable do to his versatility. He is currently averaging 155.1 rushing yards per game, and is teaming with fellow seniors Johnny Ragin, Ryan Walsh, and Nick Highberger on a #5 Adam Guenther lead Wildcat team.
Congrats to Tanner on the new offer, the Buffaloes just did a smart thing.