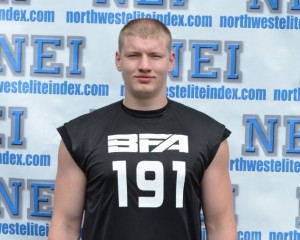 Just last week, Fife (Wa.) OL/TE/DE Kaleb McGary was sitting on one Pac 12 offer. As of this weekend though, the talented can boast four offers after received full rides from Washington (reported by Northwest Elite Index on Tuesday of this past week) and most recently Washington State and Utah.
"I got offered by both Utah and Washington State a couple of days ago," McGary told NEI. "I had been talking to both of them and they came by my school to see me and I got offered by both of them right after I got my offer from Washington (last Tuesday)."
McGary is a 6'7″, 270-pounder who is currently playing tight end for Fife, but he said most schools see him moving to either the offensive or defensive lines.
"I'd like to stay at tight end, but if I grow too much I'm open to playing on either side of the ball or on the line, but I'd like to at least get a shot at tight end."
McGary uses his hands well and is very athletic for a young man his size. He rarely comes off the field as he is the long-snapper for the Trojans as well.
We will continue to keep track of McGary's progress and will update news as it breaks with him.