For all the latest news on athletes in the NW you can follow us on Twitter. Taylor Barton ( @TaylorBarton12 ), Jordan Johnson ( @JordanJNEI ), Ryland Spencer ( @RylandNEI ) and NEI ( @NWEliteIndex ). You can also find us on Facebook by giving us a *Like* at NEI Facebook .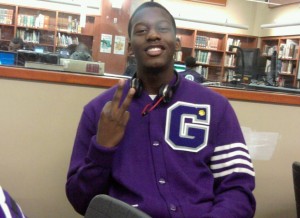 One of the top two sport underclassmen in the State of Washington is Garfield HS's Torrence Baker (6-2 200 Jr. WR/S). He has been a basketball kid first, but his overwhelming upside on the football field has been noted.
Right out of the gate first year Head Coach Dave Myers saw what could be with Baker. The kid is freaky athletic and immediately had people shaking their heads.. Coach Myers says, " Torrence is an awesome safety..he's big, physical, and covers a lot of space". He continued, "He comes up and fills well, and could easily add another 20 pounds on his already very athletic frame".
Torrence comes from a very athletic family, where basketball & football was played religiously. One of his cousins is overseas playing ball right now, but Baker wants to make his own name. He's a very good student (3.4) and takes his academics seriously. " Obviously I would like to earn a scholarship in either football or basketball, and would like to study psychology or engineering in college", Torrence said.
The Bulldogs are (1-7) so record wise they aren't where they want to be, but the pieces put in place by Myers have been crucial as both the sophomore and junior class are very talented. Myers is one of the top young football minds in the northwest and is a players coach. They have bought into what him and his staff have brought to the table and everyone is excited for the future. Baker says, " Were really young and have come a long way…Our record doesn't show it, but we are much more discipline then we were and have improved a great deal".
Baker had taken a few years off from football, but started playing when he was in the 4th grade. He has multiple INT's on the year and a TD, but Torrence is a kid that's still raw. He has received mail from D1's including Arizona St, based on his overall potential and premier dual threat possibilities.
Garfield is famous for its basketball and Baker is one of the best in Washington for his class. He travels to different cities most of the spring playing AAU ball with his select team. That said he now realizes that he could have a very bright future on the football field, so it will be very interesting to see what avenue he pursues.
We look forward to seeing Torrence at our elite events, and can't say enough good things about him and the entire Garfield program.