For all the latest news on athletes in the NW you can follow us on Twitter. Taylor Barton ( @TaylorBarton12 ), Jordan Johnson ( @JordanJNEI ), Ryland Spencer ( @RylandNEI ) and NEI ( @NWEliteIndex ). You can also find us on Facebook by giving us a *Like* at NEI Facebook .

---
Kendrick Bourne 6-2 185 Sr. WR/S Milwaukie
---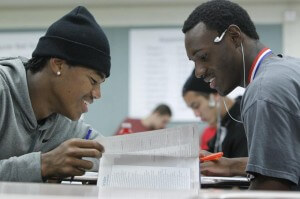 Bourne is a kid we got to know well over the last year, as he was a stand out at our elite events doing work against the top DB's in the northwest. Kendrick has gone off this year after transferring from Benson to Milwaukie. He has accounted for 950 yards receiving and 13 Total Tds, on 26 receptions on an incredible 31.2 yards per catch. We have Bourne ranked as one of our top receivers state wide, as we are now hearing from a host of schools that like what he can do on the field. Idaho and Portland St are just a couple of universities that are more then curious.
Kendrick is a kid that has really improved his grades and currently sits with around a 3.0 GPA, and a rising accumulative. He says, "I want to thank my coach Don Johnson and my brothers who have been my biggest supporters". He continued, "everybody at school comes out and packs the stands and my teammates have played great".
It was a tough situation at Benson and Bourne was fortunate to find a program with a talented new head coach in Johnson. Its been a good run thus far as Milwaukie sits at (6-2), and is ranked #9 in our latest NEI 5a Top 10. It is one of the best seasons the Mustangs have had in the last couple decades so people are excited to say the least.
"All of the elite events helped so much during the off season, it was great to go against the top guys and show what I can do", Bourne said. Have a look at Kendrick's elite event video from this past off season, and prepare to see him do work this post season. He is currently in the running for Offensive player of the year in the NWOC with Morris and Tanner Shipley of Wilsonville.
http://www.hudl.com/athlete/1914587/highlights/18754382 Kendrick Bourne HUDL
2:50-3:25 Kendrick Bourne Highlights NEI/Barton Elite Event – Portland, OR.

---
Zach Floyd 5-10 180 Sr. RB Tigard
---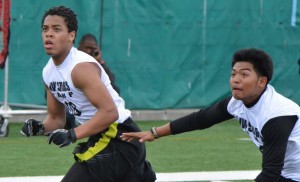 Floyd returns as the favorite for conference player of the year honors, after going for 23 Td's last season splitting time with Benny Wick and Kaz Greene… The Tigers fell to Jesuit in the quarterfinals last season finishing (12-1) on the year, and currently sit at (7-1) and ranked #5 in the state.
Zach could potentially be the most exciting back in Oregon other then Tyner, as he has the unique ability to bounce and accelerate on a dime when running the ball. We have been able to work with Floyd over the last couple of seasons, and he is an outstanding kid. He attended our elite events in the winter and re confirmed that he was a top back on a state wide level. Floyd's a kid that plays much bigger then his, and could project on the defensive side of the ball as well.
We currently have Floyd ranked one of the top two backs in Oregon without an offer, and feel he is a kid on that scholarship bubble. He has accounted for 20 Tds on the season (15 rushing/receiving, 5 passing) with over 1000 all purpose yards. Floyd's not big on talking about himself as he feels like his whole team deserves the credit, but does add "the team is looking really good and we are looking forward to the playoffs". Check out video from this past seasons winter elite events. We will continue to keep tabs on Floyd as the season progresses.
http://www.hudl.com/athlete/404374/highlights/20375376 Zach Floyd HUDL
1:35-2:35 Zach Floyd Highlights NEI/Barton Elite Event – Portland, OR.
---
Cristian Morris 6-0 185 Sr. RB Sherwood
---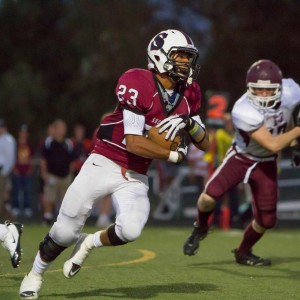 Morris is the other top high profile back without an offer, and is a kid we have been hearing a lot about from colleges. The Sherwood standout has his team sitting at 8-0, and ranked #1 in the state at the 5a level.
As a sophomore Morris ran for 12 Tds splitting time with two Players of the Year in Michael Balfour (Oregon St) and Steven Long (Portland St). It was an impressive 10th grade season to say the least, that concluded with a 2010 state title. An unfortunate knee injury sidelined him for his junior season but Cristian kept in good spirits, "The doctor's called it one of the quickest and most efficient rehabs they have ever seen, so I felt good coming into the season". Morris also finished second at state in the 100 and 200 Meters during his junior season on the track, showing that he was back and even better.
The Bowman distribute the ball to a number of different backs, with Morris being the main guy. Coming into this week he is averaging a ridiculous 18.6 yards per carry. He now sits with 1065 yards on 57 carries and 15 total Tds. This doesn't even take into account his multiple Int's on the defensive side of the ball, making him that much more intriguing for universities that need a kid that can play on either side.
More then anything Morris is just a quality kid. He sports a 3.8 GPA and has a younger brother that is one of the freakiest 8th graders you have ever seen, "No exaggeration my brother is the real deal", Morris said.
We were actually made well aware of David Morris a few weeks back when Taylor Barton saw him play at a youth game. Barton said when speaking to me, "JJ you have got to see this kid, he is as good as any back I have ever seen for his age". A bold statement from a guy that doesn't give compliments freely. It looks like the Young David is the next very talented athlete in the Morris family.
http://www.hudl.com/athlete/136643/highlights/26250437 Cristian Morris HUDL