For all the latest news on athletes in the NW you can follow us on Twitter. Taylor Barton ( @TaylorBarton12 ), Jordan Johnson ( @JordanJNEI ), Ryland Spencer ( @RylandNEI ) and NEI ( @NWEliteIndex ). You can also find us on Facebook by giving us a *Like* at NEI Facebook .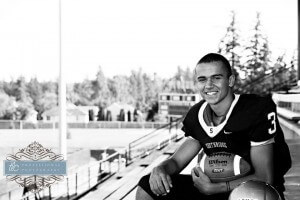 As of right now without question, the top Junior WR in the northwest without an offer is Jordan Morgan (6-2 194), of Southridge HS in Beaverton. The talented underclassmen has proceeded to go off this season totaling 14 Td's in the first 8 games. The Skyhawks have played one of the most brutal schedules anywhere in the NW, with close losses to #1 Sheldon (8-0), #2 Lake Oswego (8-0), and #10 Tualatin (7-1).
Southridge currently sits at #6 in the latest NEI poll at (5-3) with a recent quality win over #4 Jesuit. Morgan started his sophomore season on both sides of the ball, but it wasn't anything like this. Jordan is ranked NEI's #1 WR in the State of Oregon for the 2014 class, and watching his HUDL video you will understand why.
Morgan has teamed with fellow junior QB AJ Woodin for most of his life connecting on countless Td's through the air. Recently one of the State's top QB's returned in Reza Aleaziz (6-4 220 Sr.), while sitting out the first part of the year after receiving a full ride to Oregon for Baseball.
The Skyhawks supporting cast at wide out help make Morgan that much more dangerous as Justin Calo, Kevin McClean, and Alec Powell are three of the better senior athletes in the state. This prevents any type of double team which gives Jordan a huge advantage one on one against most everybody.
He is also considered one of the top track athletes in Oregon, and a legit state title contender in the long jump. Morgan is currently jumping 23+ feet and will be a viable college recruit on that front as well.
Jordan trained with us all off season, and was a stand out at our elite events and on the NEI/Barton Camp and Combine Tour. He is a kid that cares a great deal about his future and is always working on his game. He's got sneaky speed and long strides, and someone that is just going to continue to get better. Morgan says, " All I really want is to play as a family and win a state title, nothing else really matters".
Morgan's a legit D1 prospect and will have multiple options before all is said and done. His work with Barton Head WR Coach Mike Bush has paid huge dividends, and the Southridge coaching staff is one of the best in the state.
He has a 3.4 GPA and wants nothing more then to succeed on the field, so expect to hear a lot about Jordan moving forward. He's a quality kid and someone that's a legit D1 athlete and it won't be long before the first university comes calling.
http://www.hudl.com/athlete/232119/highlights/25012419 Jordan Morgan Highlights