*In the future, to find this list you will need to look under the "Players Of The Week" tab. Doing this will allow us to have more content about the great players from the Northwest on the front page.
For all the latest news on athletes in the NW you can follow us on Twitter. Taylor Barton ( @TaylorBarton12 ), Jordan Johnson ( @JordanJNEI ), Ryland Spencer ( @RylandNEI ) and NEI ( @NWEliteIndex ). You can also find us on Facebook by giving us a *Like* at NEI Facebook .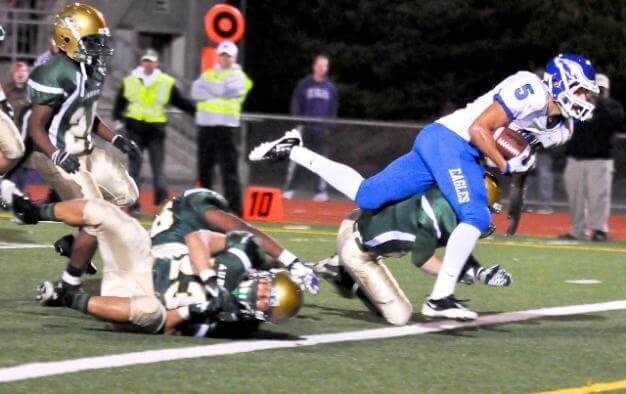 Zeek McNeal, Sr. RB Federal Way – Not many Federal Way players have made the list this year because they have so much talent that one player doesn't typically stand out. Friday night against Auburn McNeal was clearly the player of the game as he rushed for 264 yards on only 9 carries and 3 TDs as the Eagles beat the Trojans 43-0. The Eagles are ranked #2 in the state and are going to be a force in the playoffs as they might possibly have the most weapons on offense in the state.
Austin Rehkow, Sr. K Central Valley – In what is becoming "The Kick Seen Around The World", Rehkow booted a 67 yard FG to send the game to OT where the Rams would eventually beat Shadle Park 62-55. The kick was 5 yards beyond the previous record of 62 set in 1929 by Kelly Imhoff of Kent High School. This is actually the second time I have had Rehkow on this list as week 3 he kicked 4 FGs including a 56 yarder in a win over Mt. Spokane. At the bottom of this post I have attached the video of Rehkow's record breaking kick.
Brett Rypien, So. QB Shadle Park – Thanks to Rehkow's kick, the day Brett Rypien had is hardly being talked about. In a losing effort, Rypien completed 36 of 49 passes for 577 yards. Rypien broke his own GSL single game passing record, the third time he has broken that record this season, and also broke the state record for passing yards in a game. In the process he also took over top spot in the GSL's record books for single season passing yards and single season yards. HUGE night for a great player.
Nolan Hoiness, Sr. RB Hoquiam – On 21 carries, Hoiness finished with 268 yards and 4 TDs as the Hoqiuam Grizzlies remained unbeaten with a 42-3 win over the Tenino Beavers. Hoquiam is 8-0, ranked #4 in my 1A rankings and are legit state championship contendors.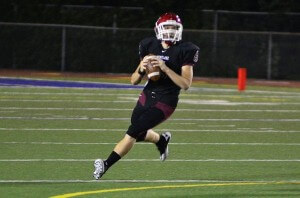 Steffin Church, Sr. QB Kentlake – Church is on here again with a big day going 10 of 18 passing for 229 yards and 5 TDs. He also had 10 carries 69 yards and a TD as the Falcons won 49-22 over Tahoma. Look for something more from Church later this week.
Mario Gobbato, Sr. RB Blaine – Another HUGE night for the senior runningback as he rushed 36 times for 300 yards and 2 TDs. That brings his season total to 2,105 rushing yards and 26 TDs in only 8 games.
Ralph Kinne, Sr. RB Shelton – Last week Kinne didn't get to 200 yards for the first time all season in a loss to North Thurston. This week he finished with 218 yards on 18 carries and 4 TDs as Shelton got back on track with a 55-7 win over Mount Tahoma. On the season Kinne is now up to 2,112 yards and 24 TDs.
Kai Van Sickle, Sr. RB Capital – Van Sickle almost single handily carried the Cougars in a 42-14 win over W.F. West. The senior carried 30 times for 214 yards and 4 TDs. Capital is now 6-2 heading into this weeks game against 5-3 River Ridge.
Colin Cossette, Jr. RB Kennedy Catholic – In the Lancers 56-6 win over Highline, Cossette carried 23 times for 260 yards and 3 TDs. The Lancers haven't lost since week being shutout in week 1 by Mount Si and are again in a position to win the Seamount League. That will be determined with this weeks game against undefeated Lindbergh. Regardless Kennedy will be the #1 seed as Lindbergh is a 2A school.
Chris Brown, Sr. QB / Robert Combs, Jr. WR Bonney Lake – In a loss to Lakes, Brown completed 13 of 23 passes for 300 yards and 4 TDs. Four of those completions went to Combs who finished with 135 yards and 2TDs. This could be considered a breakout game for the duo who a lot of people were expecting to have a big season.
Austin Joyner, So. RB Marysville-Philchuck – The Sophomore star continued to run wild on Wesco as he finished the night with 266 yards on 18 carries and had a TD as the Tomahawks beat Oak Harbor 47-39. The win gave MP the Wesco 3A North championship. It also set up a date with Glacier Peak this week with the Wesco 3A championship on the line.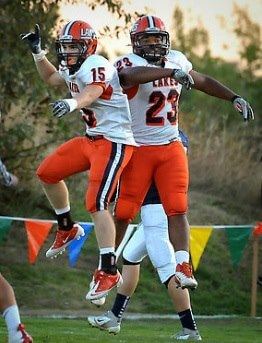 Kevin Thompson, Sr. RB / Dre Milton, Sr. RB / Caleb Lyons, Jr. ATH Lakes – These three combine to carry 27 times and racked up 390 yards and 5 touchdowns as the Lancers hammered Bonney Lake 63-35. The Lancers are really rolling after starting the season with a very tough 4 game stretch in which they went 1-3. This week they travel to Peninsula for what is basically the SPSL 3A Championship game as both teams are 4-0 in conference play.
Devante Downs, Jr RB Mountlake Terrace – The Hawks moved to 4-4 with a 42-8 win over Shorewood. Downs finished the night with 232 yards on 17 carries and 2 TDs. His two scores came from 12 and 88 yards. The win solidified the #3 seed for Mountlake Terrace and a crossover game with Marysville-Getchel this week.
Alex Myrick, Sr. QB/DB Royal – Myrick did a little bit of everything as the Knights remained unbeaten with a 47-0 over Columbia. He finished with 7 carries and 104 yards, he also completed 11 of 18 passes for 138 yards and 2 TDs. He also had a 23 yard INT returned for a TD. Royal is 8-0 and ranked #2 in our 1A Top 10.
Danny Wilson, Sr. RB Bothell – Wilson has been absolutely ridiculous lately. Rushed for almost 400 yards last week and while this week wasn't huge numbers, he was Elite! Wilson rushed for 171 yards and 2 TDs, but it might have been his 97 yard kickoff return for a TD that got the Cougars going. He would do almost all the scoring for the Cougars as they beat Woodinville 23-7 to win the KingCo Crest Division and set up a rematch with Skyline on Thursday in the KingCo Championship game.
Billy Green, Sr. QB King's – The BYU commit makes this list again. This time he threw for 313 yards and 4 TDs. That brings his total 2,144 yards and 36 TDs while throwing only 2 INTs. Green and the Knights are ranked #1 in my 1A rankings and have a big game this week against undefeated 2A Lakewood.
Austin Hall, Jr RB Kamiak – Hall carried 19 times for 263 yards and 4 TDs as the Knights beat Cascade 49-13. His 4 TDs came on runs of 4, 17, 27 and 80 yards. Hall was listed in our Honorable Mention section of our 2014 RB, but could be moving up.
Donovan Evans, Sr. RB Lakewood – 28 carries for 322 yards and 5 TDs… That is a nights work! Evans went over 1,000 yards on the season with 14 TDs. Lakewood is undefeated and ranked #2 in my 2A rankings and are a legitimate state championship contender.