*This game is being featured as a Game Of The Week and you can find the online broadcast at WIAANetwork.com . When the game ends it will be archived and available to view within the hour. This is a free service presented by PlayOn! Sports.
If you can't join us at the game or online, you can get live scoring updates by following me on Twitter @RylandNEI and for all things NW football follow @NWEliteindex @TaylorBarton12 and @JordanJNEI

Quarterbacks
Advantage: Mercer Island (slight)
For the second time in three weeks I am going against Bellevue Sr. Jack Meggs (6-0 170). Last time he kinda made a fool out of me and yet again I am giving the advantage to the other team. I am a gluten for punishment. I really like Mercer Island Sr. Brian Higgins (6-1 195) who is leading KingCo 3A in passing and making it fairly easy for Islander fans to move on from Jeff Lindquist. Just looking at stats right now makes me change my advantage to a "slight" for the Islanders… Meggs leads KingCo in Passing Efficiency with 265 rating.
Runningbacks
Advantage: Bellevue
Can't imagine anyone will argue with me on this one. Bellevue is a Runningback factory and have almost no problem plugging in different players and rushing with success. The trio is John Nguyen (Sr, 5-9 185), Myles Jack (Sr, 6-3 225) and Budda Baker (Jr, 5-10 175) is probably the best set of RBs this state has ever seen. Nguyen is the power that really gets everything going with his ability to gain close to 10 yards per carry up the middle. Baker is the speed that nobody in the state can catch when he gets into the open. Jack is the ridiculous combination of both that nobody wants to get in front of, or for that matter can get in front of. The Islanders have one of my favorite backs in the state Risley Lesko (Sr, 5-11 170), but I don't think even Risley would argue what I have here. Lesko is a dynamic back that brings speed that is rarely seen in football. He is without a doubt one of the top backs in the KingCo and in the state.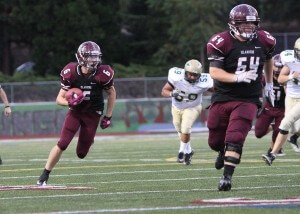 Wide Receivers/Tight Ends
Advantage: Mercer Island
For the second time I am giving the opposition the advantage even though Bellevue burned me last time. I really like the size and ability that Mercer Island has at this spot. WRs Matt Orehek (Sr, 6-2 200), Kaleb Wasihun (5-10 160) and Jack Counihan (So, 6-1 185) are all really nice players that make plays all over the field. Throw in TE Zach Bucklin (Sr, 6-2 230) who is near 500 receiving yards on the season and leads KingCo 3A in receptions, you have good size to go with a few good playmakers. I am definitely not taking anything away from Bellevue, but with the fact they don't pass much, I have a hard time really giving them a WR advantage. Three players from Bellevue I REALLY like are WR Reuben Mwehla (Sr, 5-10 190), who has committed to play next season at the University of Idaho, and TEs Nathan Derider (Sr, 6-1 190) and Nic Mangialardi (Sr, 5-11 185). All three have very little in the way of numbers, but are the perfect example of what makes Bellevue so successful. Hark working, role players that do their job on EVERY single play. My type of players.
Offensive Line
Advantage: Even
I really like what both teams bring here. The Islanders have one of the best Centers in the state in senior Alex Emanuels (6-3 265) who has committed to play next year at Cornell. The rest of the line has good size and is very athletic. Straight across the line they have Sean Payne (Sr, 6-3 275), Matt Hassall (Sr, 6-2 220), Brad Kimball (Jr, 6-3 230) and Connor Juneau-Wild (Sr, 6-2 280). I really do like what the Islanders have up front. The Wolverines on the other hand have three of my favorite players in the entire state in Nick Santa (Sr, 6-3 235), Darien Freeman (Sr, 5-11 290) and Morgan Richey (Jr, 6-4 275). Richey was recently ranked as our #2 OL in the state for the 2014 class. Another player for Bellevue that I think doesn't get nearly the credit he deserves is Reid Hartmann (Sr, 6-2 235) who might be the most athletic of the lineman but is kind of a lunch pale type of player. Most of his work is done at the LG position, but when the Wolverines give Freeman a break from Center he will slide over and the line will not miss a beat.
Defensive Line
Advantage: Bellevue
The Bellevue defensive line is nasty. Darien Freeman in my eyes is a top 3 DT in the state while Nick Santa is a top 5 DE. Jrs Shane Bowman (6-4 220) and Marcus Griffin (6-2 280) are two of the next big names to come out of Bellevue. Bowman played a bunch as a Sophomore and has been an absolute terror on the DL this season. Griffin on the other hand is in the mold of Freeman. A big kid that clogs the middle and allows the LBs to fly around and make plays while hardly being blocked. Both were recently on our Jr rankings and for good reason, they are studs. Alex Emanuels is a two way player for the Islanders that really excels on both sides. He is joined by a very hard working Sr. KC Carrol; (6-1 220).
Linebackers
Advantage: Bellevue
The Wolverines defense is probably the best in the state and while it all does start up front, the big time talent is in the linebacker position. Myles Jack is going to UCLA and is without a doubt the most dominating LB I have seen from this state since John Fiala was at Lake Washington in the early 90's. Sometimes you watch a player and just know that he has what it takes and that guy is Myles Jack. As good as he is at RB, he is twice the LB. Sr Sean Constantine (6-2 225, Washington commit) broke a bone in his forearm against Mount Si and I believe he is still out. Doesn't change my opinion. This is another spot where my two guys Nathan Derider and Nic Mangialardi do work. Both making the right plays and doing the jobs they are expected to do. Mercer Island has a few players I really like at LB in Matt Hassall and Zach Bucklin. The other two LBs for MI are Josh Omdal (Sr, 6-1 190) and Danny Stanke (Sr, 5-11 200). As good as I really do think the Islanders are here, nobody in the state matches up to what the Wolverines throw at you.
Defensive Back
Advantage: Bellevue
Just when you think you might find a weakness in the Bellevue defense, you get to the secondary and it just gets worse for you. Budda Baker had two INT returns the last time I saw him play and that was against the #2 Mount Si Wildcats. This is a group of underrated kids in my opinion. Seniors Dakota Jones (5-10 165) and Scott Whiting (5-9 160) are two kids the average fan hasn't heard of, but they are phenomenal players. The Islanders are gonna go two way with a few players in Matt Orehek and Risley Lesko. They also add Steven Petrie (Sr, 6-2 175) and Patrick Nelson (So, 6-0 180).
Prediction
I just don't see any way that Mercer Island can win this game. I really want to be nice and paint a picture of a good game that a lot of people will want to stay home and watch, but frankly I do not see that happening. I've watched a lot of high school football in my day and honestly feel like Bellevue is the best team I have ever seen. They come out hot, score early and often. When they have you choking they just run the ball, keep the clock moving and go home with an easy W. They are efficient and run the Wing-T like no team ever has. The strange thing is that while I give opposing teams the advantage in certain positions on offense, but I think Bellevue has the best RBs in the state. It is very hard to explain other than saying they have the best trio of RBs.

Bellevue 48 – Mercer Island 7