For all the latest news on athletes in the NW you can follow us on Twitter. Taylor Barton ( @TaylorBarton12 ), Jordan Johnson ( @JordanJNEI ), Ryland Spencer ( @RylandNEI ) and NEI ( @NWEliteIndex ). You can also find us on Facebook by giving us a *Like* at NEI Facebook .
Nothing is perfect, but here we take a look at Oregon's 6a/5a Player of the Year Candidates within their conference. We feel fortunate to be able to train with most of the region's top athletes in the off season, so it makes the selection process much more credible.
I think your MVP should be the individual that makes the biggest difference for that specific team. Meaning if that player wasn't playing, where would that team be? Its not always a stat thing, but it definitely helps to have good numbers. We wish all athletes continued success in the post season, and look forward to the all league teams being released in the next few weeks. Its been an incredible season thus far.
Jordan Johnson-NEI
6A
METRO
OFFENSE
1. Thomas Tyner 6-0 210 Sr. RB Aloha – No surprise as one of the best backs in the country put on a show week after week that included his ESPN , State record breaking performance of 640+ with 10 Tds..On the season the Duck commit has 2800 yd's and 35 Td's…
2. Jordan Morgan Jr. WR Southridge
3. Chase Morrison So. RB Jesuit
4. Bruce Jones Jr. Sr. RB Sunset
5. Devin Martinez Jr. RB Southridge
*AJ Glass Sr. RB Jesuit – Injured, State POY type candidate
*Reza Aleaziz Sr. QB – To few games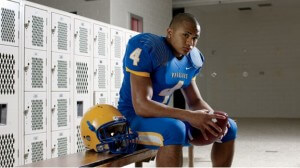 DEFENSE
1. Joey Alfieri 6-2 220 Jr. Jesuit
1. Evan Colorito 6-4 230 Sr. Beaverton
1. Maurice McSwain 5-11 165 Jr. DB Aloha
The only conference in the state where I had to go with three separate players… Alfieri is a legit D1 linebacker that is in on every tackle; Colorito is a game changer and without him Beaverton's season would've been completely different; Mo McSwain just went off leading the state in INT's and every other special teams category. Kids a player.
4. Mike Kluge Sr. DL Aloha
5. Henry Mondeaux Jr. LB Jesuit
5. Christian Martinek Jr. DE Jesuit
5. Dominic Johnson Sr. LB Aloha
THREE RIVERS
OFFENSE
1. Mitch Thompson 5-8 180 Sr. RB – 2000 yards and 22 Td's later Thompson showed that he is one of the toughest and most talented backs anywhere in the region. His stat line week after week speaks for itself as the only teams able to contain him all year were Lake O and Camas; Two teams with defenses recognized as some of the best nation wide.
2. Daniel Sherrell Jr. RB Clackamas
3. Jarrod Howard Sr. WR West Linn
4. Connor Griffin Sr. WR Lake Oswego
5. Eric Dungey So. QB Lakeridge
5. Justen Ruppe Sr. QB Lake Oswego
5. Hayden Coppedge Jr. QB West Linn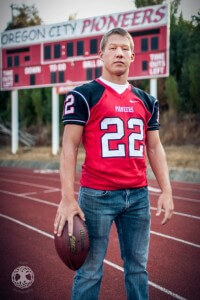 DEFENSE
1. Austin Faunce 6-2 245 Sr. DE Lake Oswego – Its hard to pick just one LO defender for this award, because they have all been so dominant but Faunce just creates havoc everywhere he goes. He is one of the better wrestlers in the country and he uses that ability combined with his outstanding football skills to dominate people… He is so quick off the ball.
2. Mitch Lomax Sr. LB Lake Oswego
3. Jack Anderson Sr. S Lake Oswego
4. Nick Underwood Jr. LB Lake Oswego
5. Zach Farnes Jr. LB Clackamas
5. Jordan Horak Jr. S Lake Oswego
5. Marquese Royster Jr. DE Lakeridge
5. Ellis Eaton Jr. DE West Linn
5. Mike Caruso Sr. DB Canby
5. Chase Marshall Jr. LB Lakeridge
5. Jon Kenion Sr. DE Clackamas
PACIFIC
OFFENSE
1. Sam Riddle 6-2 200 Sr. QB Century – Riddle moved his way up the charts and showed that he was the top senior QB in the State of Oregon..He has thrown for 2,313 yards and 30 Tds (7 games) , but more importantly has shown the leadership skills necessary to be a legit college QB.
2. Zach Floyd Sr. RB Tigard
3. Xavier Mitchell Sr. WR Century
4. Spencer Payne Sr. RB McMinnville
5. Kaz Greene Sr. Slot Tigard
5. Jeff Williams Sr. Slot Tualatin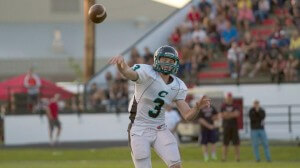 DEFENSE
1. AJ Hotchkins 6-0 225 Jr. DE Tigard – We saw this kid before the season and were very impressed, but wondered how good he would be at D End? Questions answered…He is the hardest hitter in the northwest and a league leader in sacks, tackles, and tackles for loss.
2. Jake Biglow Jr. LB Tigard
3. Benny Wick Sr. LB Tigard
4. Jeff Williams Sr. LB Tualatin
5. Manu Rasmussen Jr. DB Tigard
5. Sam Devedjian Sr. DE Century
* Chance Taylor Sr. LB Tigard-Injured
SOUTHERN
OFFENSE
1. Connor Strahm 6-2 215 Sr. Sheldon – The returning Offensive Conference POY did his thing and has gone for 1000+ all purpose yards and 13 Tds playing only a half in most games after blowing everybody out in the first half. He was a 1st team all state athlete on both sides of the ball as a junior, which is almost unheard of. He went for 1900 All Purpose Yards and 28 Tds a season ago.
2. Taylor Alie Sr. QB Sheldon
3. Evan Hisey Sr. RB N.Medford
4. Ivan Faulhaber Sr. TE/WR Sheldon
5. Adrian Garcia Sr. WR S.Medford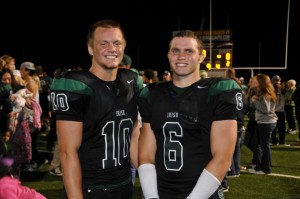 DEFENSE
1. James Banks 6-1 220 Sr. LB Sheldon – One of the state leaders in tackles and has been all over the field, Has showed outstanding anticipation of ball carriers and an understanding of the game that you can't teach. 100+ tackles, kids a baller.
2. Connor Strahm Sr. S Sheldon
3. Mike Ralston Sr. DE Sheldon
4. Chet Spears Sr. DL Sheldon
5. Derrick Turituri Sr. LB Crater
5. Liam Talty Jr. DE Sheldon
5. Pat Alexander Sr. LB S.Medford
5. Aaron Downes Sr. LB Thurston
5. RJ Morgan Sr. S Crater
PIL 6A/5A
OFFENSE
1. Kimane Domena 6-2 180 So. QB Roosevelt – Domena has thrown for 16 Tds and rushed for 15 making him one of the top dual threat QB's for his class in the country. He is a good passer, but an even better runner and still just a pup… Exciting times ahead for this kid.
2. Cory Hincks Sr. RB Wilson
3. Nate Halverson Sr. ATH Grant
4. Antonio Bella Sr. Slot Roosevelt
5. John Williams Sr. QB Lincoln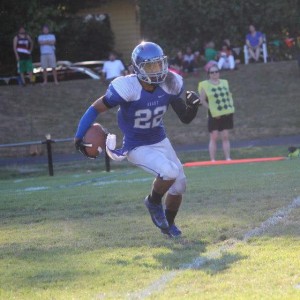 DEFENSE
1. Nathan Halverson 5-11 175 Sr. CB Grant – The SMU commit kept the Generals in games almost single handily at times against some very tough non league competition. Kid projects as a corner, but also is one of the state's best offensive players.
2. Antonio Bella Sr. Slot Roosevelt
3. Sione Tauemoe'anga Jr. DL Roosevelt
4. Lopeti Aisea So. LB Lincoln
5. Jordan Smith Sr. DE Wilson
CENTRAL VALLEY
OFFENSE
1. Jaylynn Bailey 5-10 205 Sr. RB South Salem – Bailey has legit speed and has gone off this season rushing for 1392 yards and 16 Tds , as the Saxons are one of the more surprising teams state wide. Much like Default he has really proven himself.
2. Devonn Gage Sr. RB Sprague
3. Cade Smith So. QB West Salem
4. Jon Schaub Sr. QB Sprague
5. Brett Hildebrand Jr. RB McNary
5. Nick Moran Sr. WR Sprague
5. Ambrose Soh Sr. RB West Salem
DEFENSE
1. Devonn Gage 6-2 215 Sr. LB Sprague
1. Jake Default 6-0 190 Sr. S South Salem
Gage has been phenomenal all year all year and is one of the more underrated backers in the west. He has a unique combination of size and speed and is someone we see being a steal for some university; Default has been one of the most impressive athletes in Oregon averaging over 16 Tackles per game as his stock has risen dramatically. 3 year all league, starter.
3. Matt Sommer Sr. DL West Salem
4. Perry Groves Jr. LB McNary
5. Austin Wilson Sr. LB Sprague
5. Kevin Martz Jr. S South Salem
5. Garrett Hittner Jr. DB McNary
5. Keenan Emery Sr. DE South Salem
MT HOOD
OFFENSE
1. Devauntae Hoffman 5-8 190 Sr. RB Gresham – Hoffman returns as the reigning Offensive Player of the Year from the Mt Hood after earning first team all league honors for the last two seasons. The Gophers have been maybe the biggest surprise state wide as they are (8-1) on the year..Hoffman has gone for over 1600 All Purpose and is pushing 20 Tds.
2. Aidan Wilder Jr. QB Central Catholic
3. Beau Duronslet Sr. WR Central Catholic
4. Nick Schoebel Sr. RB Centennial
5. Josh Schleining Jr. QB Reynolds
5. Ryan Nall Jr. RB Central Catholic
5. Andre Reasno Sr. ATH David Douglas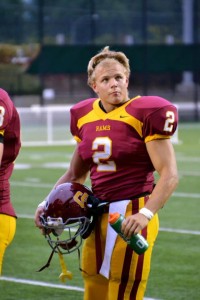 DEFENSE
1. Dallin Leavitt 6-0 205 Sr. S Central Catholic – Leavitt is the leading candidate for State Player of the Year on the defensive side of the ball, helping the D pitch multiple shut outs and hold offenses to a touchdown or less a game.
2. Connor Humphreys Jr. DE Central Catholic
3. Xavier Griggs Sr. LB Central Catholic
4. Aaron Washington Jr. CB Central Catholic
5. Fergus Frederickson Sr. DE Central Catholic
5. Ryan Nall Jr. LB Central Catholic
5. Beau Duronslet Sr. DB Central Catholic

5A
NWOC
OFFENSE
1. Tanner Shipley 6-2 185 Sr. ATH Wilsonville – One of the most high profile recruits in the region with multiple D1 offers (Ore St, Colorado, BYU, Wyoming). 1600 All purpose yards (1300 rushing) and 17 Td's. Projects as a D1 WR, so you can see his versatility.
2. Kendrick Bourne Sr. WR Milwaukie
3. Cristian Morris Sr. RB Sherwood
4. Ryan Walsh Sr. ATH Wilsonville
5. Deshawn Stephens Sr. Putnam
5. Richard Ramsey Sr. ATH Milwaukie
5. Eli Skiles Sr. Slot Putnam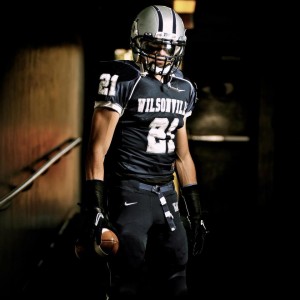 DEFENSE
1. Johnny Ragin 6-2 210 Sr. LB Wilsonville
1. Ryan Walsh 6-1 180 Sr. CB Wilsonville
Ragin is another high profile D1 kid that tests through the roof and also sports a 4.0 GPA; He holds offers from (Ore St, BYU, Colorado, Nevada, Wyoming, PSU) and is one of the state leaders in Sacks. Walsh has been a lock down corner completely shutting down one side of the field. He is maybe the breakout performer of the year in the State of Oregon.
3. Nick Rowlands Sr. DE Sherwood
4. Cooper Whitaker Jr. LB Wilsonvile
5. Joseph Balfour Sr. S Sherwood
5. Jordan Kurahara Jr. DE Sherwood
5. Nick Highberger Sr. S Wilsonville
5. Cyrus Mooney Sr. S Sherwood
MIDWESTERN
OFFENSE
1. Kamerun Smith 6-5 175 Sr. QB Marist
1. Josh Harper 6-4 180 Sr. WR Marist
Smith has been very impressive for the last two seasons, distributing the ball to a plethora of receivers and sporting a an impressive Td to Int ratio. Threw for 1,777 yards and 25 Tds/3 Ints while hitting on 65.9% of his passes. Harper had one of the most impressive seasons of any WR in Oregon going for 15 Tds and 630 receiving yards showing off legit skills.
3. Austin Baird Sr. ATH Marist
4. Mitch Reese Sr. QB Churchill
5. RJ Atteberry Sr. WR Ashland
5. Andrew Bennion Jr. WR Churchill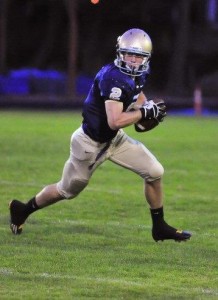 DEFENSE
1. Austin Baird 6-0 185 Sr. DB Marist
1. Cody King 6-1 220 Jr. LB Marist
King was one of the state's leading tacklers averaging 9.1 per game and just like most of the Marist kids only played a half in games blasting most teams early. Baird is the returning Conference Defensive Player of the Year and is a game changer. His ability to read as a DB are unique do to his knowledge of the WR position and overall athleticism.
3. Taylor Travess Jr. DB Springfield
4. Josh Harper Sr. DE Marist
5. Gavin Cowles Sr. LB Churchill
MID WILLAMETTE
OFFENSE
1. Jake Lacoste 5-10 190 Jr. RB West Albany – This kids a freak. He's not just a really good back at the high school level, he can play legit D1 ball.. 2,444 yards and 36 touchdowns in 9 games is one of the craziest stat lines ever. His brother Anthony is at Air Force and Oregon's 3rd all time leading rusher.
2. Chris Garcia Sr. RB Silverton
3. Tanner Tibbett Sr. QB S Albany
4. Cole Chandler So. QB Silverton
5. Tanner Sanders Jr. QB Crescent Valley
5. Mitchell Gable Sr. WR S Albany
5. Preston Kirk Sr. WR Silverton
5. Chris Posezzi Sr. RB Crescent Valley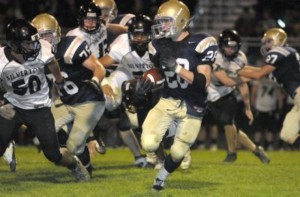 DEFENSE
1. Chris Garcia 6-0 200 Sr. LB Silverton – Garcia has gone for over 1000 yards offensively, but has been lights out on D. Silverton's defense has been hands down the toughest D at the 5a level. He was ranked our #1 5a Defensive POY candidate for the State of Oregon.
2. Tanner Fiez Sr. LB Crescent Valley
3. Austin Powell Sr. DL Crescent Valley
4. Gabe Stone Jr. LB West Albany
5. Nick Teubel Sr. DB Silverton
5. Jacob Bucher Jr. LB Crescent Valley
5. Tanner Holland Sr. DB Crescent Valley
5. DJ Knuth Sr. ATH Lebanon
5. Bryon Bodon Sr. DE Crescent Valley

INTER MT
1. John Carroll 6-4 200 Sr. WR Mt View – Carroll has completely gone off as he is maybe the top 3 sport athlete in the state; He has 1,065 yards on 53 catches for 10 Tds on the season and has been dominant against most DB's; He will be doubled in the playoffs.
2. Kyler Ayers Sr. RB Mt View
3. Toby Webb Sr. QB Mt View
4. Jonah Koski Sr. QB Bend
5. JT Evans Jr. RB Summit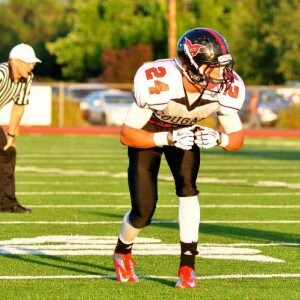 DEFENSE
1. Kyle Shaver 6-0 210 Sr. DE Mt View – One of the state leaders in sacks at the 5a level, and the emotional leader of the group. Has had an impressive year being an undersized lineman with a non stop motor.
2. John Carroll Sr. S Mt View
3. JD Abbas Sr. LB Redmond
4. Chad Bach Sr. DL Mt View
5. Cameron Rynearson Sr. LB Bend
5. Casey Gates Sr. LB/DL Redmond