For all the latest news on athletes in the NW you can follow us on Twitter. Taylor Barton ( @TaylorBarton12 ), Jordan Johnson ( @JordanJNEI ), Ryland Spencer ( @RylandNEI ) and NEI ( @NWEliteIndex ). You can also find us on Facebook by giving us a *Like* at NEI Facebook .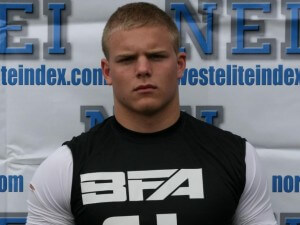 6 Wins
| | | | | |
| --- | --- | --- | --- | --- |
| CC | 27 | – | #9 Skyview, WA | 9 |
| CC | 16 | – | #4 Jesuit | 7 |
| CC | 55 | – | Reynolds | 14 |
| CC | 37 | – | Gresham | 0 |
| CC | 21 | – | David Douglas | 0 |
| CC | 50 | – | Barlow | 6 |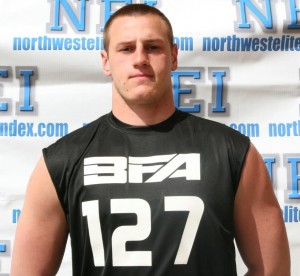 2 Losses
| | | | | | |
| --- | --- | --- | --- | --- | --- |
| #1 | Sheldon | 33 | – | CC | 26 |
| #2 | Lake Oswego | 23 | – | CC | 14 |
** The Rams have outscored there last 5 opponents 179-27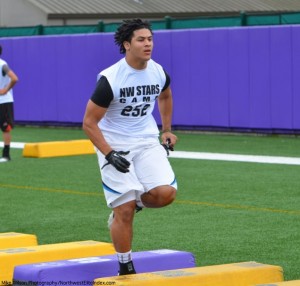 As of Friday morning, Lake Oswego sits at (8-0) and have won 22 straight straight games. I say this to open the article because there are three teams in the State of Oregon with defenses that have been completely dominant as of late. The Irish of Sheldon should be mentioned as well.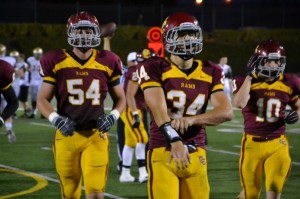 Central Catholic sits at (6-2) with close losses to #1 Sheldon and #2 Lake Oswego, as the Rams come in ranked the #3 team state wide in the most recent NEI 6A Poll. They feature BYU commit and Northwest top safety Dallin Leavitt (6-0 205 Sr. S/RB) who was NEI' s Oregon Defensive Underclassmen of the Year last season. Leavitt is a kid that we have gotten to know well over the last few years. His physical and aggressive play combined with his overall athleticism, have him ranked one of the top 20 safeties in the country. With all of the talent on this Central team Leavitt is the senior leader that makes things go.
Add in Two of the state's best linebackers and the #1 Junior D End in the Northwest in Connor Humphreys(6-4 245 Jr. DE/OL) and you have what amounts to a freaky up front cast. Xavier Griggs (6-2 225 Sr. LB) and Ryan Nall (6-3 220 Jr. LB) are both considered two of the top Linebackers in Oregon for their class, and both project at the D1 level. Griggs already has offers from Portland St and Eastern Washington, and he is a kid that we expect to see some Pac 12 schools or mid majors come in on. It's a bold statement but Xavier may be the most talented, yet underrated player in the entire region. Whoever signs him will be getting a steal as Leavitt says, "the most freaky athlete out of all of us is X, some of the things that he does just leaves you shaking your head". Griggs recently just heard from Tennessee.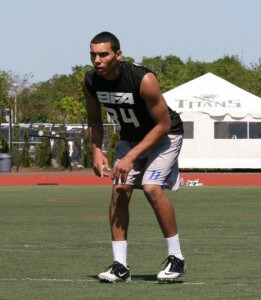 Nall is another kid that we like a lot as we have him ranked as one of the top 5 Jr linebackers in Oregon. His brother Jacob was the Mt Hood Conference Defensive Player of the Year as a junior, and is now a freshman at Portland St. Ryan looks to be just as talented, and has been a key player offensively for the Rams getting in the end zone three times last week. You can't teach size and speed and Nall has both so we like his potential moving forward. He could definitely be one of the first underclassmen to receive an offer state wide. He says, " We have athletes everywhere, and if we all do what we are supposed to we can beat anybody".
Humphreys is a kid that we have talked about extensively, and like the other top athletes has trained with us during the off season. He sits with offers from Wyoming and Portland St and will have other legit big D1's come in on him over the off season. His ability to rush the passer is second to none as most O lineman can't handle his combination of size and speed. More then anything Connor is a great kid that just happens to be one of the best D ends in the country. He is the only D lineman in the northwest with offers as of right now, and is someone that we look forward to working with over the next year. Fergus Frederickson (6-3 255 Sr. DL) needs to also be mentioned as he is one of the top D lineman state wide, and is also a kid that sits right on that scholarship offer bubble.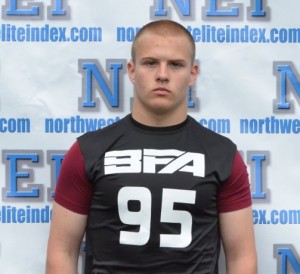 Add in two more of the state's best DB's in Beau Duronslet (6-1 195 Sr. WR/DB) and AJ Washington (5-11 165 Jr. DB) and you have to ask yourself who is going to beat these guys? This isn't even mentioning Aidan Wilder who is the #1 ranked Jr QB in Oregon, and only plays D on a necessity basis.
Duronslet has been a 3 year starter and someone listed as one of our "Top Athletes With No Offers". Washington is ranked as one of the top 5 junior DB's in Oregon and could climb the list quick as he is one of the most exciting athletes anywhere in the northwest. Beau is a kid coming into this season that had accumulated 124 total tackles, 5 Int's, 13 pass deflections, and 9 Td's and is considered one of the top two way threats state wide.
Washington is a kid that transferred from Centennial and grew up in the South so he knows his football. He may be the most exciting kick/punt returner in the region, and is an athlete that we will see a lot of over the off season at our elite events. AJ is someone that has the potential of being the best defensive back in Oregon if he continues to progress. He currently sits with 4 picks and an incredibly bright future.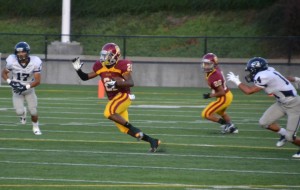 We could go on and on about all of the talent at CC. Cameron Scarlett is one of the best athletes in the 2015 class, and will be a highly ranked kid on our boards. Both Donovan Manning and Taylor Smith have played out of their minds defensively, while Lawrence Wilson and Chase Cole are two of the top receivers in the state. It just goes on and on.
Head Coach Pyne and his staff do a great job, and have a ridiculous amount of talent to work with. We are looking forward to seeing what the very talented Rams can do as the post season is just around the corner. Central was just a few short plays away from a state championship appearance last season, before losing to the always tough Sheldon Irish. They are loaded with D1 kids across the board, and we are excited to see if the defense could make this Rams team one of the most special groups in state history.