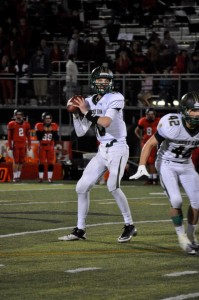 One of the most dangerous receivers in the entire state has been Jarrod Howard (6-1 180 Sr. WR/S) of West Linn. He earned second team all league honors a year ago, and is an equally talented safety. So far this season Howard has an incredible 70 receptions for 950+ yards and 11 Tds through 8 games.
The Lions record is deceiving as they are much better then a (2-6) squad. Head Coach Mike Fanger is one of the best offensive minds in the NW, and West Linn scored big with his hire. The other athlete that makes things go is West Linn standout junior QB Hayden Coppedge (6-4 185 Jr. QB), one of the top overall athletes in the region.
Coppedge is a standout on the basketball floor that travels most of the spring and summer with his elite AAU team. The Lions have a legit shot at a couple state basketball titles over the next few seasons so his focus remains on hoops. That said, he is a very talented QB that is ranked our #2 Jr. Quarterback for the 2014 class. Even crazier is that golf might be his best sport, so to say that the kid is versatile would be an understatement.
Hayden is someone that could be a D1 QB if that's what he put his mind to. In his first varsity duty, he filled in and threw 4 Td's in one quarter, down 34-13 at Grants Pass during a miraculous 4th quarter comeback. It was enough to earn him the starting job over three other talented seniors. The Lions are young and have a good youth movement.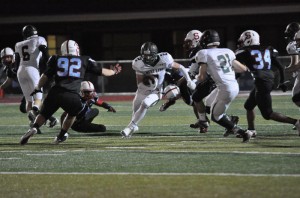 Howard's numbers have been ridiculous thus far, " personally things have gone well, it helps to have one of the top juniors anywhere as your QB… I'm fortunate to have a great coach like Fanger to put me in positions where I can use my ability to make plays".
Coppedge has thrown 10 Tds in 5 Games for 1138 yards, hitting on 56.1% of his passes. His ability to elude in the pocket shows off his overall athleticism, but more then that the kid is tough. The Lions have a couple talented young lineman in Ellis Eaton and Noah Bagley, but the loss of Voeller has hurt and Coppedge has taken some shots over the season. You would never hear him speak on it, but that's truth.
We really like the West Linn program as they have been in most ball games with close losses to Oregon City, Clackamas, and South Salem. They could easily be (5-3). We look forward to seeing Coach Fanger and company during the playoffs, as the Lions are a team when healthy that can make a run.
http://www.hudl.com/athlete/645310/highlights/23980374 Jarrod Howard Highlights