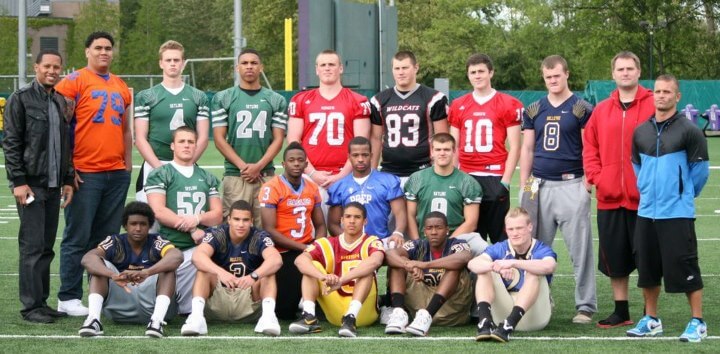 Ryland Spencer Picks
NEI 4A Top 10
1. Skyline (8-0) @ #8 Bothell (5-3)
Two things I make no bones about… I LOVE KINGCO FOOTBALL!… I LOVE POP KEENEY STADIUM! Those come together in the KingCo Championship game between these two powerhouse teams. The loser of this game gets a week 11 date @ Bellarmine Prep, should the two teams win their week 10 game. They've met once already in week one with Skyline coming back from a halftime deficit to win 33-21. I am calling for it the other way this time. Did I really just say that? Am I really going against possibly the best QB this state has ever seen? Is that a colored train barreling towards the playoffs? Yes, it is. Bothell wins 30-27.
2. Federal Way (8-0) @ Curtis (7-1)
Maybe Curtis surprises here… I really don't see it though. As far as pure talent goes, not many teams in the state match what Federal Way has. Two D1 WR/DBs, a couple D1 LBs, another D1 RB…. Do I need to go on? They have shown that they can play with anyone in the SPSL. The real test for them will be when they get to state and play a Camas, Skyline, B-Prep or Bothell…. Until then they will blow everyone away. Eagles win 48-10.
3. Camas (8-0) vs Battle Ground (5-3)
Battle Ground started 5-0, but hasn't won since. The Camas Papermakers continue to impress me more and more each week. They have a ton of talent at the skill positions and one of the best Jr QBs in Reilly Hennessey. They are a team I expect to see in Tacoma this year… And Next… They are loaded with Jr talent. No way I predict against the Papermakers… Camas wins 40-13.
4. Bellarmine Prep (7-1) vs Gig Harbor (2-6)
This has been a disappointing season for Gig Harbor. I expected more than a 2-6 record heading into this week. Bellarmine Prep is a TOUGH team lead by the big guys up front with Macartney McQuery and Kevin Kohrs. They have a legit shot at a state title this year and will roll right through the Tide. Lions in a route, 50-10.
5. Gonzaga Prep (8-0) @ Central Valley (6-2)
We all know what happened last week with Austin Rehkow and his dynamite leg. Unfortunately for CV they wont be in a position for him to be a factor in this game. Griffin Hare is close to the top in terms of rushing yards on the season and will have a big night. Bullpups double up, 40-20.
6Tie. Mead (7-1) vs Ferris (6-2)
Somehow Ferris lost last week to University or this would've been a game of two top 10 teams. This is however a game that will send someone to the playoffs and someone home. Mead had a stumble against a great GP team, but I don't see them faltering here. Panthers win, 33-24.
6Tie. Kentwood (8-0) @ Kentlake (6-2)
The CovTown Showdown is what some people have come to call this game. Since getting Nu'u Vaifale back the Falcons have been a different team. The early season loss to Kent-Meridian is behind them and they are playing their best football of the year. That being said, Kentwood's defense has only allowed 58 total points all season! That is an unbelievable number considering 23 came in one game. Conks win again and stay undefeated, 30-14.
8. Bothell (5-3) vs Skyline (8-0)
See above #1
9. Skyview (6-2) vs Union (6-2)
I really don't know what way to go with this game. Both teams have a lot that I really like. Including their QBs in Jordan Berni of Skyview and Nolan Henry of Union. This is a game I see a lot of good defense being played. Low scoring. I am going upset… Union wins 21-17.
10. Graham-Kapowsin (7-1) vs Spanaway Lake (3-5)
Even though this is one of the best Spanaway Lake teams I have seen in a while, I see no way they can compete here. GK is really starting to roll after getting smacked by Federal Way in week 3. I really like the Eagles and think that was a wakeup call they needed. GK wins easy 48-7.
NEI 3A Top 10
1. Bellevue (8-0) @ Mercer Island (5-3)
This game is part of our WIAA Network coverage. I did a preview you can read… Right Here
2. Mount Si (7-1) @ Liberty (3-5)
Mount Si got back on track last week with an easy win over Mercer Island. This week should be no different. Liberty has really struggled to amount offense this year and will have a REALLY tough time against he Wildcats. Mount Si wins easy, 40-7.
3. Eastside Catholic (8-0) vs Nathan Hale (7-1)
Nathan Hale's only loss it to a surprisingly good Roosevelt squad. I really think Eastside Catholic isn't far behind Mount Si for 2nd in the state. They are a good team with a lot of talent. They will win this game which is for the Metro 3A Title. Crusaders easy 38-10.
4. Marysville-Pilchuck (7-1) vs Glacier Peak (7-1)
Wesco 3A Championship game should be a good one. Two exact opposites. MP likes the Wing-T while GP spreads you out and throws the ball around. I really could go either way with this one. I think MP has the horses though. Glacier Peak moves on to the dreaded Tuesday game vs Ferndale. Tomahawks win 30-21.
5. O'Dea (6-2) @ Rainier Beach (5-3)
This could actually be a very good game. This is a bit of a down season as far as O'Dea standards are concerned. They are still good enough to beat an upstart Beach squad. Irish win 33-24.
6. Glacier Peak (7-1) @ Marysville-Pilchuck
See Above #4
7Tie. Timberline (7-1) vs Shelton (7-1)
I really like the Highclimbers of Shelton, but Timberline is beginning to show they are much better than expected. They shutout a good North Thurston team last week 24-0 and will win again here. I think Ralph Kinne will run for a bunch of yards, but Timberline is too tough. Blazers win Narrows 3A, 28-21.
7Tie. Kennedy Catholic (6-1) vs Lindbergh (7-0)
Kennedy looked like they might have a down year after the first 6 quarters of their season, but have really woken up and taken it to one opponent after another. Lindbergh is a good team that could go deep into the playoffs, but they will lose here. Collin Cossette runs wild for the Lancers in a 33-20 win.
9Tie. North Thurston (6-2) @ Mount Tahoma (0-8)
I really can't be nice about this one. North Thurston gets back to winning, 55-7.
9Tie. Ferndale (7-1) @ Anacortes (0-8)
Another one… Really, what do I say here. If Anacortes wins I will be shocked. Ferndale wins 50-10.
Scott Eklund Picks
Skyline at Bothell (Thursday) – A rematch from the first week of the season, but this time the game will take place at venerable Pop Keeney where the Cougars are always tough. Skyline boasts an explosive offense led by top-rated QB Max Browne and emerging senior RB Cedric Cooper. Bothell will counter with sophomore QB phenom Ross Bowers and standout senior RB Danny Wilson. The key will be for Bothell to confuse and harrass Browne. If they can do that, they get the win. The only problem is, it's really tough to confuse and harrass Browne and that's why I see the Spartans coming away with a hard-fought victory and the Kingco 4A title. Skyline 38 – Bothell 31.
Kentwood at Kentlake (Thursday) – This one will be another great matchup as the Conqs are one of five undefeated teams in 4A. Kentlake has a good offense, but Kentwood's defense and ground game will be the difference, allowing them to stay undefeated. Kentwood 31 – Kentlake 20.
Woodinville at Issaquah – Woodinville was handled by Bothell last weekend, so the Falcons may have a letdown this week against an improving Issaquah squad. Junior RB Jack Gellatly is one of the hardest running tailbacks in the state and he's put up over 1,000 yards and 10 touchdowns with everyone knowing that he's going to get the ball. I see Issy coming away with the upset. Issaquah 24 – Woodinville 20.
Union at Skyview – Both of these teams enter the game with identical 6-2 records and both were blasted by GSHL 4A champ Camas by a combined score of 69-17. Union has a strong group of under-classmen led by QB Nolan Henry, but Skyview's upper-classmen are big, physical and have a lot of experience in big games. Because of that, I see the Storm coming away with the win. Skyview 24 – Union 13.
Eastside Catholic at Nathan Hale – EC takes on Hale for the Metro League Championship at Seattle's Memorial Stadium and I will be calling the game with Alex Webster. The Crusaders are loaded with talent, but the real difference-maker for them has been the play of QB Trey Reynolds who is a threat with both his arm and his legs. Hale has been solid this season and they feel like they may have the horses to get it done, but in the end, Eastside Catholic will overwhelm them with their size and speed. Eastside Catholic 42 – Nathan Hale 21.
Monroe at Jackson – Monroe has been the big surprise of the Wesco 4A this year and will take on a strong Jackson squad at Everett Memorial Stadium. Jackson relies on the big-play abilities of QB Conor Plaisance and wideout Trey Robinson while Monroe leans on the tough-running of Gabe Moore and a swarming defense to win games. Jackson's speed and playmakers will be too much for the Bearcats in this one. Jackson 38 – Monroe 24.
Juanita at Interlake – Juanita has gotten on a roll at the perfect time and a poised to head back to the playoffs after a year away from post-season play. Freshman QB Tavin Montgomery hasn't been playing like a frosh and his playmaking abilities are a key to how far the Rebels can go in the playoffs. Interlake, in their first season at the 3A level, have struggled to a 2-6 record, but don't sleep on Kamana Adriano and Ryan Turman who both can take it to the house if you give them the chance. Juanita gets the win to keep their nice late-season run going. Juanita 31 – Interlake 20.
Lakewood at Kings – This matchup won't get the attention it deserves, but these are the two best teams in the state in the 2A and 1A classifications and both come into the game sporting 8-0 records. Kings relies on the arm of BYU-bound QB Billy Green and an opportunistic defense got overwhelm opponents and, earlier this season, they dropped 2011 2A state champions and perennial title contenders Lynden from the ranks of the unbeaten. Lakewood has one of the top playmakers in the state in Justin Peterson who can do it all and he will be put to the test in this one. Kings will hang tough, but eventually Lakewood will pull away for the victory. Lakewood 28 – Kings 21.
Ferris at Mead – Top matchup on the east side of the mountains and it's the top rivalry in the GSL, although Ferris is a bit down this year, although they still come into the game with a 6-2 record. Mead is loaded with talented players and they should get this win, but Ferris has seemed to have their number of late and I think this one could be closer than people expect. Mead gets the win, but it won't be easy and probably won't be pretty. Mead 24 – Ferris 17.
Glacier Peak at Marysville-Pilchuck – GP was humbled a few weeks ago at the hands of a surging Bothell team while Marysville-Pilchuck has been on a roll and just got done trouncing Oak Harbor on the road. The Tomahawks have junior QB Jake Luton and sophomore RB Austin Joyner to frustrate defenses while the Grizzlies use the arm of QB Chris Beccera — over 1,800 yards passing with 18 touchdowns and only seven interceptions — and the legs of Michael Palmer (900 yards rushing and 11 scores) to beat opponents into submission. Expect this one to be a thriller, but I think that with MP playing at home, they will be too much for the Grizzlies. Marysville-Pilchuck 27 – Glacier Peak 24.