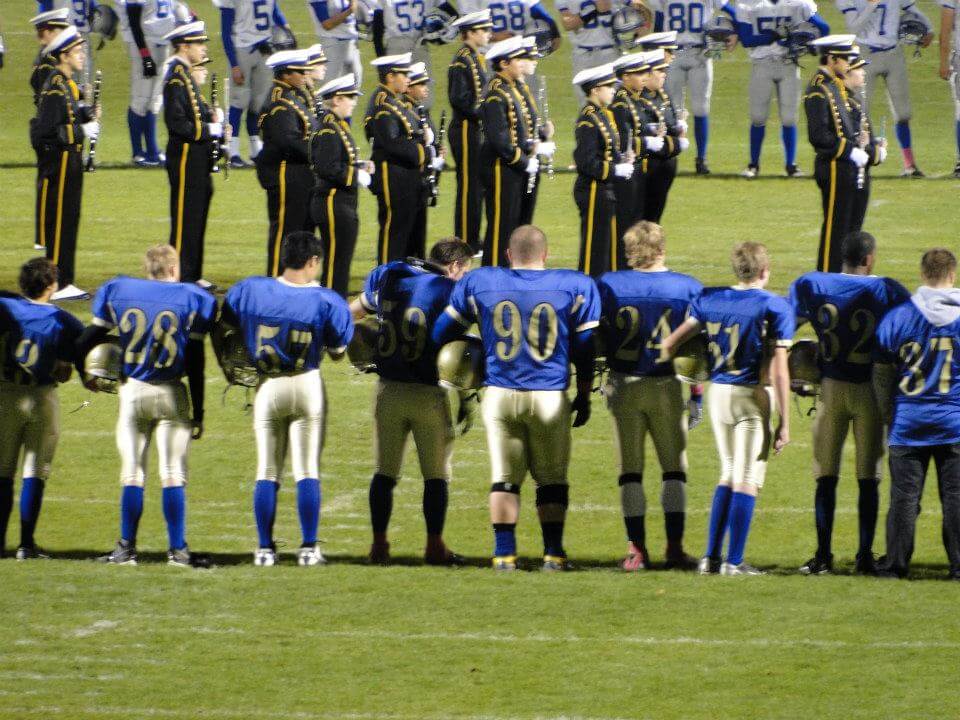 It's been 19 years since the Bremerton Knights have gone to the playoffs, but on Friday, November 2nd, they break that streak by playing host to Renton High School at Silverdale Stadium and head coach Nate Gillam couldn't be happier.
"We've been close to getting there, but we just couldn't get over that hump," Gillam told Northwest Elite Index shortly after Bremerton finished off the season with a 56-13 win over Klahowya. "This year though, we had a bunch of seniors who really took ownership of this team and really held each other accountable for getting us to where we wanted to be.
"Ron Atkins, our Strength and Conditioning coach, really got through to the kids and got them to buy in during the winter, spring and the summer and that's really carried over for us."
The Knights finished the season 8-1 including a seven-game winning streak that followed the only blemish on their record, a 21-14 loss to Wilson (Tacoma, Wa.).
Here is a look at the top seniors from their program as well as a few juniors and sophomores to keep an eye on over the next couple years…
Seniors (2013 class)
QB Mikey Lawrence (5'9, 185) – "Mikey is a great kid. He's done an awesome job the past two years for us, especially when you consider that he wasn't supposed to even play quarterback for us. Last year, his junior season, he was going to be our running back, but then we lost one of our quarterbacks because he wanted to play baseball instead and we had another just quit on us about two weeks before the start of the season. We sorta went into panic mode, but then we talked to Mikey and we said 'hey, what do you think about playing quarterback' and he just stepped up and took the reigns and did pretty well. He started to learn the offense from the quarterback spot and he did pretty well last year. This year, since he had a year to work on things, he has just been outstanding for us this year. He's averaging close to three touchdowns per game. He's thrown for over 1,200 yards with 11 touchdowns and five interceptions and he's rushed for 684 yards and 14 scores, so he's really that true dual-threat guy that defenses have to account for. We're still hoping to get some schools interested in him, but as of right now, he's still waiting to get some schools interested."
RB/KB Andrew Shadle (5'10, 185) – "Andrew has sorta had an up and down season for us. He gives you all he's got all of the time, but this year he's kind of taken a back seat to Lucas Anderson on defense. The past two years he's led our league in tackles, but this year, Anderson is the guy doing that. Andrew still has had 52 tackles and he's leading us in rushing with 865 yards and he's also got 10 touchdowns. He's not a flashy kid and he's pretty mellow and quiet, but he's always where he's supposed and he's a pretty physical guy. He got a lot of attention from schools during the spring, but since then, I just haven't heard much from schools about him."
LB Lucas Anderson (5'8, 160) – "He's sorta been on the cusp of breaking out the past couple of years and this year he really did. He led us in tackles in the regular season with 102 and just was a real force. He isn't the biggest guy, but he's got a real nose for the ball. We have a thing we do with 'big hits' and he's had at least eight this year. Even though he isn't that big, when he hits you, you know it. Eastern Oregon and UPS (University of Puget Sound) are both looking at him. He's a real smart kid. He's home schooled and he has been a great addition to our team."
DB Matt Noll (5'7, 150) – "Pound-for-pound, Matt is our best player. He's not very big, but man, when he hits you, you feel it and he's a real ballhawk for us. He leads our team with five interceptions. He's quick and he's smart, so he's got a lot of what you are looking for in a player. He's a heck of a baseball player too, so we're not real sure if he will go that route or not. All I know is that he is a great player and a great kid."
WR Trevor Nelson (6'0, 190) – "He's a stand-up tight end in our offense, but basically, he's a wide receiver. He's got 500 yards receiving and seven touchdowns. It's great because if you take Andrew or Mikey out and play it like you don't want them to hurt you, we just send Trevor down the seam and he goes for 60 yards and a touchdown. He's got good size and nice hands. He should be getting looks too."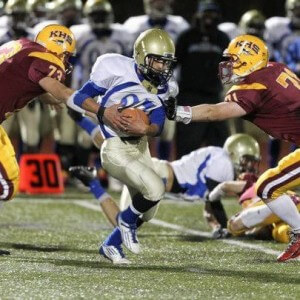 Juniors (2014 class)
OL/TE Skylar Mullins (6'3, 215) – "We expected him to play some tight end for us, but then when we switched things around a little, we moved him to tackle so we could get him on the field. He's athletic and he plays with a mean streak."
OL/DL Terrick Houston-Sims (6'3, 258) – "He goes both ways for us and has really been a solid contributor. I think he's got great upside. He's a thick 258 too, so he's got a great frame and he'll get bigger and stronger this offseason. We're really excited about him."
Sophomores (2015 class)
OL/DL Taylor Saylor (6'3, 240) – "He's a big, strong kid. He's got a great future and huge upside."
QB Connor Mahoney (6'3, 150) – "He definitely needs to get bigger, but the kid has a great arm and he's got enough mobility so that defenses can't take him for granted as a runner. With Mikey, he didn't get a lot of time, but next year, we're expecting a lot from him."
RB Calvin Cardwell (5'9, 170) – "He's fast and quick. We'll rely on him a lot next year with Mikey and Andrew moving on."
RB/S Ty Haley (5'10, 160) – "He'sa good two-way player. He's got no fear at all when he plays safety and he's a really good athlete. Another guy with great potential."