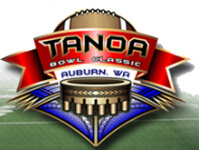 2012 has been a Banner year for the Barton Football Academy and NEI. So it's only right we get to make a Huge Announcement while we're still in the 2012 Calendar Year. We have been invited to participate in and help coordinate the Tanoa Bowl, an Annual All Star Game that produces 4 teams from 4 states; Washington, Oregon, Alaska, and Utah. Simi Strickland and his group started this game 3 years ago and it's been a hit ever since.
After meeting with Simi for lunch the other day and going over all the details and specifics, we agreed to put together a team from Oregon and coach it. Simi will be putting a team together from Washington, while 2 other groups will be bringing in teams from Alaska and Utah. There will also be an 8th grade Youth Game between Western Washington and Eastern Washington. Simi will also be putting together the Western Washington team, while Jerry Mercado will be putting together the Eastern Washington team. Jerry has become "the guy" out in Eastern Washington when it comes to Youth and High School Football, and it's exciting he's taking such a major role in this year's game.
The game will take place Saturday, December 29th at Auburn High School in Auburn, Washington. Teams will arrive on the night of the 26th and go through practices the 27th and 28th, with the game culminating on the 29th. There will also be a banquet held on the 28th with all teams and sponsors of the event in attendance, in which each team will compete in a "Haka" dance at the end.
This game is really exciting for many reasons. For kids who are not going on to play College Football, it gives them one last chance to strap on their helmet and pads and play the game they love. For kids that are trying to go play at the next level and are right on the border of receiving scholarship offers, this gives them a chance to compete against some of the best competition in the Western U.S. and show Colleges what they can do. On top of all of that, this is just a really unique experience that kids and their families will really enjoy.
The game will be televised by Washington Sports Network and things are in the works to try and either have Comcast or Root sports televise it as well. There will also be an abundance of different media outlets in attendance. Rivals.com, Scout.com, ESPN, Seattle Times, Tacoma News Tribune, NEI, Washington Sports Network, Oregonlive, Dawgman.com, and a few others.
For the Oregon Team, Jordan Johnson and I will be compiling a list in the next few days and start handing out invites to participate this Sunday. The Tanoa Bowl has been a great event in its first 2 years, and we're looking to help make this year the biggest and best it's ever been. With men like Simi Strickland and Jerry Mercado running things, it's going to be a first class event.
– Taylor Barton