For all the latest news on athletes in the NW you can follow us on Twitter. Taylor Barton ( @TaylorBarton12 ), Jordan Johnson ( @JordanJNEI ), Ryland Spencer ( @RylandNEI ) and NEI ( @NWEliteIndex ). You can also find us on Facebook by giving us a *Like* at NEI Facebook .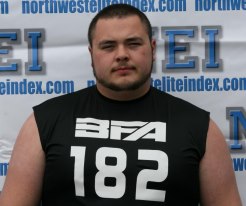 One of the top lineman in Washington without an offer is Bellarmine Prep Sr. Macartney McQuery (6-3 300).
Just before the start of the season Bellarmine Prep lost star RB Isaiah Flynn who opted to concentrate on basketball. The Lions really have not missed a beat thanks in large part to the play of the offensive line. They have plugged Junior Lou Millie in at RB and he has performed admirably. Combined on the season, Bellarmine backs have racked up 1,500+ yards and 28 TDs.
Macartney could be considered to be a "road grader" or a "mauler" as he is one of the best, if not the best run blocking lineman in the state. He projects to either Guard or Center at the next level and should absolutely be playing there.
McQuery is also very good on the defensive side of the ball, but likes the offensive side more. "The Nastiest dirtiest work while getting no credit. I kinda like that idea," he said. "I like making those guys look good. Lou Millie gives us cookies on Monday, that is all I expect."
He was a fixture at the Barton Football events over the offseason and was eventually selected by the Tacoma News Tribune to the Preseason All-State Team . When asked about what BFA did for him, he said "It definitely helped my pass blocking with hand placement and footwork". He continues, "Every week we get to go one on one against the best guys in the northwest."
Bellarmine has been deep into the playoffs the last two seasons having lost in the semifinals in 2010 and the quarterfinals in 2011. This year might be the best team the Lions have had due to the simple fact they have the best line play. The line features two other seniors that have been through it all in LT Matt McDougal (6-2 291) and C Kevin Kors (5-11 300).
McQuery spoke highly of both McDougal and Kors saying, "Matt, Kevin and I have been together for 3 years now. Kevin is probably our best lineman and Matt is the most fundamental."
Since a week 2 loss to Lakes, the Lions have been dominant. They have won 7 straight and outside of a 10 point win over a very good Capital team, they have rarely been tested. This week they play host to Edmonds-Woodway (6-3) in a game being played at Mount Tahoma High School.