For all the latest news on athletes in the NW you can follow us on Twitter. Taylor Barton ( @TaylorBarton12 ), Jordan Johnson ( @JordanJNEI ), Ryland Spencer ( @RylandNEI ) and NEI ( @NWEliteIndex ). You can also find us on Facebook by giving us a *Like* at NEI Facebook .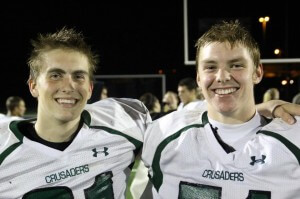 A kid we got to know well over the off season, Justin Outslay (6-5 275 Sr. OL) of Salem Academy, got some news he had been waiting a long time for this morning as the Portland St Vikings extended a scholarship offer.
The talented 3A lineman was a fixture at our elite events over the off season and was ranked as one of our "Top Athletes with no Offers" before today. Its tough to get acknowledged out of a small school in Oregon regardless of your skill set, so this was a breath of fresh air for the big man. Outslay currently sits on the bubble with a host of D1 and D1aa schools, and is weighing his options carefully.
PSU has done an outstanding job getting the top recruits out of the northwest over the last couple of seasons. The Viks scored offering a kid that is a dedicated student (4.0) at a tough private school, and also an athlete with a frame ideal for Division 1 football.
Head Coach Jim Stomps came to the school three years ago and has a brought a demeanor that has resonated within the community. The Crusaders were (1-9) his first season, but look to make the playoffs for the first time in 21 years with a win over Toledo this week. "Justin is a kid im very proud of, he has worked extremely hard on and off the field to get to where he's at". Coach Stomps continued, "He's been the first kid in the weight room and the last to leave over the years showing off unique leadership skills".
Outslay is the first D1 athlete to ever come out of the school making this offer even more special. "I just want to give thanks to all my family, friends, coaches, and teammates for believing in me and helping me through this process… I started out last year attending the Barton Elite Camps with not many people knowing who I was and it just went from there".
Justin continued, "I really like Portland St, I have been to a couple games and practices and the best thing about them is the coaching staff… Coach Davis and Coach Burton are doing a great job getting top recruits and I feel really good about the university".
He hasn't made a decision yet, but does really like the Vikings. What he has accomplished at a small 3A school has been incredible. Oregon and highly respected line coach Steve Greatwood have offered Outslay a preferred walk on spot, which is a big deal coming from the Ducks. Justin will be weighing his options and feels blessed by the opportunities he has been given.
We can't say enough good things about Justin and what Coach Stomps has done for Salem Academy Football. " I'm fortunate to be able to coach a remarkable group of young men, who have bought into a vision brought to them from an old southern boy out of Alabama… I have my family at home and also a group of 46 young men that I consider my sons as well", coach says.
Congrats to Outslay and all those involved with Crusader Football. What a remarkable turn around it has been.