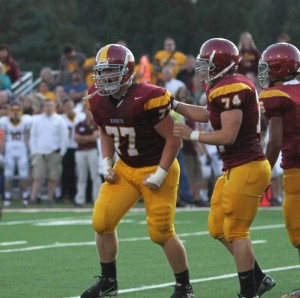 Enumclaw junior OL Chandler Streuli is a player to keep an eye on over the next year or so. He's strong, he's a two-year starter and he loves to compete on every play.
"I love the battle up front," Streuli admitted to Northwest Elite Index recently. "It's just a battle between you and someone else, plus I love to hit guys."
In addition to his nasty attitude, Streuli is also very strong, already benching 340 pounds and squatting 480 during the summer.
"My goals last year were to build my strength and to get quicker and faster," Streuli said. "I think it really helped me out this year and I feel like I played pretty well for the most part."
Last summer, Streuli, along with three of his teammates, headed to Oregon to take part in the Nike SPARQ camp down in Tigard and he said it was a great experience.
"It was fun to go down there and compete and test ourselves," Streuli noted.
The talented prospect also took in some of the Oregon Skill camp in Eugene, but at this point, no schools have been showing him much interest.
"I'm just waiting because no schools have really been in contact at this point," Streuli noted. "I'll take part in some of the team camps during the summer to help myself improve, but also to show coaches what I can do. I'll just keep working hard and I'm expecting to have a really good senior season. We want to get to the playoffs and then you know anything can happen."
We will continue to keep track of Streuli over the next few months and will update news as it happens with him.