For all the latest news on athletes in the NW you can follow us on Twitter. Taylor Barton ( @TaylorBarton12 ), Jordan Johnson ( @JordanJNEI ), Ryland Spencer ( @RylandNEI ) and NEI ( @NWEliteIndex ). You can also find us on Facebook by giving us a *Like* at NEI Facebook .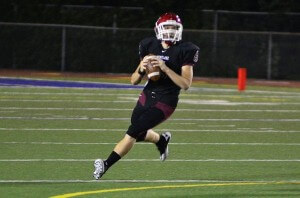 One of the most underrated QBs in Washington is Steffin Church (Sr, 6-1 195) of Kentlake. I have seen Steffin close to 10 times in two seasons and have walked away more impressed each time.
Church is considered to be a Dual-Threat QB as he has the ability to throw as well as run. "Being a quarterback in a run based triple option offense really sets me back to a lot of outside viewers," Church said. "Coach Paulson trusts me with my decision making throwing the ball."
Third year Kentlake head coach Chris Paulson has done a great job at not only winning, but developing some quality D1 talent.
Last season Church split time with Sr. Caleb Saulo, now at Oregon State, but did get a lot of time and finished with 772 yards passing and 334 rushing. Church was one of the key members on both sides of the ball as Kentlake won the SPSL North championship. In 2011 the Falcons outscored their opponents 413-186 on way to an undefeated league record and a second straight trip to the playoffs.
Knowing that the QB spot was his to lose this year, Church knew he needed to put in extra work. "I had to get better with my footwork," Church said. "I also worked out a lot and put on about 15 pounds."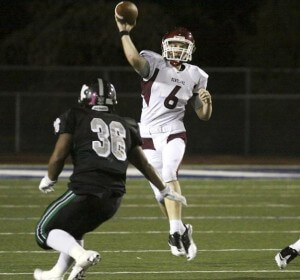 This season Church has been an absolute pleasure to watch. Through 9 regular season games he has 1,863 yards passing with 25 TDs and only 5 INTs while completing almost 60% of his passes. Right now his 222.1 passer rating is 2nd All-Time in SPSL history. Church's running ability can't be forgotten. On the year he has 485 yards rushing and 5 TDs. Combined that gives Church 2,348 total yards for the season.

In a 76-55 week three win over Puyallup, Church went nuts. He completed 13 of 18 passes for 395 yards, 8 TDs and 0 INTs. He also had 5.5 tackles and a sack from his Linebacker spot.
Headed back for the third straight year is really a testament to the coaching abilities of Paulson as the Falcons were hit hard by graduation. They also lost RB/LB Nu'u Vaifale before the season even started. Vaifale was a potential SPSL player of the year candidate on both sides of the ball. "Nu'u is a freak," Said Church. "He has only been back for 4 games and leads the team in tackles.
When our 2014 rankings were finalized, two Kentlake Falcons made the cut. OL/DL Mason Johnson (6-3 300) is one of the biggest and strongest lineman in the entire state. Slot/DB Kaleb Smith (5-10 170) is a kid I noticed when he KO'd an opposing QB on a perfectly clean hit. I watched him exclusively the rest of the game and was very impressed. I hope to see more of Kaleb soon so I can get a better look.
The Falcons face a tough road if they want to win a state championship. This week they travel to play a tough Lake Stevens squad that finished 2nd in their division after a semifinal appearance last season. With a win it is very possible they could end up traveling to Sammamish next week for a contest against the #1 Skyline Spartans. Regardless We will keep you updated on what Steffin does the rest of the way.