For all the latest news on athletes in the NW you can follow us on Twitter. Taylor Barton ( @TaylorBarton12 ), Jordan Johnson ( @JordanJNEI ), Ryland Spencer ( @RylandNEI ) and NEI ( @NWEliteIndex ). You can also find us on Facebook by giving us a *Like* at NEI Facebook .

http://www.hudl.com/athlete/782128/highlights/16357412 Drew Lewis Highlights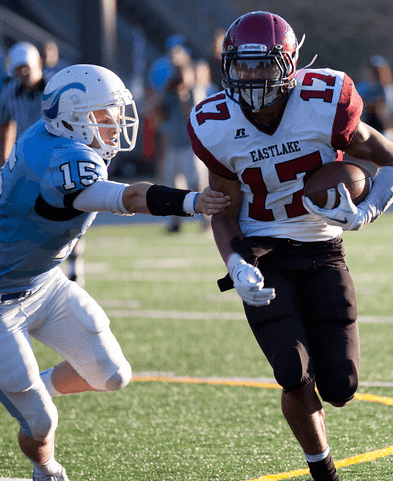 Many remember record breaking running back Ryan Lewis of Eastlake, now at Pitt. He tore up the state of Washington two seasons ago, and loves the big time D1 atmosphere out on the east coast. One of the top two way threats in Washington and on the west coast, for the 2014 class is his brother Drew Lewis (6-3 190 Jr. RB/WR/S).
Drew has the same type of speed combined with legit size, which makes him even more recruitable. Budda Baker and Devante Downs are the only two juniors state wide other then Lewis that rank in the Top 5 on both offense and defense. His versatility makes him a future high profile D1 athlete that you will see a lot of schools coming in on shortly.
Lewis says, " my brother inspired me as I saw him get injured and miss his entire junior season and then come back and have an incredible senior year… it really made me want to work to be the best I can be".
Eastlake has been a Washington power, but struggled this season (4-6) with a young team graduating every starter but one from a year ago. Lewis went for 14 Tds on the season pacing the Wolves with 1368 All purpose rushing (928) and receiving (440) yards. Drew is an equally talented safety that is able to close in on receivers while covering a lot of ground from side to side. He plays RB but could also be a very talented wide receiver in the right system.
Two of the state's top sophomores, Jeff Feinglass (6-0 175 WR/S) and Blue Thomas (6-0 185 ATH), will be the other skill kids that make Eastlake one of the top teams in the coming year. You will see both Feinglass and Thomas ranked on our Washington Sophomore list released in the coming days. Feinglass is one of the most impressive young athletes in the entire northwest and Richard "Blue" Thomas looks like the QB of the future for the Wolves.
Lewis has all of the intangibles needed to make him one of the top prospects in the northwest. He's a 3.1 student and a kid that cares a great deal about his future. He is someone that we feel will definitely be an early offer guy and should be a standout at our invite only elite events in the winter/spring. We are excited for Lewis and his sophomore side kicks who form one of the most dangerous underclassmen trio's anywhere.